Believe it or not, our pumpkins have finished up already this year.  The vine has dried up and those bright orange globes are littered about the garden, just waiting for fall holiday celebrations.  But we had a good reason to put them to use right away in the middle of summer – curiosity. 
You may recall an earlier post where I talked about the crazy pumpkins taking over the yard:  Houston, we have some Squash!
What I didn't mention is that, even though I hand pollinated all of those pumpkins, only 1 of them actually came out looking like a pumpkin – round and ridged and flat on the bottom.  Like this: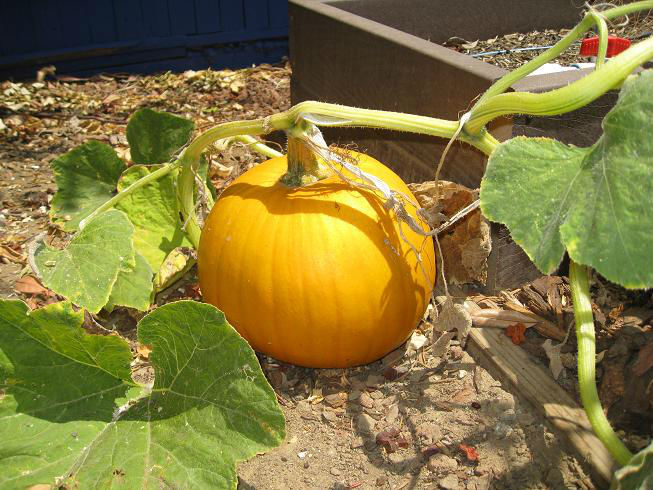 The other pumpkins ON THE SAME VINE began to grow oblong and had a suspicious looking skin that looked a heck of a lot like the neighboring zucchini.  We crossed our fingers and hoped that they would turn orange come summertime.
And they did.  Whew!  They are a little darker than their rounder sibling, but pumpkins just the same.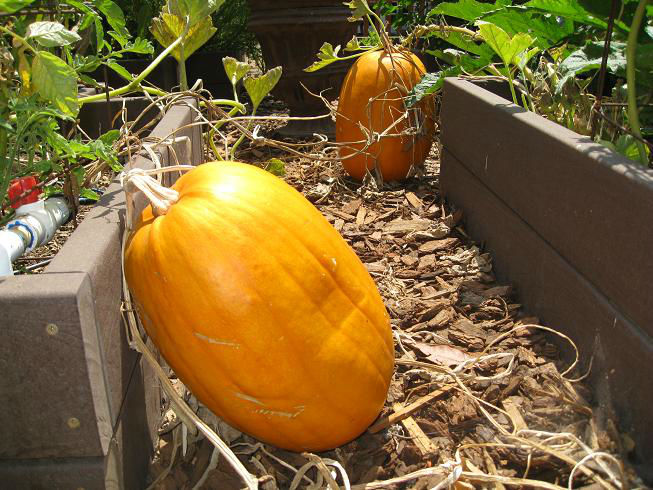 The next test would be to see if they were truly pumpkins on the inside.  Wouldn't it be funny to open a pumpkin and find pale green flesh inside, like a zucchini?  We needed to find out.
So we grabbed the most oblong looking pumpkin of all and took it into the house.  We nearly needed a chain saw to get it open, but sure enough, once inside we saw that the flesh was indeed orange.  Smelled like pumpkin, tasted like pumpkin.
Here's how we cooked it for the puree:
We cut it in half and scooped out the seeds (and baked the seeds for later).
We placed the scooped out pumpkins skin side up on a baking sheet with 1/4″ of water and
cooked the halves for 45 minutes to an hour at 350 degrees.
Then we scooped out the flesh and pureed it in batches in the blender.
From that one pumpkin we got 9 cups of pumpkin puree.  My husband used 3 cups for a pumpkin pie.  I used 3 cups to make 3 loaves of pumpkin bread (see below), and the other three cups are in the freezer awaiting use.
Both the pie and the bread were a hit, and I've been asked to share the Pumpkin Bread recipe.  I tried to locate it on the Edible Los Angeles website, but they don't appear to archive their recipes from previous issues.  This recipe came from the Spring 2008 issue:
Pumpkin Bread
(makes 3 loaves)
5 cups flour
4 1/2 cups sugar
3/4 teaspoon baking powder
3 teaspoons baking soda
1 1/2 teaspoons ground cloves (I cut this amount in half and it was perfect)
2 1/4 teaspoons salt
1 1/2 cups salad oil
1 1/2 cups water
3 cups fresh pumpkin (or 29 oz can)
6 eggs, unbeaten
1 1/2 cups chopped nuts (I left these out)
Combine the first 8 ingredients in mix master or large bowl. Add remaining ingredients and stir until well mixed.  Bake in 3 greased and floured loaf pans at 325 degrees for 1 1/2 hours or until done.
Cool completely and wrap in foil.  Keep at room temperature. Can be frozen.
Enjoy!