I admit it, I went a little crazy.  I was determined to have a successful squash crop in the wake of last year's squash catastrophe.  So I planned for extra, you might say.  This season, at Ocean View Farms, I planted Delicata and Butternut Squashes.  While at the Gardenerd Teaching Garden, we planted zucchini, patty pan, yellow crookneck and pumpkin. 
The First round of zucchini and patty pan squash were eaten by birds.  So were the second round.  So then we planted seeds indoors to make sure nothing went wrong.  That did the trick.  Meanwhile, the pumpkins and yellow crookneck squash that had been direct-seeded in the raised beds were going gang busters.  That's putting it lightly.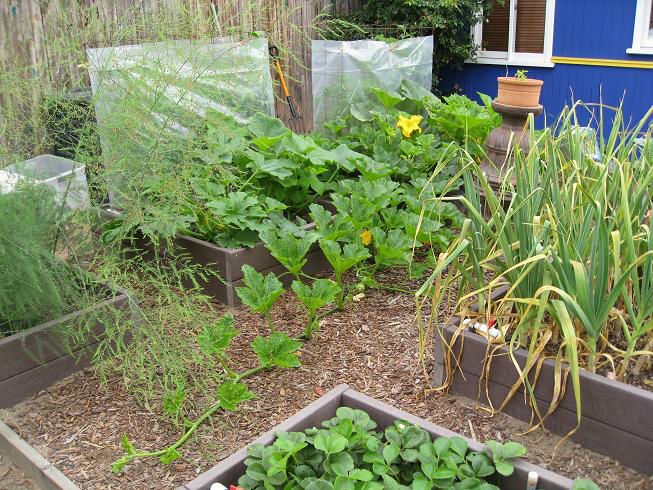 The pumpkin vine in the foreground is coming from the far bed in the back.  It's also wrapping itself around the back of the tomato cages as well.
There are a few pumpkins (which we hand-pollinated – see the Tip of the Week for May 22, 09) that seem to be coming along nicely.  They're just getting started, but I have to say they're off to a great start.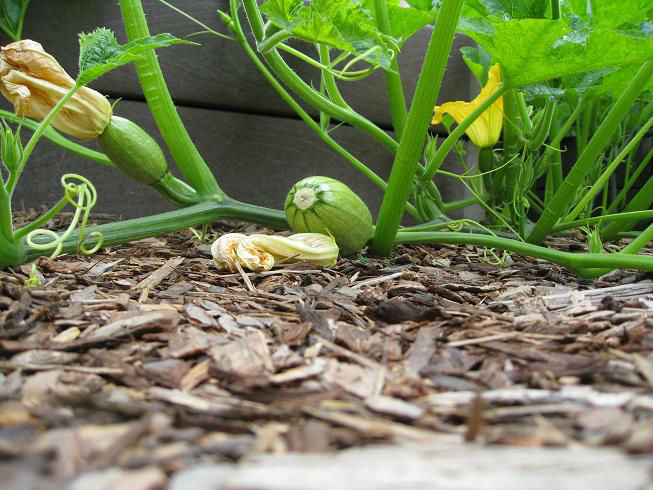 The yellow crookneck squash (actually there are two plants in there) have mosaic virus on one of the plants – a blotchy disease that lives in the soil, so technically I should pull and destroy that plant.  I'm waiting to see how the other one does before I get out the axe.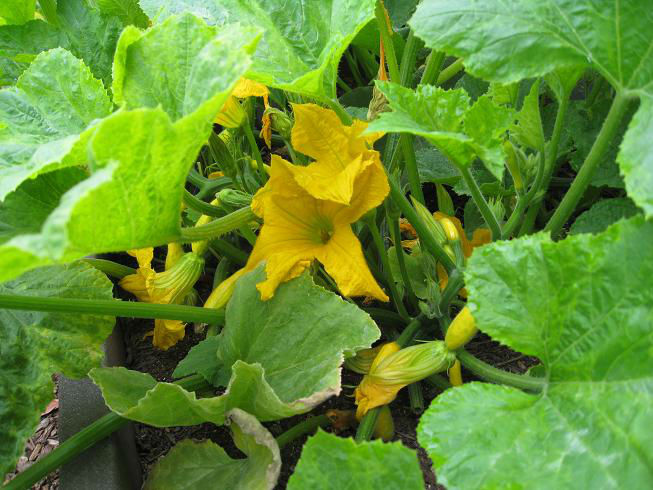 I guess you could say that we're pushing the boundaries of Square Foot Gardening.  Mel Bartholemew teaches that you can plant squash 3 feet apart.  My philosophy is that as long as you have really well-conditioned soil with lots of nutrients, you can grow them closer together – just let them ramble into the pathways.  I may be eating my words a little later in the season though.