Gardenerd News & Calendar
Check out the video Christy did with 3 August gardening tips for Roger's Gardens. Be sure to like and follow Roger's Gardens and visit them in person. It's an amazing nursery!
Christy was a guest on the Life Changes Show, sharing her story about how gardening changed her life to become her life's work. Listen in (and stay for the awesome performances by two great acapella singing groups at the end) here.
Hear Christy's interview with Misti Little on The Garden Path Podcast. We talk about biointensive gardening, big mistakes, and more.
Read the story of how Gardenerd began in this interview with Christy on VoyageLA
Listen to Christy's interview on The Organic Gardeners with Doug Oster, an Emmy Award winning producer, host and garden writer, and Jessica Walliser, a horticulturist, author and devoted bug lover. The Organic Gardeners airs live Sundays at 7:00 AM on KDKA in Pittsburg, PA.
Listen to the Root Simple podcast with Erik Knutzen as he interview's Christy about her new book 400+ Tips for Organic Gardening Success
Watch Christy share her tips on growing sunflowers to attract pollinators to your garden in this April 12, 2016 episode of Hallmark Home and Family.
Christy shares here top tips with the City of Pasadena during one of the classes in March, 2016. Get the basics and go grow something!
Christy was recently a guest on the Lighten Up Your Life podcast with Craig and Kellie McHugh. Craig and Kellie have years of homesteading experience they share each week on their podcast. Christy was delighted to chat with them in this podcast about gardening.
The LA Times recently featured a new native, drought tolerant and edible garden from Gardenerd. Read all about it here.
Check out this recent Garden Chatter Google Hangout with Adam Cortell and Bren of #gardenchat.


NEWBIE to gardening? Here's some advice from two experts https://t.co/BxEfluLK87 @passthepistil @gardenerd1

— Bren (@BG_garden) December 3, 2014

Watch KCET's City Walk featuring Christy and Ocean View Farms organic community garden Thursday, Oct. 23 at 10 p.m.

Christy had a chat with the Root Simple Team about biointensive gardening last week for their new podcast, the Root Simple Podcast. Click on companion article here.
Christy was recently interviewed by Dave Ledoux on his Back to My Garden Podcast. Subscribe and listen here.
Are you in the gardening business? Watch this discussion with media experts and Christy on how to use garden trends to market yourself effectively.
Mamavation TV Google+ Hangout and YouTube OnAir – Christy had a great chat with Leah Segedie of Mamavation. Hear great tips for fall and winter gardening here.
Christy was recently interviewed on The Imperfectly Happy Radio Hour. Listen to host Tiffany grill Christy for some gardening tips here.
Our friends at Sow Swell have launched their online store and we're please to say that "Gardening for Geeks" is a featured product. Find great garden gadgets to help you grow.
Check out this guest post on My Imperfect Kitchen for what to plant this fall.
Gardenerd is now featured on thumbtack.com! Click here to view the Thumbtack spotlight for Gardenerd.
Get a private view into Gardenerd's backyard in this new interview with Horticult.
Christy stopped in to The Baub Show to help Bob Merrick in his garden. Listen here starting at 1:24:00.
Hear Christy's recent radio interview on Garden Gossip with Chris and Lisa Cullen of Montecito Landscape.
Find Christy's recent excerpt on irrigation in the July/August issue of Urban Farm Magazine.
Listen to Christy's recent chat with Niki Jabbour on the Weekend Gardener on 95.7 News radio.
Christy recently chatted with Evan Kleiman on Good Food about soil tests and gardening in Los Angeles. If you missed it listen here. And read the follow up Q&A on the Good Food Blog.
An excerpt from Gardening for Geeks has appeared in the latest issue of From Scratch Magazine. Just hitting digital newsstands today! http://www.fromscratchmag.com/ (page 124)
May 29 – Christy tested out a Clarington Forge Rabbiting spade in the garden. Here's how it performed.
May 15 – Christy was recently interviewed by Joni Yung on the Yoga Chat. Listen to the whole show about urban farming/homesteading or start listening at 12:59.
May 13 – Christy recently appeared on KCAL 9 News sharing tips for your spring garden. Read all about it here.
LA Weekly's Squid Ink recently grilled Christy for some gardening tips. Read all about it here.
Gardening with kids? Read this helpful guide from LA Parent.
Check out Christy's recent radio interview with Rosie On the House KTAR FM, 92.3 Phoenix, AZ." Christy's interview begins at 8 minutes and 10 seconds (8:10) into the playback.
Christy recently had a a Spring garden chat with other Home & Family Gardening All-Stars on the Hallmark Channel). Check out the video here or read top tips for springtime planting!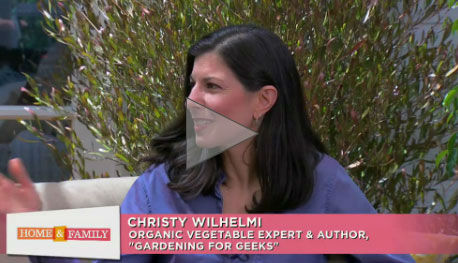 Installing drip irrigation is kind of like building LEGOs. There are many different hoses and attachments to customize your set-up. Christy explains the simple At Home Drip Irrigation process she uses during a recent appearance on the Hallmark Channel.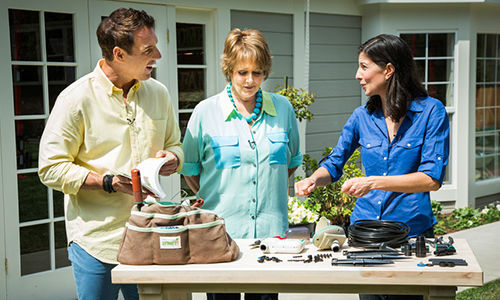 Did you miss Gardenerd's appearance on Food For Thought with Claire Thomas? Here's a segment from it.
New eHow Videos: We just finished recording a series of fun, informative videos on eHow. Check them out!
Here's a personal favorite: How to Transplant Lettuce & How Deep
New 2012 Spring/Summer Seed Collection: We're proud to unveil our brand new 2012 seed collection, just in time for holiday gifts. Give that Gardenerd in your life seeds they will love. Colorful heirlooms and open-pollinated seeds from Seed Savers Exchange will have them jumping for joy.
New YouTube video featuring vintage Gardenerd footage. Learn all about heirloom lettuces in this clip from a pilot gardening TV show we did back in the day. Check it out!
YouTube video: Transplanting Tomatoes with Grow Lights and Self-Watering Techniques.
Learn how to braid garlic in this Gardenerd video…
Food For Thought – Gardenerd was featured on Food For Thought with Claire Thomas, a new show on ABC this September. The first episode where Christy shows Claire how to plant a patio salad garden aired on Sept. 3 at 11:30 AM PDT.
Sustain: A Photo Essay of Women and their Farms across America – Sustain is an ongoing investigation of the agrarian renaissance and sustainability movement taking place in America today. Review the photo essay here.
Gardenerd interviewed for NBC LA feature – Christy was interviewed at the Go Green Expo 2011 about going green in the kitchen and garden. Watch the video here.
Gardenerd in Organic Connections Magazine – Christy was grilled about Gardenerd and how we're going to save the world. Check out the article here.