Today was an unusual day.  I got up and put on makeup.  That doesn't happen much these days, since the broccoli doesn't care how I look in the morning.  The reason for the makeup was because in an hour or so, four guys and a camera were going to be staring me in the face.  ABC News: Nightline was coming to shoot a segment on Victory Gardens. 
We started out visiting a garden that belongs to one of my clients.  Tommy Rosen (whose garden was recently featured on the Gardenerd Blog) was in full force.  He proudly exhibited all of his fresh vegetables for the camera crew.  Then he harvested some greens and took them into the house to prepare lunch.
Next we stopped off at my home garden and dished about asparagus and other great crops.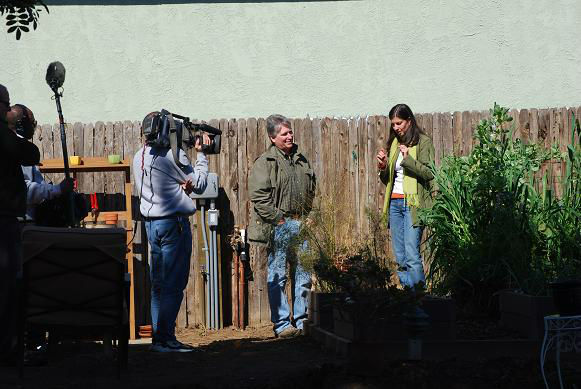 For those who have never seen asparagus grow, it's quite a fascinating process.  Describing it to Brian Rooney was especially fun because we had different spears of asparagus in different stages of development right next to each other.  It was like a science project that we didn't even have to prepare!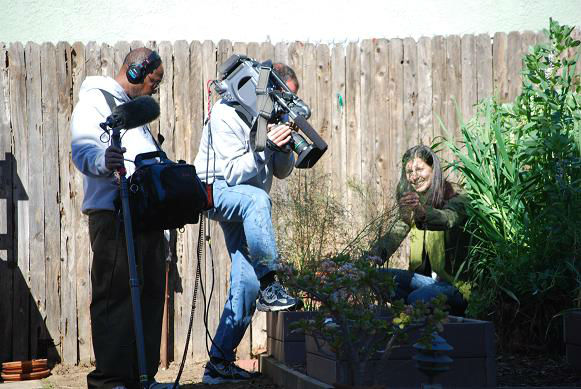 Next we went to another client's house.  Chris Paine's garden is almost complete, but the vegetable garden is going gangbusters.  Chris did a great job of showing the crew around the garden and even shared some information about all the environmentally conscious home renovations he's been doing.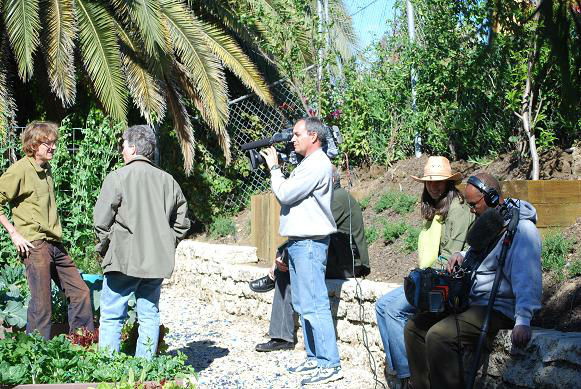 Notice the peas towering over Chris' head in the background.  Chris is over 6 feet tall!  In an upcoming blog, I'll be featuring the whole food garden when it's complete.  As soon as we have an air-date for the segment on Nightline, I'll let you know.