We took a trip up the coast, our California Adventure we called it, through San Luis Obispo, Big Sur, Santa Cruz, San Francisco, and then we visited Napa before heading down Interstate 5 to get home.  We were blessed with the most beautiful weather, the kind, as my husband says, that explains the reason for high real estate prices. 
We saw monarch butterflies fluttering in the trees and elephant seals basking in the sunshine along the shore.  It seemed to be a good time for all things natural.  The gardens were no exception.  We spent 3 days at the Esalen Institute, where we took a workshop and enjoyed terrific food, wonderful company, and the glorious view of the ocean from the sulfur baths.  All that aside, the one thing that caught my attention and held my heart more than anything was their extensive garden and farm.
Coastal gardening can be a challenge, but you would never know it by looking at the acres of colorful chard and kale all lined up neatly in long rows.  Broccoli and salad greens seemed to pay no mind to what can be harsh conditions, with frequent wind and rain pelting the cliffs.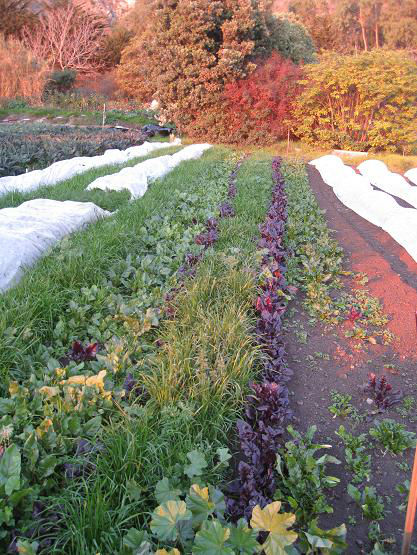 The sun was setting, which accounts for the dramatic reds across the background.  Even the weeds grow in harmony here (see the mallow in the foreground).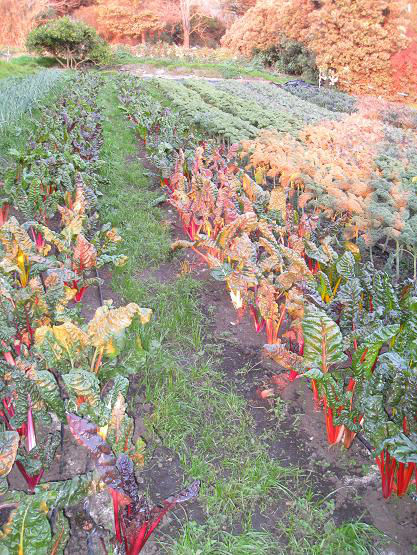 The red stalks of chard seem to light up the field in the late afternoon sun.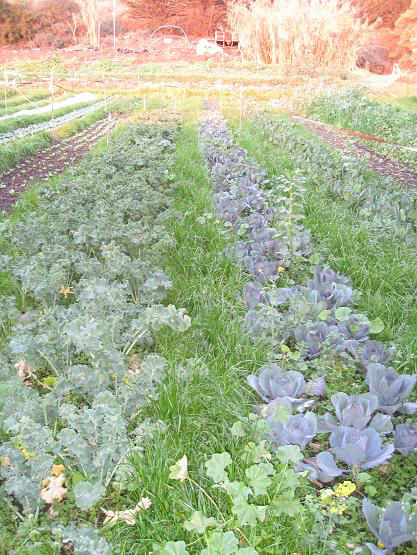 Grasses grow between rows of
different varieties of kale and cabbage.  Below, in the foreground new spinach sprouts are
settling in for the growing season.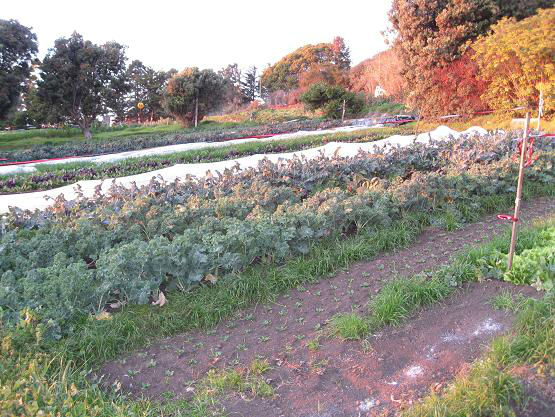 I was introduced to the wonderful Shirley Ward, who manages the farm. I asked her about the ample use of floating row cover (the white cloth over some rows above).  I suspected that it would be for insulation in the cold, but she surprised me when she said it was used to keep the sparrows away.  Those buggers will eat these luscious greens down to skeletal remains.  Shirley also uses streamers of metallic red and silver ribbon across the length of entire rows (which you can see if you look closely above) to discourage the birds.
Shirley told me that they have between 8 and 15 people on hand to work on the garden at any given time.  They work very hard to pick and clean all the produce before it's brought to the kitchen for the evening meal.  With care like that, you can imagine how great the food is!  I hope to be back to Esalen very soon to see what spring or summer looks like on the farm.