Baker Creek Heirloom Seed Company holds a place in the heart of many an organic vegetable gardener. Their gorgeous seed catalogs are the industry standard of "garden-porn", with beautiful pictures of hundreds of varieties many eyes have never seen before.
While away on a writing retreat, I stopped by their West Coast store, the Seed Bank.  It is aptly named because it is located inside an old bank.  A corner building in the center of town proudly displays Heirloom Seeds in the two-story bank windows.  You can't miss it.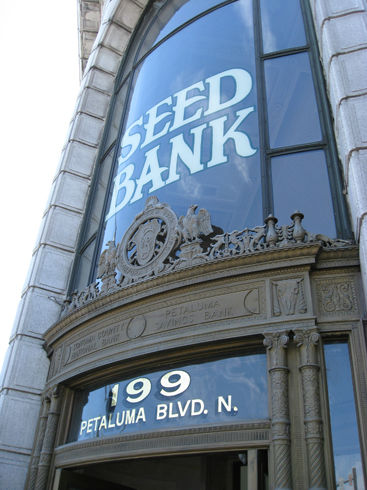 Above the entrance are these inviting words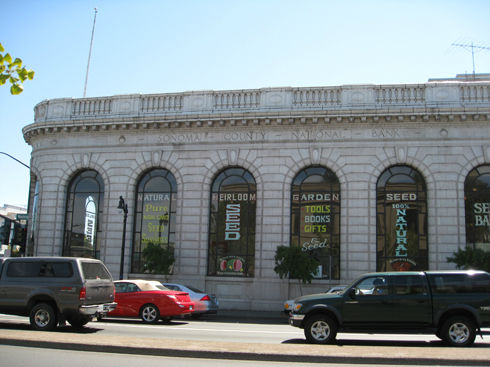 Painted in old-timey font, the tall Seed Bank windows elude to what's inside
Stepping inside the building is the beginning of an other-worldly experience.  If you're accustomed to seeing a turnstile or even a wall of seeds at your local  nursery, this far surpasses the supply I've ever seen at any nursery.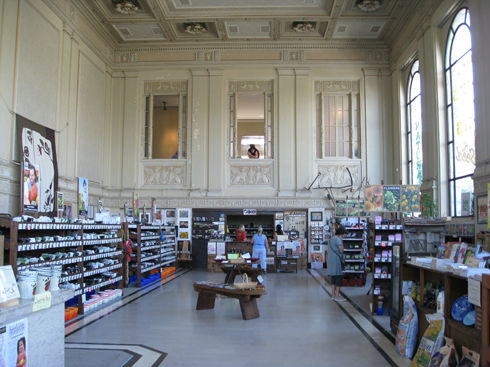 See the gal poking her head out of the second story window?  I would love to
have had a vantage point of the whole store from there.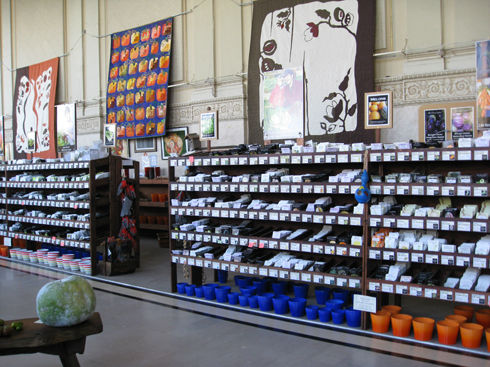 Row upon row of seeds, all sorted by category in alpha order.  The shelves
extend out of frame, but you get the idea.
I was happy to find that they had culantro – otherwise known as Vietnamese coriander – on the shelves in their herb section. I've been wanting to grow it since I discovered it while eating Fo (a Vietnamese noodle soup) last spring.
They also sold tools and books, and T-shirts of course.  The shirt would fit in the suitcase, but a new shovel would not…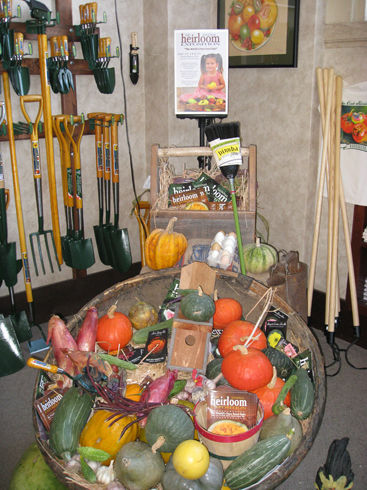 Baker Creek is hosting an Heirloom Exposition in Santa Rosa
on September 13-15 (today!) Wish I could go.
It took great restraint to only buy one packet of seeds.  The gal at the counter must have recognized that and gave me some free melon seeds to try growing next year.  You can find their entire seed collection at RareSeeds.com or through our Links Page under Seeds and Bulbs.
If you happen to be in the Santa Rosa or Petaluma area (or the whole of Sonoma County really), stop by and visit often.  It's worth the drive.