As summer winds down, the excitement for fall crops is building.  Not sure what to grow?  Gardenerd is here to help.  We've picked out a special selection of veggies we have been dying to grow – and we're pretty jazzed about it.
Color is the name of the game this fall.  Purples, yellows, reds and greens take the stage this fall to brighten up your garden.  Check out this beautiful lineup for fall:
2011 Fall FantaSeed Collection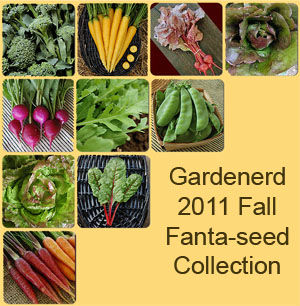 Wild
Sylvetta Arugula  – The name says it all.  It brings back memories of sitting at the dinner table in Naples, Italy with a simple salad of wild arugula, heirloom tomatoes and fresh mozzarella (Naples is the birthplace of mozzarella).  Tossed with a little olive oil, salt and pepper, this is the perfect way to enjoy the peppery tang of wild arugula.
Bull's Blood Beets  – Mainly grown for the leaves, these beets will look striking in any garden this fall.  I grow beets because they make me feel like a successful gardener.  The fact that the leaves are edible makes them an intriguing crop to grow this year.
De
Cicco Broccoli – One of the first heirloom broccoli's we grew.  Their small heads don't skimp on flavor.  Cut the center head to encourage prolific side shoots.
Yellowstone Carrots – There's something really fun about yellow carrots.  This departure from tradition will have your kids eating carrots… and if these don't, these will:
Cosmic Purple Carrots – They're PURPLE!  What more do I need to say? Grow this kid-favorite this fall.
Ruby/Rhubarb
Chard – We've grown a lot of chard, but this is a new one for our Test Garden.  The bright red stems will jump out amongst the savoyed leaves in any garden.  This is the gold standard of Swiss Chards.

Rouge D'Hiver Lettuce – We've been growing this lettuce for years (about 16 to be specific).  It's colorful and tasty in any salad.  Variety is the spice of life.
Pirat Lettuce – This is a new variety for us this year.  We can't believe we've missed this heirloom all this time.  Pirat is a butterhead variety with a blush of color along the tips.  Disease resistant, and a sure winner in the garden.

Purple Plum Radish – Again- it's PURPLE!  This fast-growing kid-friendly crop will add color to your salads and offer a bright and cheery snack option for the little ones.
Oregon
Sugar Pod II Snow Peas – Believe it or not, we've never grown snow peas (the appeal of sugar snaps are hard to resist instead).  It's time, don't you think?  These snow peas are highly productive and sweet, not to mention gorgeous!  Let's see if these make it out of the garden.
Arugula, beets, chard, carrots, lettuces, radishes and peas call all be started directly in the garden soil.  Broccoli likes to be started indoors about 6 weeks before planting out.  So this is a great collection for folks who want to plant directly.  That said, starting any of these indoors will protect young sprouts from critters.
We use floating row cover to protect seedlings until they are big enough to fend for themselves.  Watering every day helps build strong roots.  We also use kelp emulsion to get them off to a good start.  Try them out in your garden this fall!