Sunny days mean that it's time for a little solar food drying.  Add an overabundance of kale and you've got a formula for a tasty snack: Kale Chips
We pulled out the solar food dryer that we built last year and started warming it in the sun.  Before long it was up to 110º inside and ready for a batch of kale chip. Here's the recipe we used: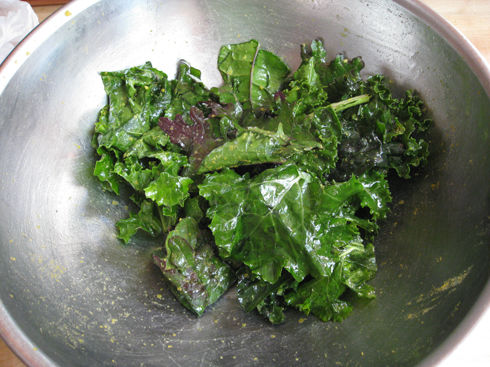 Crispy Kale Chips
Serves 4
1 12-oz. bunch curly kale, center
stems removed, each leaf torn
into 4 pieces (6 cups)
2 Tbs. olive oil
1 Tbs. lemon juice
1/2 tsp. sea salt
3 Tbs. nutritional yeast
Directions
1. Place kale in bowl. Rub oil, lemon juice, and salt into leaves with hands. Add nutritional yeast, and toss well.
2. Spread kale onto dehydrator trays without overlapping. Dehydrate 2
to 4 hours, or until dry and crispy. Turn off dehydrator, and cool
completely.
*Since our dehydrator is solar, we weren't sure how much time it would take, but we assumed that 2 to 4 hours was a good guideline.
We layered the kale pieces on the screen and put them out in the dryer.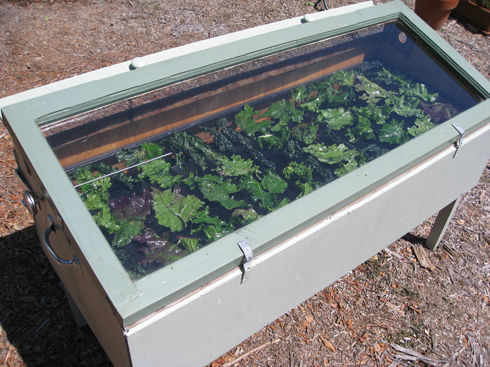 kale chips drying with sun power
We had more kale than room on the screen, so we fired up the oven to 350º and put the rest on cookie sheets in a single layer.  We baked them for 10 minutes until crisp.
The oven chips obviously finished first and the results were delicious!  We ate them over the sink (it's like eating crumbly tissue paper, with much better flavor).  A couple hours later the solar chips were done.   Well, almost.
Maybe it's because they weren't completely dry (still a little bit chewy), or maybe we didn't have the heat high enough (it can be regulated by opening the vent door), but the kale chips made in the food dryer came out bitter.  In talking with a professional who has a vegan raw kale chip business, he said he has experienced bitter chips when they don't completely dry during the process.  So we'll try again and leave them in longer.
Oven or solar food dryer – either way,  we've got plenty of kale to keep trying until we get it right.  Trial and error never tasted so good!