There are some years that I don't plant zucchini because I'm still sick of it from the year before.  This was not one of those years.  Admittedly, summer squash doesn't hold my interest as long as winter squash is around, but I wanted to try a new variety of summer squash.  But wait…
First let's clarify something.  Summer squash grows in the summer.  Winter squash… grows in the summer.  The difference is in the storage.  Summer squash has to be consumed during the summer, but winter squash stores through the winter (think pumpkins, acorn squash, butternut).  Got it?  Okay, now we can move on.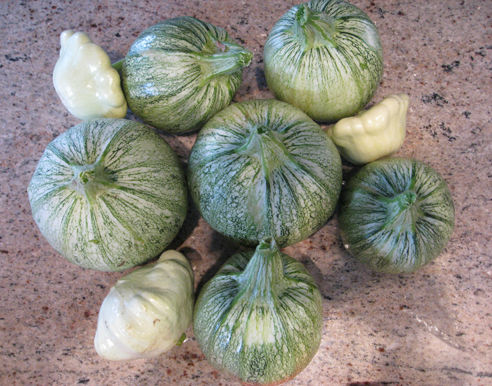 Ronde De Nice Zucchini (about the size of a softball) and Bennings Green Tint Patty Pan
Ronde de Nice is a cute little zucchini (well, as long as you pick it small) that defies zucchini's traditional shape.  It's an heirloom variety that's lighter in color and is round.  They're also very prolific, as are all zucchini I guess.  Within a week, I've picked 12 so far, and there seems to be no sign of stopping.  So what to do?
Bake, dear, bake!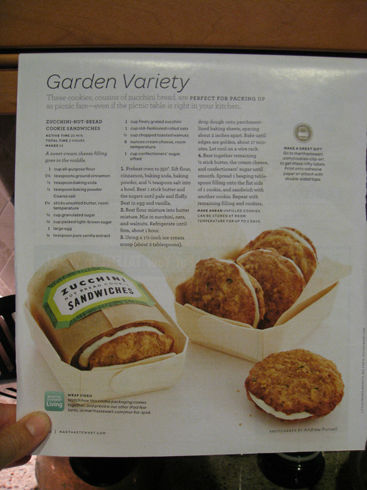 Martha Stewart's recipe for Zucchini Nut Bread Sandwich Cookies
Here's the recipe:
Zucchini Nut Bread Sandwich Cookies
Ingredients
1 cup all-purpose flour
1 1/4 teaspoons ground cinnamon
1/2 teaspoon baking soda
1/2 teaspoon baking powder
Coarse salt
1 1/2 sticks unsalted butter, room temperature
1/2 cup granulated sugar
1/2 cup packed light-brown sugar
1 large egg
1/2 teaspoon pure vanilla extract
1 cup finely grated zucchini
1 cup old-fashioned rolled oats
1/2 cup chopped toasted walnuts
8 ounces cream cheese, room temperature
1 cup confectioners' sugar, sifted
Directions
Preheat oven to 350 degrees. Sift flour, cinnamon, baking
soda, baking powder, and 1/4 teaspoon salt into a bowl. Beat 1 stick
butter and the sugars until pale and fluffy. Beat in egg and vanilla.
Beat flour mixture into butter mixture. Mix in zucchini, oats, and walnuts. Refrigerate until firm, about 1 hour.
Using a 1 1/2-inch ice cream scoop (about 2 tablespoons),
drop dough onto parchment-lined baking sheets, spacing about 2 inches
apart. Bake until edges are golden, about 17 minutes. Let cool on a wire
rack.
Beat together remaining 1/2 stick butter, the cream cheese,
and confectioners' sugar until smooth. Spread 1 heaping tablespoon
filling onto the flat side of 1 cookie, and sandwich with another
cookie. Repeat with remaining filling and cookies.
Now, I'm all for flourish every once in a while, but I wasn't about to layer icing on these cookies since this is all about celebrating zucchini.  So I didn't.  I gathered the ingredients: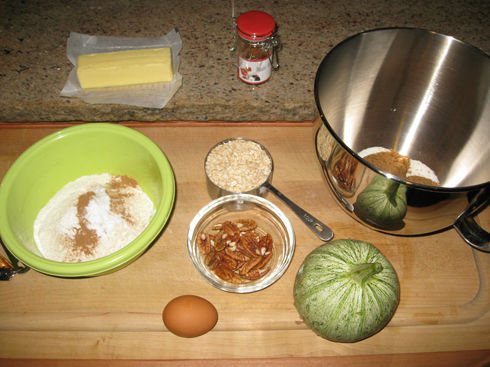 I used pecans instead of walnuts, since someone in our household has an allergy
Zucchini was shredded, pecans were chopped, oats were added, and everything was mixed together successfully.   Then out came the ice cream scoop to place blobs of dough on parchment covered cookie sheets.  Heed this advice:  Do follow the directions and place the blobs 2 inches apart.  Otherwise this happens: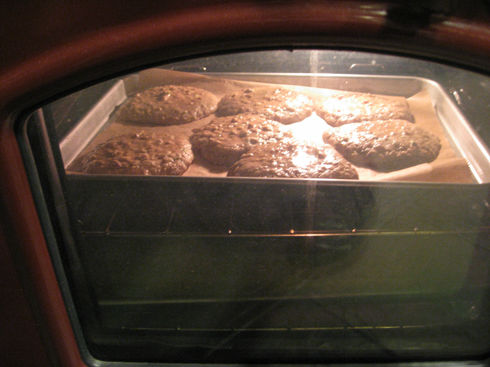 But as you know, cookies taste good no matter what shape they are (plus you get to eat the "ugly" ones before anyone else sees the finished product).  As it turns out, these cookies were soft like thinly sliced zucchini bread.  Needless to say, they were still a hit in our house.
Need other zucchini recipes?  Just type "zucchini recipe" into the search box on the Gardenerd home page.  You'll find Chocolate zucchini bread, stuffed zucchini and more.