Looking for a delicious way to cook up those winter vegetables? Look no further. This recipe from the November 2012 issue of Vegetarian Times magazine cooks up a savory, satisfying jambalaya that rivals any meat version. Smoked paprika, cayenne and chili powder make it spicy, but not too hot.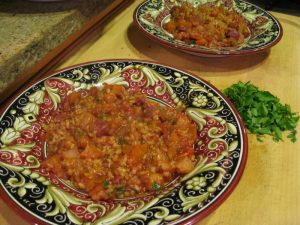 Roasted Winter Vegetable Jamabalaya -Serves 6
1 cup long-grain brown rice (we used short grain – worked fine)
2 large carrots, diced
2 medium parsnips, diced
1 small sweet potato, diced (we used a home-grown purple variety)
2 Yukon gold potatoes, diced
3 Tbsp EVOO, divided
¾ tsp sea salt, divided
1 small onion, diced
1 tsp sweet or smoked paprika (smoked, definitely smoked)
½ tsp chili powder
¼ tsp cayenne pepper
2 tsp tomato paste
3 cups low-sodium vegetable broth
1 cup chopped canned tomatoes (we used fresh – worked fine)
½ cup fresh parsley or 2 tsp dried parsley
1) Soak rice in a bowl of water overnight.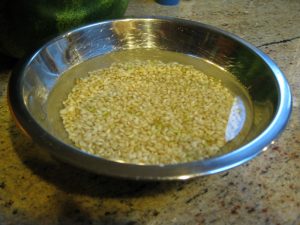 2) Preheat oven to 400 degrees.  Drain rice.  Lightly oil baking sheet or line with parchment paper.
3) Toss together carrots, parsnips, sweet potato, potatoes, 1 Tbsp oil and 1.2 tsp salt in a bowl.  Spread on prepared baking sheet and roast for 20 to 30 minutes, until vegetables are browned.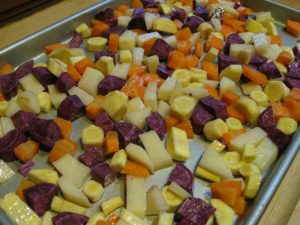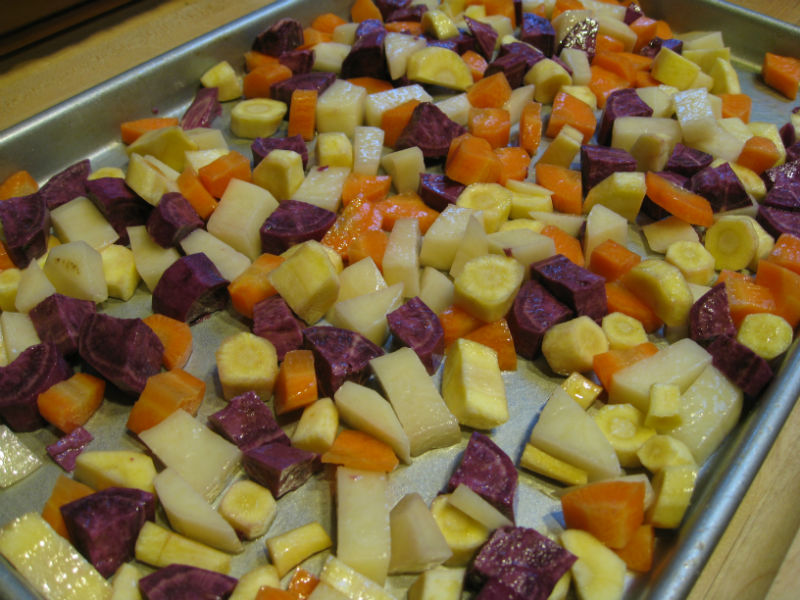 4) Combine onion, remaining 2 Tbsp oil, paprika, chili powder, cayenne and remaining salt in skillet; heat over medium-low heat.  Cook 5-8 minutes and until onion is soft; add rice and cook 2 minutes over medium heat or until liquid had evaporated.  Stir in tomato paste, then broth and tomatoes.  Bring to a boil, then immediately remove from heat.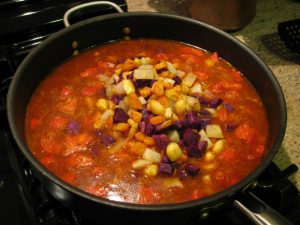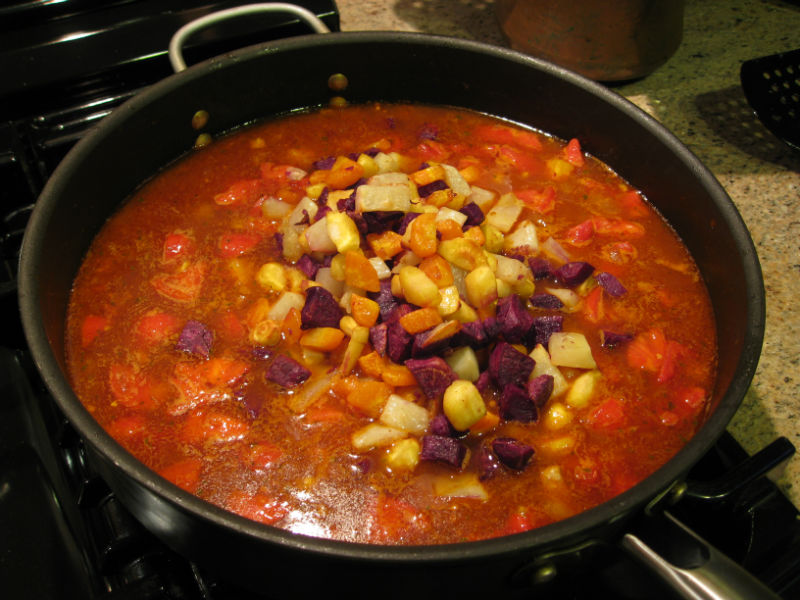 5) Stir roasted vegetables into rice mixture and bring to a boil.  Reduce heat to medium-low, cover, and simmer for 40 to 50 minutes.  Remove from heat and let stand 10 minutes.  Stir in parsley, and season with salt and pepper, if desired.  Serve hot or room temperature.
Notes: We had to cook slightly longer because the rice wasn't done (having only soaked it for 4 hours), but it's good to know that the recipe still works if you didn't plan ahead.
Allow enough time for this recipe. It isn't "30 minutes or fewer", but it's pretty hands-off. You can do other things while the veggies roast and while the rice cooks.  Try it and post your comments here.