A question came in this week from a Gardenerd student:

"I'm sharing a Biostack [compost] bin with my neighbors in my apt complex and the
question was raised on whether or not it's acceptable to put whole
fruit, apples, oranges, etc. into the bin.  I'm trying to keep the bin
simple for people so I am hesitant to tell people to cut up their fruit
to help accelerate the composting, but my neighbor thinks they should
be. Can you tell me what the recommended way fruit should be put into
the bin? People put compostable wear in there so I figure, a whole
apple will probably decompose in the same time, if not faster than the
compostable wear. Thanks so much. Jennifer"
Great question!  First let me say that your choice of the Biostack is a good one.  This is one of the two bins currently for sale at the Los Angeles Bureau of Sanitation's monthly subsidized bin sale.  The Biostack is built in a way that makes it easier to turn your pile, which results in finished compost more quickly. What you do with the material you put in the bin can take that even further.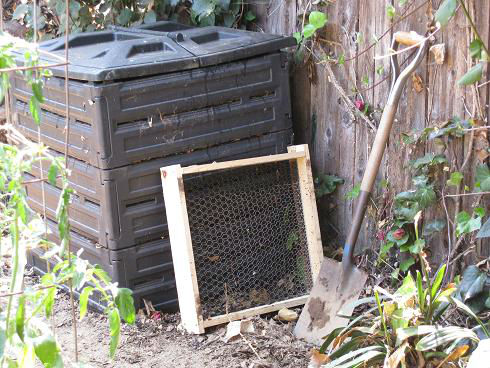 The more you cut up your food scraps, the more surface area is exposed to the elements, which results in faster decomposition.  If your composting crew is eager to have finished compost, you might consider making a team effort to chop away before adding those kitchen scraps to the pile.  The rule of thumb for anal people like me is to cut things into  2 inch pieces.
That said, if your compost bin is active (meaning that it is generating heat through proper combination of browns, greens, and water) whole fruit and food scraps will break down anyway.  It will just take a little bit longer.  When you turn your pile, you can use a shovel to break up larger pieces and that will kick-start the composting process with the new surface area that you've created for fungus, bacteria and insects to go to work on.
And yes – that compostable fork will probably be in there for a couple of years, long after your your whole orange has degraded.  I have a collection of compostable cutlery in my compost bin that remains completely in tact from a party in February.  I just keep putting it back into the pile and eventually it will break down.
So rest assured that you and your neighbors will have successful compost regardless of whether you cut up your produce or not.  Just have some good reading material on hand while you wait.
Thanks for writing in!
Hey fellow Gardenerds – let's take a pole: Do you cut up your kitchen scraps and garden waste before feeding your compost bin?  What works for you? Share it with us here.