I'm a self-proclaimed soap whore.  Let me clarify…I love bar soap.  None of that anti-bacterial frothing pump stuff for me thank you very much.  I need a bar I can roll around in my hands, something that cuts through the layers of green tomato plant juice in the summer.  Something that scrubs away the dirt under my nails, but leaves me feeling like I've just done something decadent for myself.
About 2 years ago, I discovered that I live walking distance, and therefore dangerously close, to Soaptopia, the most wonderful maker of what I affectionately call "bath crap" in Los Angeles and dare I say, the world.  They make about 40 different soaps, all with natural essential oils and ingredients.  Not those heavily perfumed and artificially colored products you find everywhere, this stuff is the real thing.  Not only do they make soaps, but they make bubble bath, body oils and lotions that sooth and pamper.  Imagine my delight when Jolie (the owner) and I struck up a conversation about making some products exclusively for Gardenerd.com?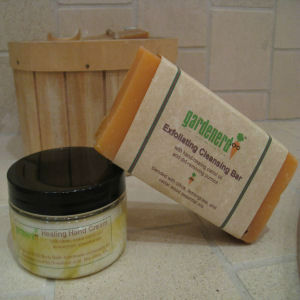 We developed an essential oil blend based on a salve I made with some students during the workshop I co-taught at the Esalen Institute earlier in the year.  The herbalist teaching the class that day let us pick 3 essential oils and we chose cedar wood, tangerine and lemon grass – a combination that worked for both the men and women in the class.  I brought the salve to Jolie and she put me in front of her fantastic aromatherapist friends who were visiting from out of town.  Together we came up with the blend that now graces every cleansing bar and pot of hand cream in the Gardenerd Hand Care Kit.
Now you can get the Gardenerd Hand Care Kit exclusively from Gardenerd.com.  You can't find it anywhere else.  The set includes an oversized, super-moisturizing cleansing bar with pumice for getting the grime off, and a 4 oz. pot of decadent hand and body cream with oils that sooth tired hands.  It's perfectly wrapped up for the holidays and it's a gift you can give for under $25.
If you garden, you probably get craggy hands that look more like the Sahara Desert than, well… hands.  I know I do.  Especially that spot at the junction between my thumb and pointer finger.  This stuff fixes all that.  Try it and you'll never go back to pump soaps or lotions again.