There's been a bit of a lapse on blog entries in the past week.  Reason being, I was at the Eco-Gift Festival for 4 days, and the workload leading up to it was tremendous.  Now that it's over, and after a little much-needed rest, blogging can resume as regularly scheduled.
For those who couldn't attend, here is a little taste of what it was like at the Festival.  First of all, we had a great location – the first booth you saw upon entering the tent.  You couldn't possibly miss our banner, which was wonderfully designed by Lenore Perry.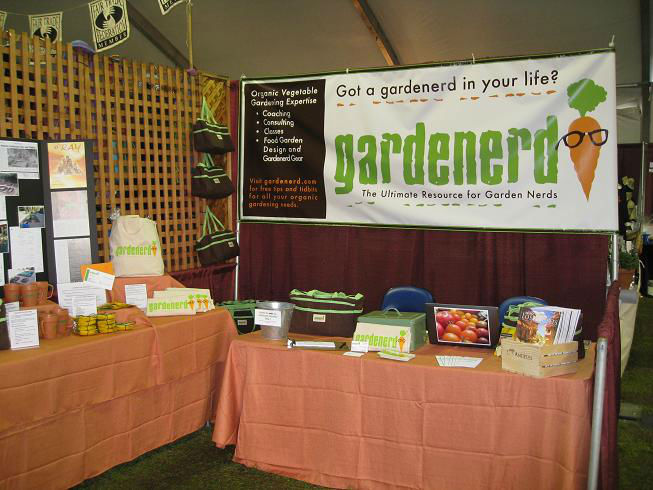 I was lucky enough to find terra cotta colored table cloths and we were beyond lucky to have a neighboring booth who used redwood lattice to extend their booth skyward.  We benefited from their convenient placement of lattice by hanging Ultimate Garden Bags on it.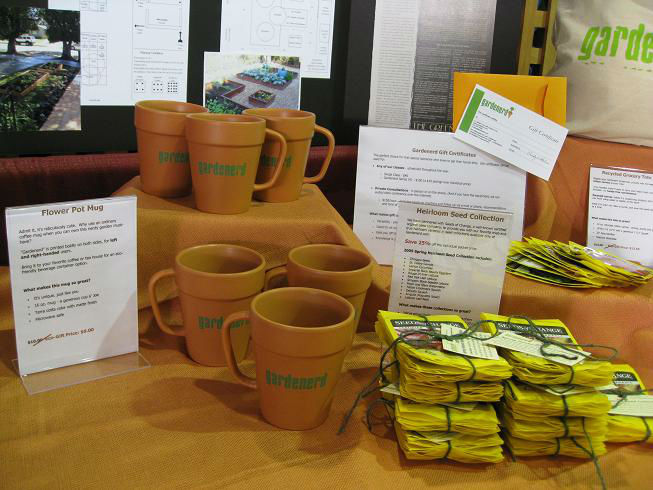 Gardenerd Flower Pot Mugs were a big seller.  Many folks bought them as a holiday gift for their mother – in fact, it seemed to be a trend.  The Seeds of Change Heirloom Seed Collections went like hotcakes.  We sold out and had to take pre-orders for the next batch (which are now in stock, by the way).  In the background you can see some photos of food garden installations that we've done in the past year.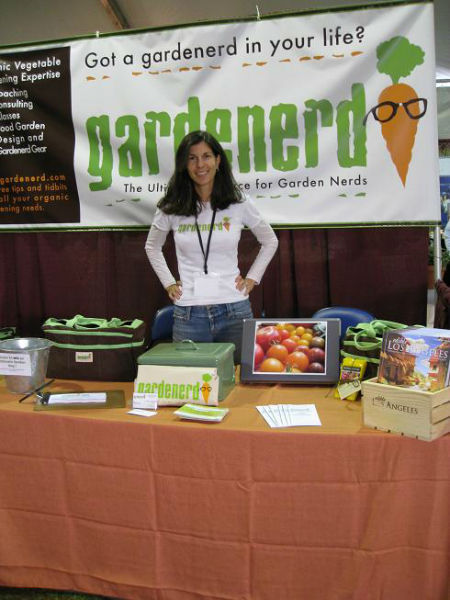 We met so many people and really enjoyed talking about gardening.  Here are a few things we learned about this year's gardens:
Tomatoes didn't do well for many folks
Cabbage worms are a bigger problem this year than most
For some, squash had lots of flowers, not much fruit
Many people are transitioning to Xeriscape garden design to avoid drought conditions in Los Angeles
So many people are excited about the prospect of growing their own food
I'm so excited to see the wave of interest in knowing where our food comes from.  It gives me great pleasure to help people along that path.  Thanks again to all those who stopped by the booth, and especially to those who took home some Gardenerd Gear.