We love scratch cooking here at Gardenerd, and when the folks at Uno Casa found out, they sent us an 8″ cast iron tortilla press to test out homemade corn tortillas. The kit came with a recipe book and we immediately glaumed onto the notion of making cilantro lime corn tortillas. Excitement built.
In the interest of full disclosure, we bought our masa harina. Traditional methods ferment whole corn kernels first in a process called nixtamal. Soaking the corn in lime water softens the kernels, making the corn more digestible. Then it is dried and milled into flour. Someday we'll do that, but for now, store-bought is the way to go.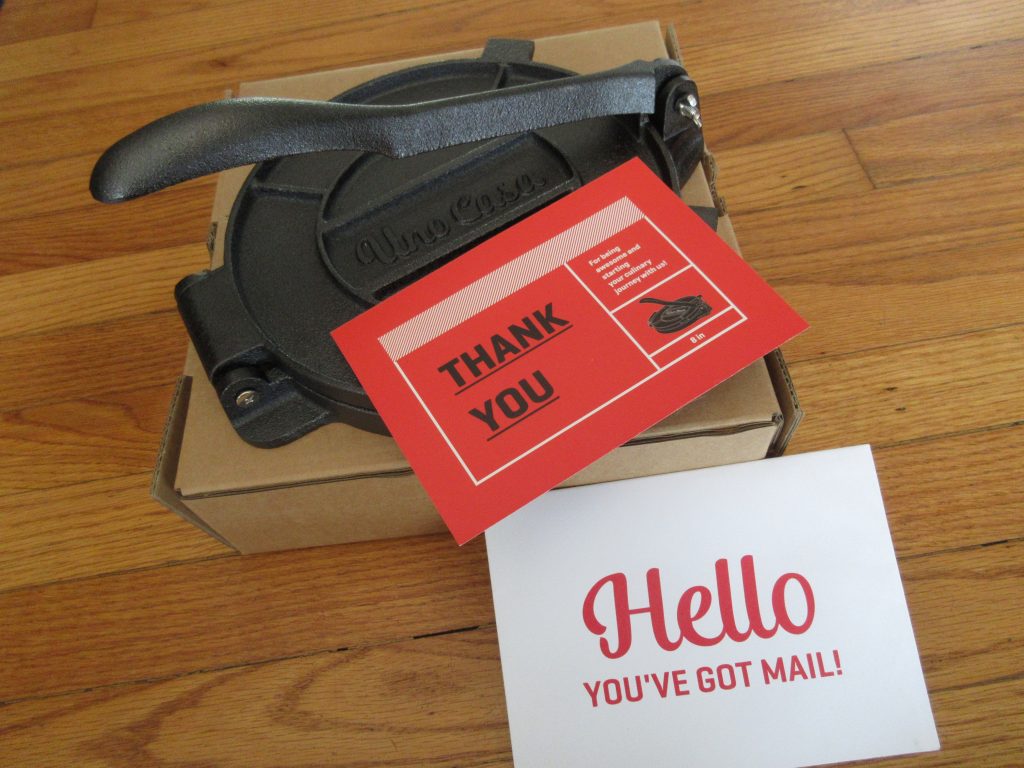 Ingredients
1 3/4 cups masa harina
1 tbsp fresh lime juice
1 3/4 cups water
1 tbsp fresh cilantro, chopped
1/2 cup fresh cilantro, washed and chopped
1/2 tsp salt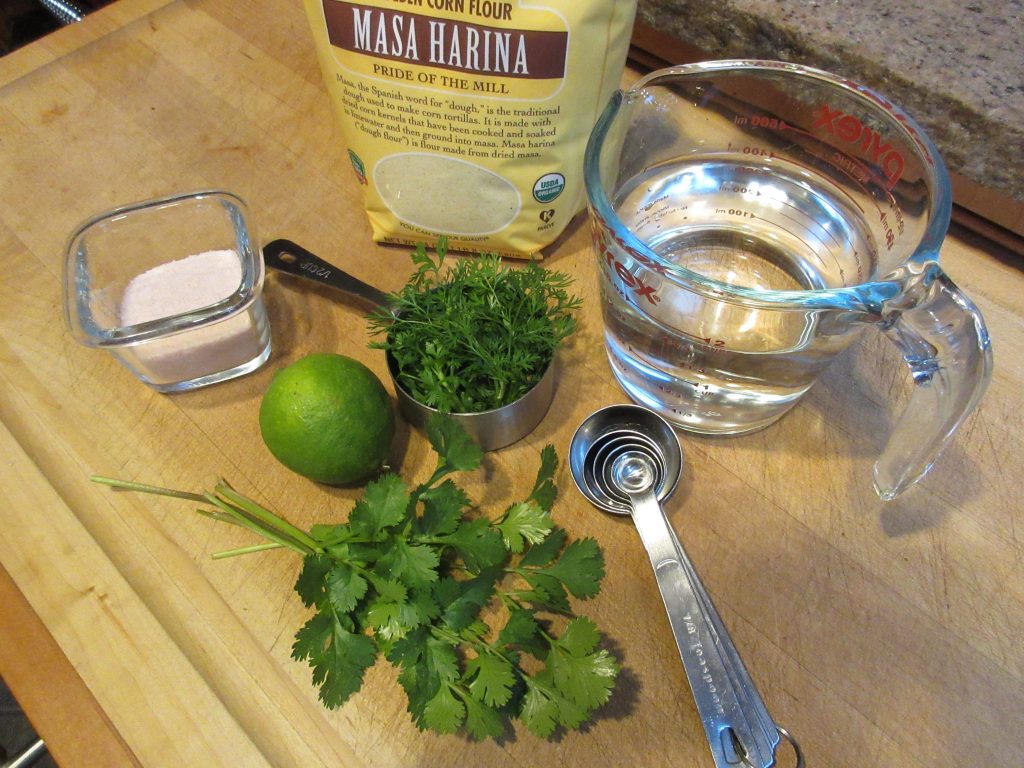 Method
First we blended the 1/2 cup cilantro with water, salt, and lime juice until smooth. Then strained it into a container.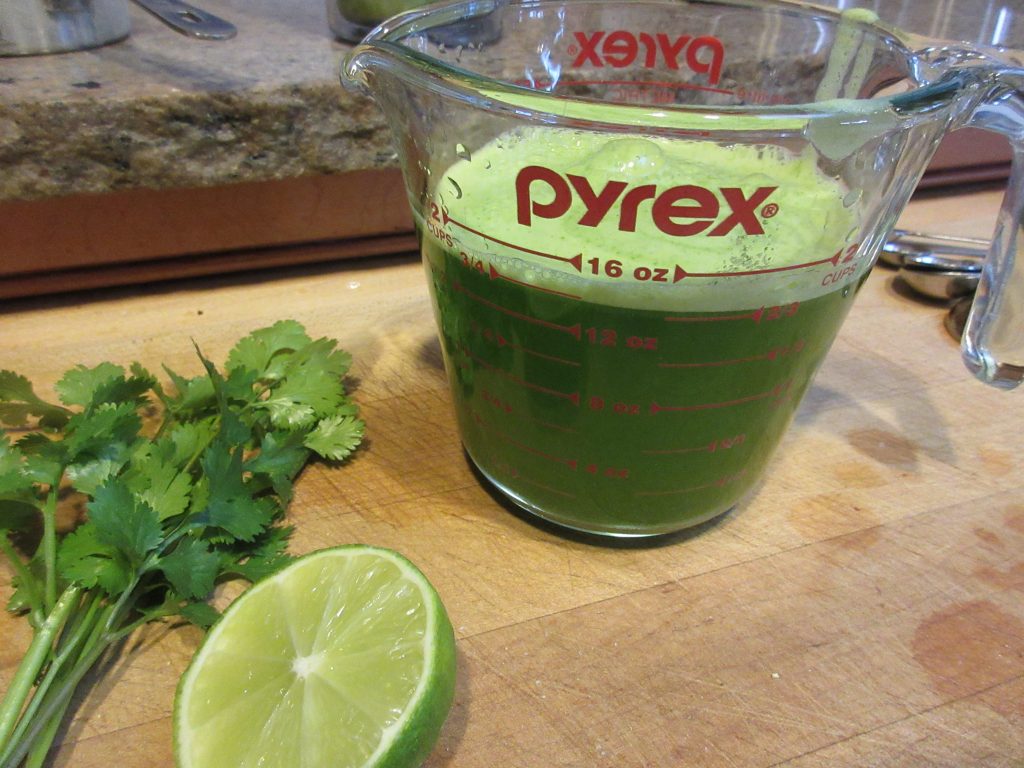 Next, we poured the liquid over the masa harina and mixed it together, then added in the chopped cilantro. Instructions say the dough should be tacky but not sticky. Ours was sticky, so we ended up adding another 3 TBS masa harina to make it workable. This process is surprisingly easy.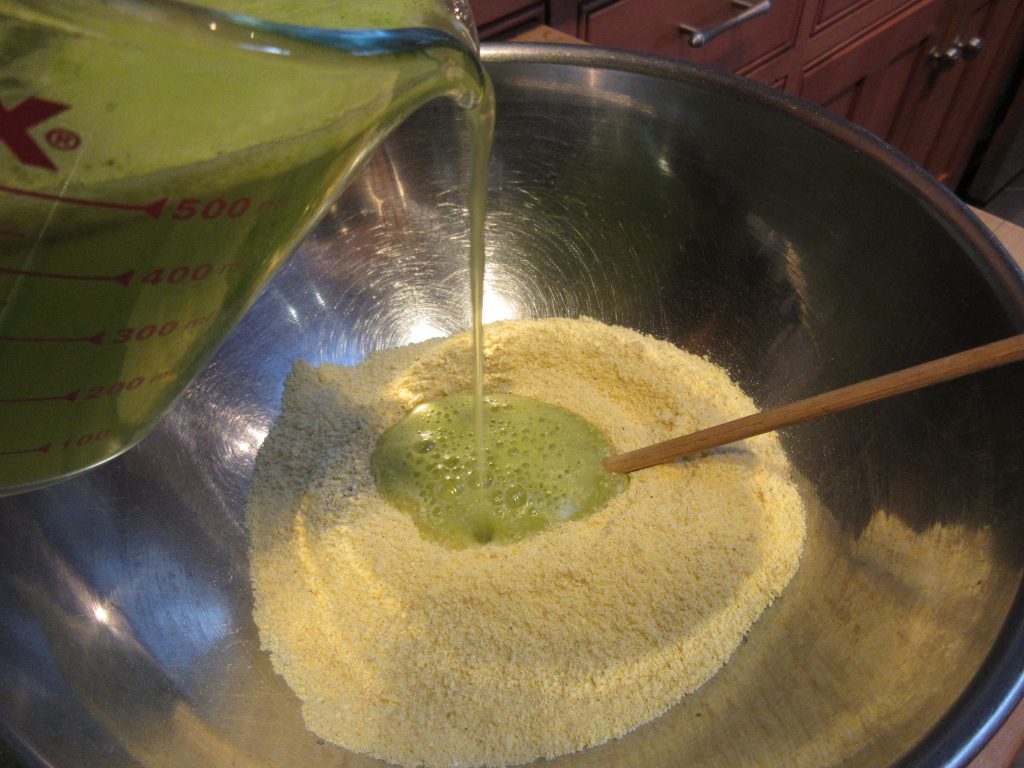 Some recipes diverge at this point, saying to let the dough rest for a couple hours before forming into balls. We took the shorter option, to form balls first, then rest for 20 minutes.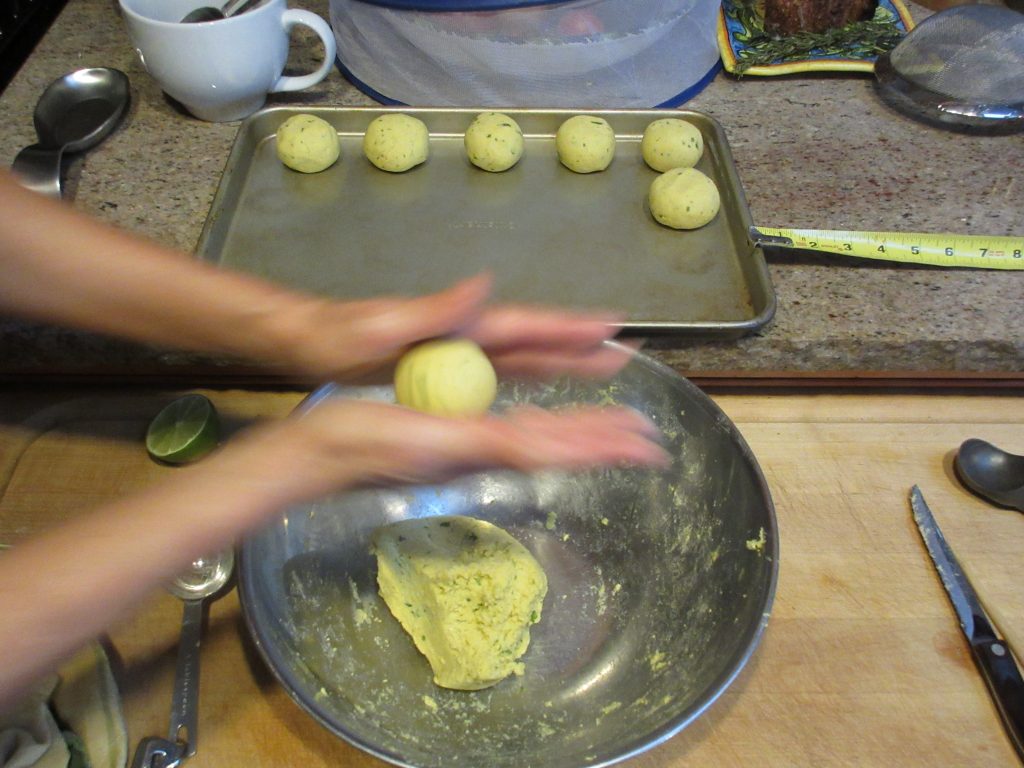 We shaped the dough into larger rounds than was called for because we wanted 6 to 8 in tortilla. Then it was time for magic!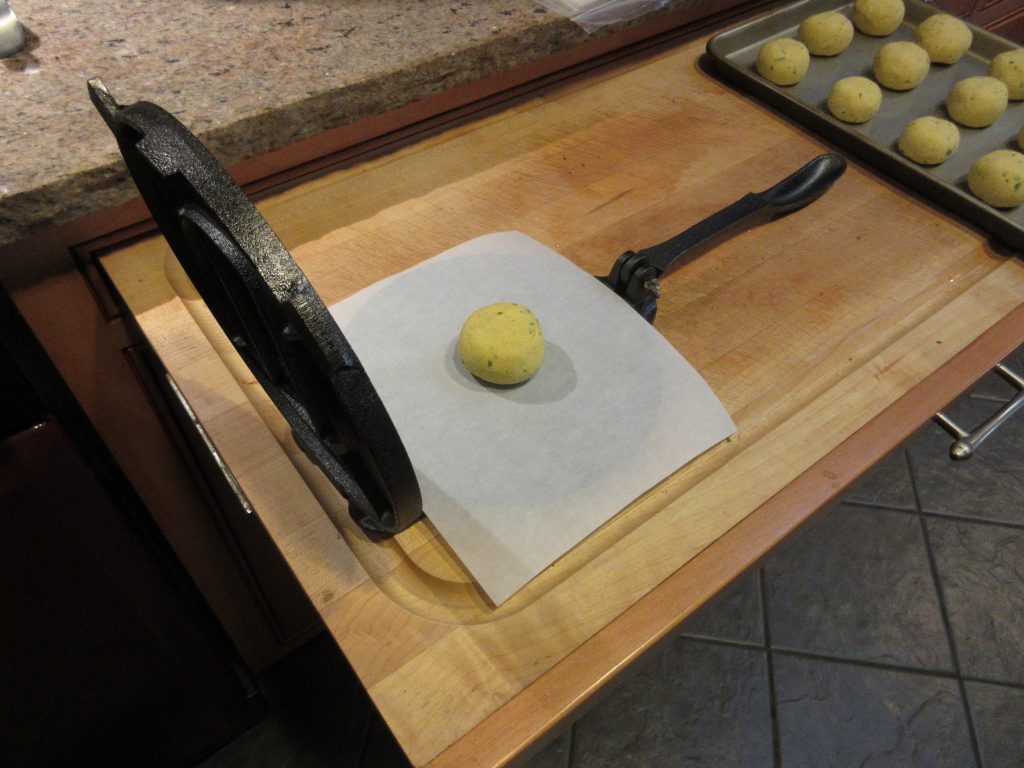 Then we cooked the tortillas on a hot griddle (read: biggest flat pan we had) without oil. They are easy to peel off the parchment paper and drop into the pan. 30 seconds on each side (yes, we set a timer), and then we transferred them into a pot with a lid. In hindsight, we'll probably cook them a little longer next time.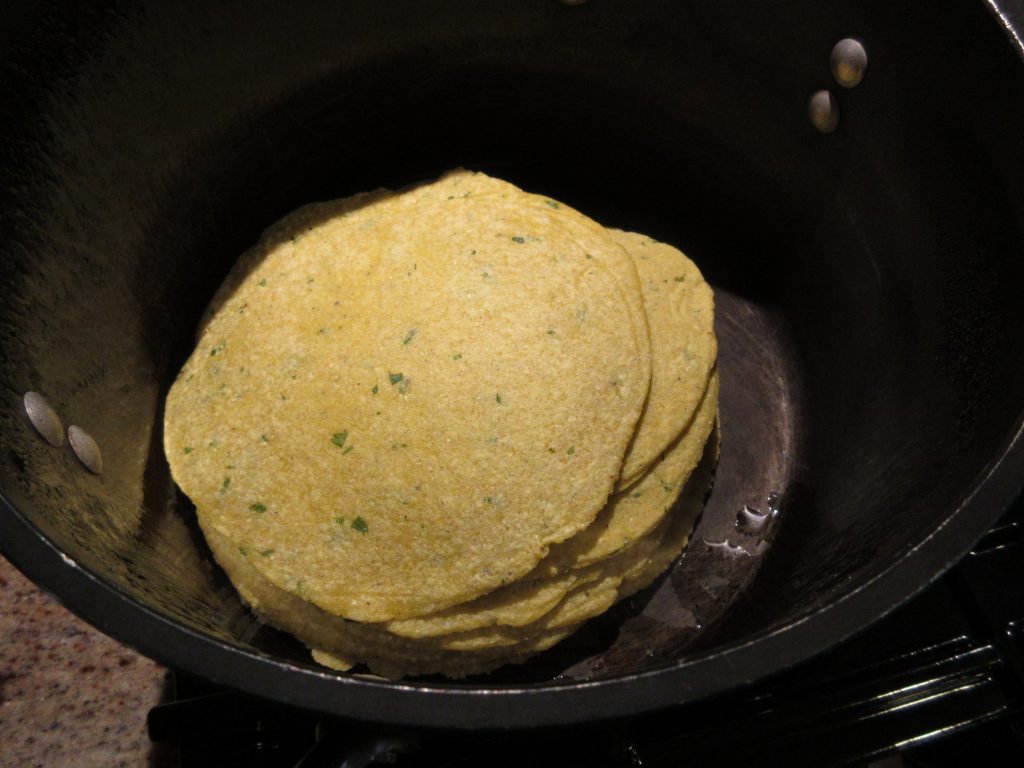 Had we made smaller tortillas the recipe would have made 20 tortillas. The larger size yielded 13. Enough for dinner and leftovers. Speaking of dinner…
Makin' Tacos
Its was "clean out the fridge" night, so we diced up some homegrown purple potatoes and green onions, garden fresh tomatoes, farmers market mushrooms and cooked them up with chili powder, cumin, garlic oil, and salt. We plated them up with a little Monterey jack cheese, homemade salsa, and a sprinkling of homegrown cilantro. The taste? Oh so satisfying and delicious.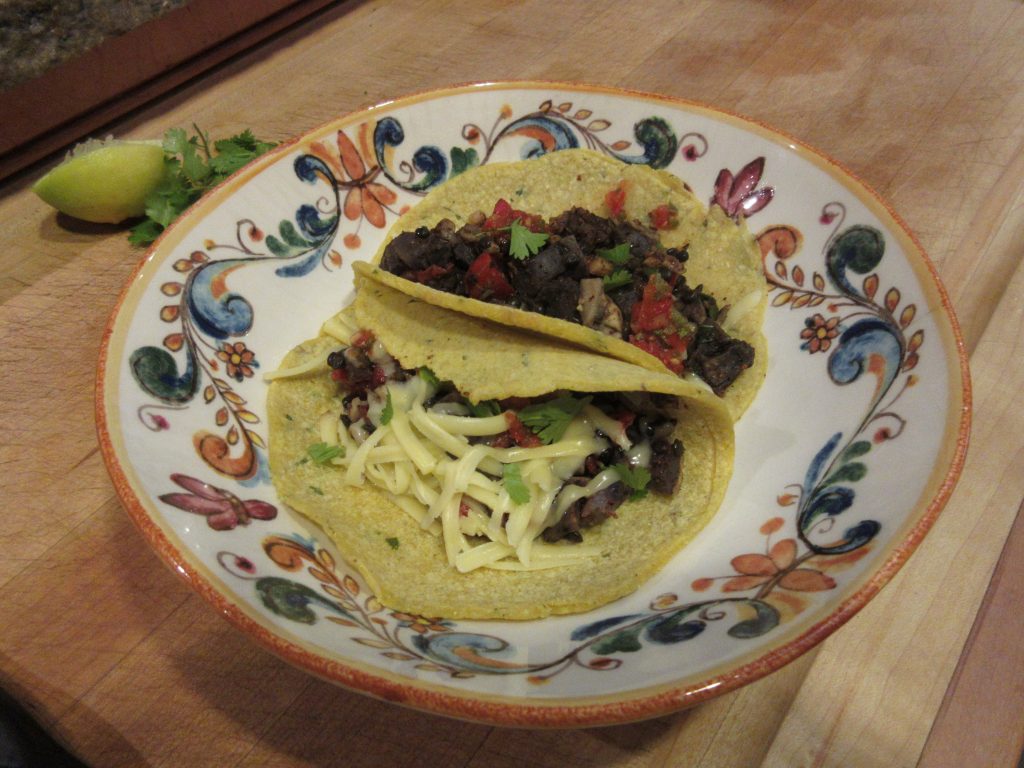 The entire process was easy and fun to do. It didn't take very long either. If we'd had a griddle we would have been able to cook more than one tortilla at a time. But it worked out fine anyway. Days later we're still enjoying the freshness of homemade corn tortillas. Give it a try!