Warning – nerd alert!
Yesterday, I met with a client to help design the food garden at his new home.  The entire house is being remodeled and is going to be one of the greenest homes in the United States when all is said and done.  Using solar power, recycled materials, and renewable resources, the house is sure to be a centerfold in Architectural Digest or Mother Earth News in the coming year, and I'm thrilled to be part of the process.
I'm also thrilled that I got to use one of my favorite tools for the job.  It's something I got several years ago with the intention of using it more often, but the proper use just hasn't really come up.  What is it, you ask?
Why, a compass ring, of course.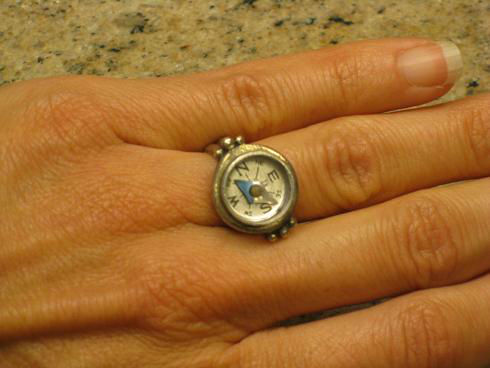 I used the compass ring to find North so that we could determine the sun's pathway across the sky.  Given that I'm a sun hog, and want my garden to be the center of attention as far as sun is concerned, it's important to make sure that the garden is placed out of the shadow of shady trees, structures and the like.  Luckily, north proved to be in the right place for the existing garden's placement, so we didn't have to problem-solve at all.
So you might be wondering where someone can get a compass ring, or why the heck anyone would want one in the first place.  Well, I had it made by a jewelry merchant on the Boardwalk in Santa Barbara, CA several years ago.  I had been looking for one for quite some time, with no luck, so when I saw that this merchant had tiny compasses on his table, I asked if he could put one on a ring for me.  Why did I NEED this compass ring?  To go with my sundial watch, of course: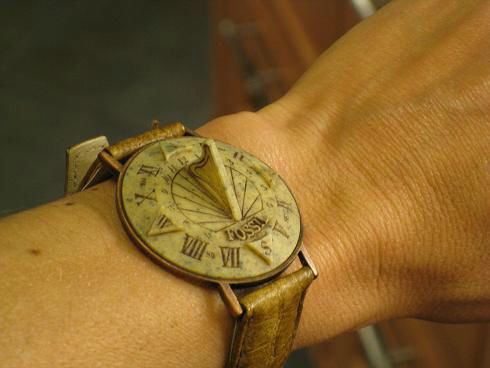 That's right, a watch with no moving parts.  I don't even know if Fossil still makes them, but I found it about 10 years ago in Northern California.  I wanted something where the battery wasn't going to die on me, and I also wanted something that put me in touch with the elements as much as possible.  Sure enough, the sundial watch fit the bill.  Now you may know this already, but sundials tell time accurately, but they only work when facing north.  So of course I needed a compass for that.  After about 6 years of dreaming about this happy combination, I finally had it all in place: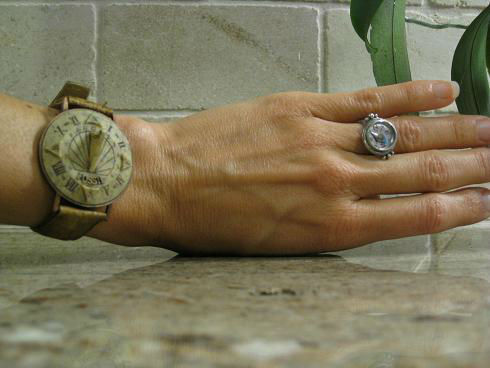 It came in handy at my client's house when the landscaper was convinced that north was in the direction of east.  Without any trouble at all, we had our answer and quickly moved on to more important things – planning the food garden.
One little side note – the sundial watch is an hour off during daylight savings time.