"Love your podcast and website. I am new to gardening. Browsed your site and enjoyed the blog on veggies in a pot. As I start thinking about the spring, I began to ponder the possibility of additional veggies and herbs in "pots." What do you think are the easiest veggies and herbs to plant in pots. Right now I grow watermelon, tomatoes and strawberries in my tiny garden. Any advice? I live in New Mexico in a dry climate. Thanks—David"
Thanks so much for writing in, David. There are some great veggies that will grow in pots, and herbs as well.  Before I get started though, just a quick word about pots.
Materials for pots range from plastic to ceramic, from wood to stone.  Each material has its own set of pros and cons that affect your plants.  Ceramic pots, like terra cotta, are more porous, which is great for air flow, but tend to dry out faster.  You'll want to consider this in your dry climate.  Terra cotta and glazed ceramic pots, however, are often more beautiful than plastic pots and are much more sturdy.
Plastic pots, while lighter and easier to move, can photo-degrade after awhile. They are generally less expensive than ceramic and are usually available in fancy colors.  It's all up to you, but whatever pot you choose, be attentive to how your plants responds to them.
That said, I am currently growing many herbs in pots that are set up with a drip irrigation line (Toro Bluestripe and a timer hooked up to a hose spigot).  My easiest and best performers are chives, mint (give them a pot to themselves), rosemary, oregano, thyme, and sage.  Seasonally, basil will do fine in pots when it's warmer, and you can certainly try fancier herbs like scented geraniums and savory.
As far as veggies go, you can grow just about anything in a pot that you can grow in the ground, as long as the pot is at least 12″ deep.  Some veggies, like tomatoes and root crops, need to be in deeper pots – 18-24″.  My favorite easy crops are salad greens, because they're really showy and grow quickly.  Broccoli and peas also look nice in pots and are relatively easy to grow.
I love this book by Bob Purnell called Crops in Pots.  Not only does he create beautiful displays of foliage in all kinds of different pots, he combines veggies in an artistic way that makes you think outside the box.  To be perfectly honest, I borrowed the book from a friend and love it so much, I haven't returned it yet (Sorry Katherine!)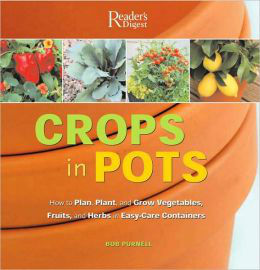 The world of container gardening is vast, and you're just opening the door.  Have fun with this, and don't be afraid if something doesn't work out the first time.  Gardening is an adventure so enjoy it!  Let us know how it works out.
Thanks for writing in and keep those questions coming.