We have a steady stream of kale coming from the garden these days, and while I make my favorite raw kale salad almost every week with it, there is a need for a new recipe.  Enter Kale Lasagna from the January/ February issue of Vegetarian Times magazine.
Along with a slew of other kale recipes, this one caught my eye.  Anything that calls for no-boil noodles increases the odds of actually making the dish, so I gathered the ingredients and went to work:
Freshly harvested kale, garlic, tomato puree (or in this case organic crushed tomatoes), organic ricotta cheese, chevre, no-boil lasagna noodles and red pepper flakes (not pictured) make up the basis of the meal.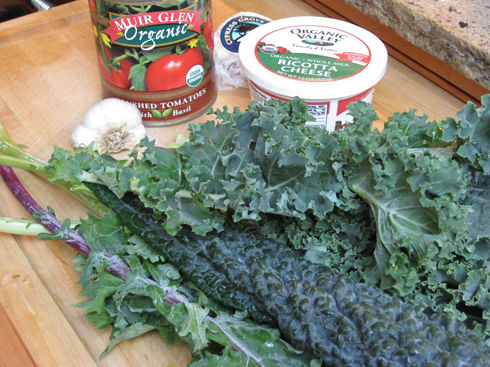 The Recipe: Kale Lasagna Diavolo
(copied and pasted from Food.com)
1

teaspoon

olive oil (plus more for oiling pan)




8

ounces

kale, stems removed




1

(15 ounce)

package fat-free ricotta cheese (I used full fat ricotta – let's not kid ourselves)


4

ounces

goat cheese, softened




2

garlic cloves, minced




2

cups

tomato puree (I used crushed tomatoes)


1/2

teaspoon

red pepper flakes




6

lasagna noodles, cooked and drained (or 6 no-cook noodles)




1/4

cup

Parmesan cheese, grated (You could use more – it wouldn't hurt)

Directions:
Prep Time:
20 mins
Total Time:
1 hr
Preheat oven to 400 degrees. Coat 8-inch square baking pan with oil.

Cook kale in large pot of boiling salted water
for 2 minutes. Drain and rinse under cold water until cool enough to
handle. Thoroughly wring out kale, then chop. Season with salt and
pepper, if desired. Set aside.

Mash together ricotta and goat cheese in bowl and set aside.

Heat 1 teaspoons oil in small saucepan over
medium-low heat. Add garlic and cook 15 seconds, or until fragrant.
Add tomato puree and red pepper flakes; simmer 5 minutes, or until
thickened.
Spread 1/4 cup sauce in prepared baking pan.
Place 2 lasagna noodles on top of sauce. Top with half cheese mixture,
half of kale, and 1/3 cup sauce. Top with two more noodles, remaining
cheese, and remaining kale. Top with remaining lasagna noodles and
cover with remaining sauce. Sprinkle with Parmesan and bake for 40
minutes (or until cheese has melted and lasagna is bubbly.
It took very little time to cook up the ingredients and set them aside for assembling.  Here's what mine looked like after putting it together: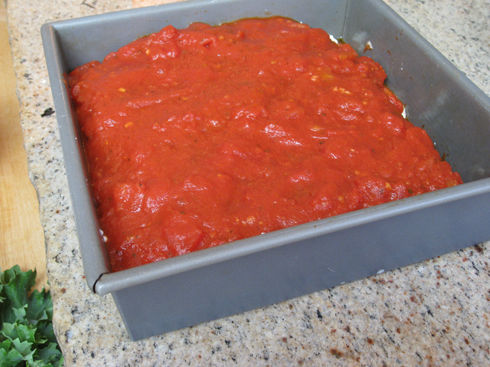 When it comes out of the oven, it's a thing of beauty.  Feast your eyes: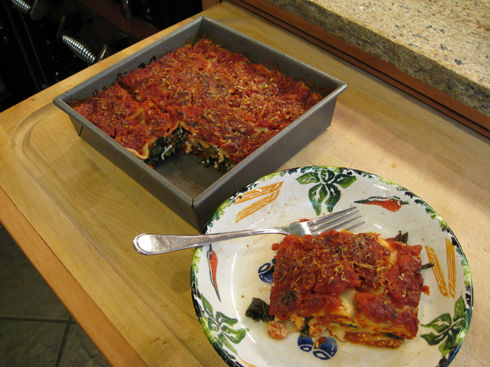 I usually find spinach lasagna to be dark in flavor and somewhat dry. This kale lasagna surpassed my expectations and even tasted great as a leftover.  I drizzled the leftovers with a little olive oil and heated it up. Serve with a slice of rosemary olive oil bread and a side salad.  Oh yea!