I've just returned from 12 days in Italy filled with gelato, pasta, cheese and beautiful countryside.  May is a wonderful time to be there – just before the stifling heat, but just after gardens have been planted.  If there's one thing you see a lot of in Italy, it's front yard gardens.  They are not obsessed with the idea of a grassy front lawn like we Americans.  They use their land to grow food – lots of food.
Driving through the green rolling hills of Umbria, we saw small Medieval towns dotting the countryside.  Rows of grapevines and olive trees patterned the hilltops.  Plots of freshly tilled soil welcomed guests in front of each red tile roofed house, with artichokes, fava beans, eggplants and tomatoes growing in the sun.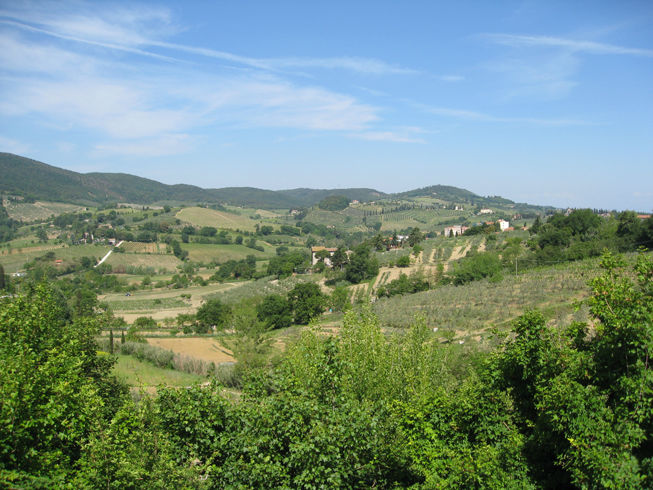 The rolling hills of Umbria
As part of our trip, we stayed on an olive orchard where a daring couple created a vegetarian hotel and restaurant called Country House Montali out in the middle of nowhere.  Our stay included breakfast and a delicious 4-course vegetarian meal each night.  Our host Alberto Musacchio and chef Malu Simões made this vacation a memorable one.
Gli Antipasti (appetizer)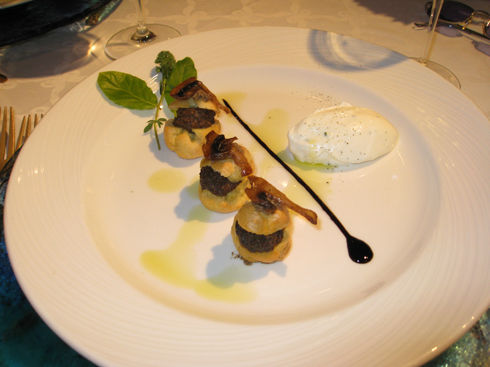 Bigne con Crema di Funghi (pastry with a mushroom cream sauce). Don't forget the herbed creme fraiche on the side!
Il Primo (first course)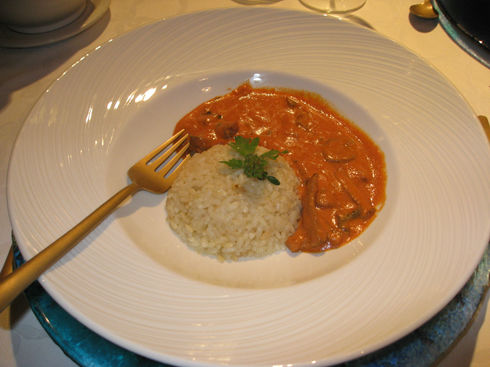 Meatless Stroganoff with savory rice (it uses seitan and mushrooms in an amazing sauce)
Il Secondo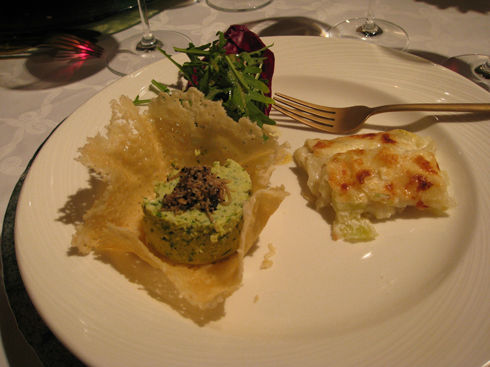 Sformatini di Zucchinein a parmesan shell with truffle sauce and a side of fennel cheese goodness
We dove in before remembering to take a picture – oops!
Il Dolce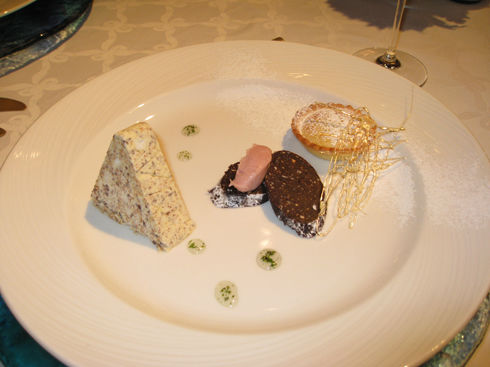 This dessert was crazy fantastic!  Semifreddo on the left, with "chocolate sausage" in the middle (looks like sausage, but is decadently chocolate with bits of nuts), dabbed with a raspberry cream, and Torta di Limone accompanied by a caramelized spun sugar treat on the right.  The little blobs of decorative mint sauce were incredible too!
Of course there was tiramisu as well, done to perfection.  We walked out in awe every night.  Their cookbook is available in the UK, but they are in negotiation for a US version.  I couldn't wait so I bought the UK version (which works fine for Americans, as long as you have a scale for weighing ounces).
The Vegeterranean: Italian Vegetarian Cooking
– by Malu Simões and Alberto Musacchio.  They were kind enough to sign a copy for us.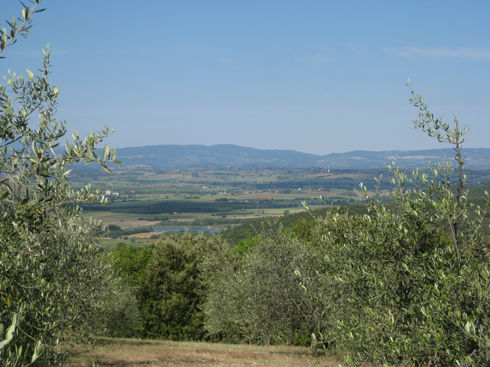 The view from our window at County House Montali. Olive orchards surround the property
We also took home a bottle of their olive oil, which they process every November.  They pick some of the olives themselves for the kitchen, but then they a crew arrives to harvest the rest and take the olives to nearby Tavernelle, where they are processed into extra virgin olive oil.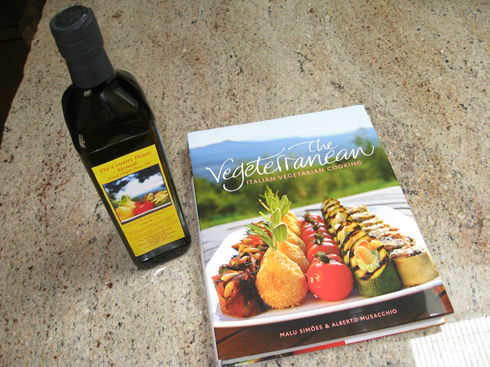 A winning combination
I can't possibly fit everything that is beautiful about Umbria into one blog post, so I won't even try.  There will be more to come in the coming weeks.  In the meanwhile, I'll end with this stunning vista from Perugia