A fun question came in to Ask Gardenerd this week:
" I have a big south facing back porch. I would love to make a small
greenhouse where I could start seeds and, maybe, even let herbs [over]winter.
Do you have ideas for making my own greenhouse?"
There are many options, from a mini-greenhouse to the full-fledged, brick and mortar English greenhouse.  I used to create my own mini-greenhouses by taking tomato cages, laying them on their sides and tarping the outside with plastic sheeting.  Whatever you choose to do, the important thing is to have adequate ventilation, or else your plants will wilt and die.  (In the case of the make-shift tomato cage greenhouse, leaving the sides open helps a lot.)
Here are a few sites that can help you build your own:
Instructables: This is a great website where people offer their own step by step instructional tutorials for building just about anything.  Here's a 5×5 mini greenhouse that could easily be adapted to any size – just change the dimensions of the PVC:  Build an Easy 5×5 Home Greenhouse
How to Build a PVC Greenhouse – here is another, more detailed set of instruction
Got a Bookshelf?
I saw a pre-fab greenhouse that made me think of an idea.  Take an existing storage bookshelf – the kind that are open air on all sides, like the wire garage storage shelves.  Then wrap the whole thing with plastic, using clamps or clothespins to secure the plastic.  You can arc a few lengths of PVC or wire across the top to create a dome over the top shelf.  Just a thought.
Cold Frame
Another option is to build a cold frame, which is more solidly constructed than PVC and plastic.  If you have an old window lying around, all you need to do is build a raised bed frame that fits the size of the window. Most people prefer to build the frame so that the window lays on top at an angle.  Like this one on Instructables.  You get get fancy with this one from This Old House.
Or Buy One
Of course you can leave the tools in the garage and use your mouse to order a simple greenhouse online.  Here are some of my recommendations:
Patio Grow House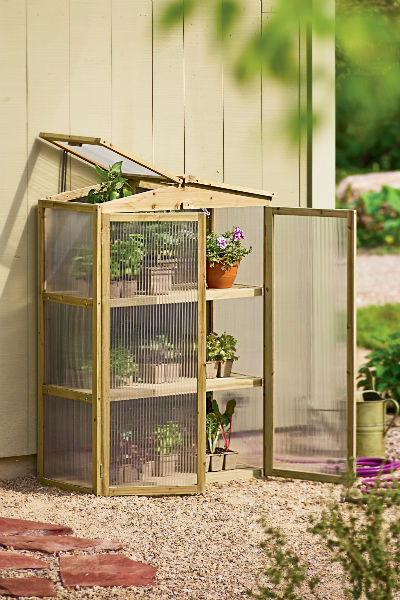 There is also a Compact Patio Grow House that is less expensive.   Or this elevated one: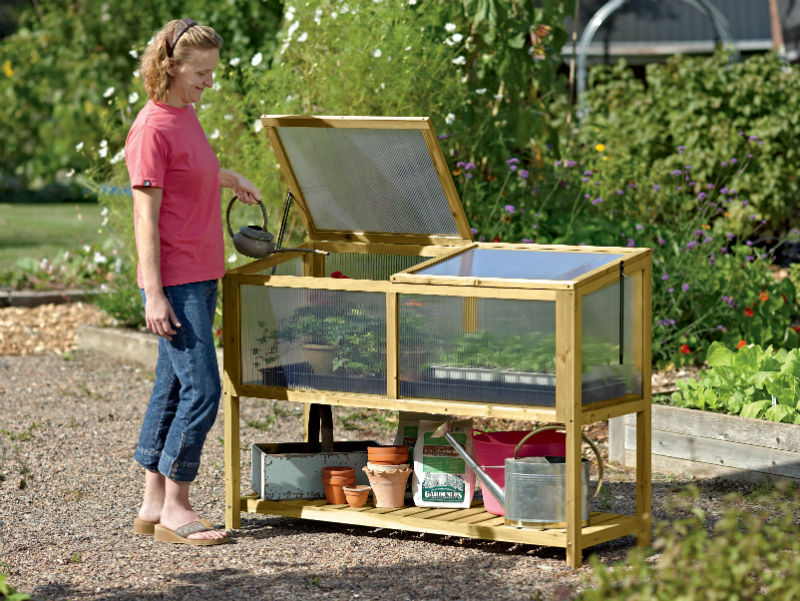 Whatever you choose, you should be able to start seeds in these protected environments, and over-winter your herbs in cold climates.  Good luck!