You've probably seen them at Whole Foods, or maybe they've crossed your path online, but even if you've never seen them, the idea is familiar to you: growing mushrooms in a box.  Over the past month or so, we've been testing out the Back to the Roots Oyster Mushroom kit, and we're eating the results.
It's simple, the guys from Back to the Roots wanted to use recycled materials to create a product that keeps on giving. They succeeded. Using spent coffee grounds and oyster mushroom spawn, they created an easy-to-use kit that kids and adults will enjoy. We got one for ourselves and one for our 5 year old niece.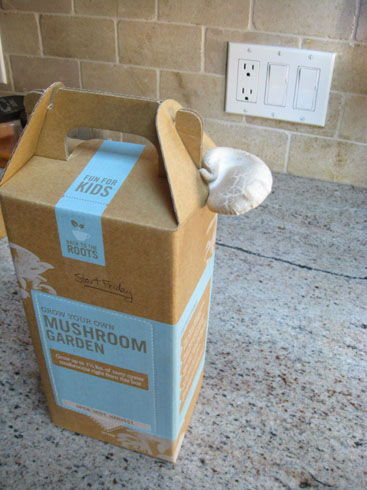 Sitting on the shelf, the kit started without us. We cooked up the mushroom and enjoyed it anyway.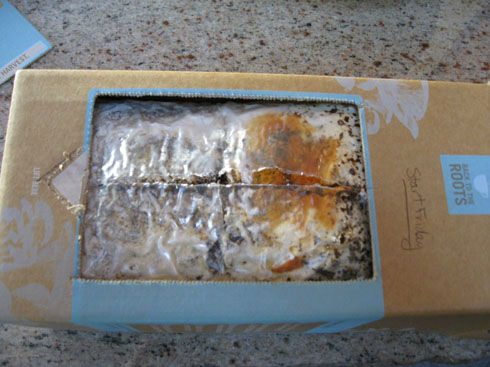 The first step is to open the front panel and cut an "x" in the plastic bag.

Then take the bag of coffee grounds out of the box and soak it in water overnight. You must weigh down the bag with something heavy to keep it submerged. We used a watering can filled with water.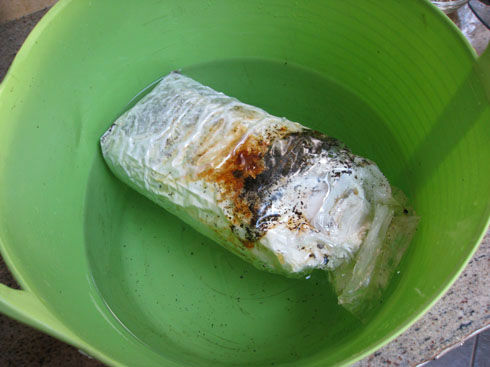 Next, replace the bag into the box and place it in a location out of direct sunlight. Spray the surface of the coffee grounds daily (sometimes twice daily if you have your heater going in the house) until saturated. We found that we needed to use more water than the instructions indicated, about 4 sprays under each flap of the plastic, or about 16-18 sprays total.
Voila! Mushrooms!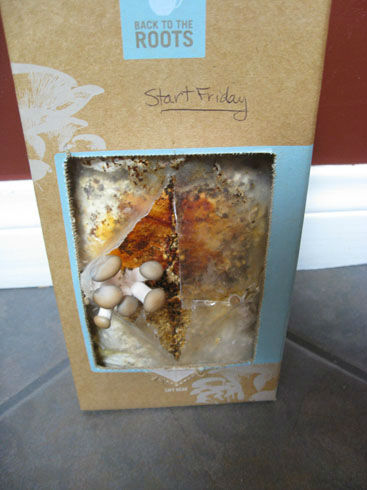 After a few days, we started to see some activity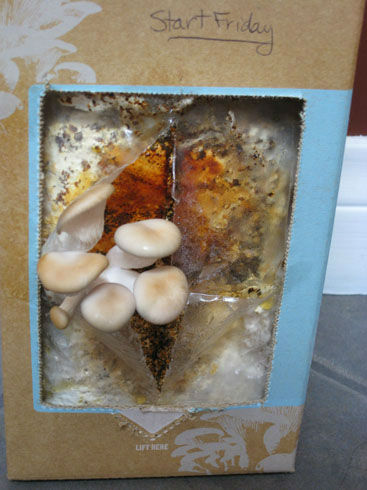 Growing…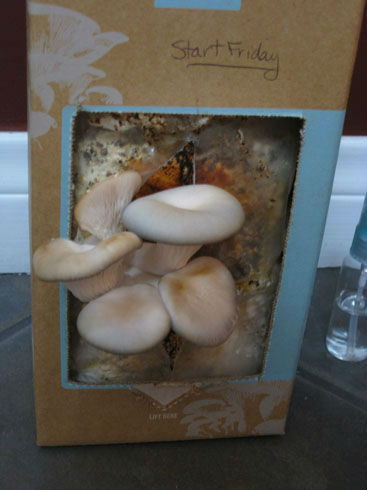 Growing…

Our first harvest
We utilized our first harvest in a sort of chick-pea, mushroom stroganoff. Saute the mushrooms in a little olive oil, add cooked garbanzo beans, and a cup or so of Savory Golden Gravy from the Real Food Daily cookbook. Delicious!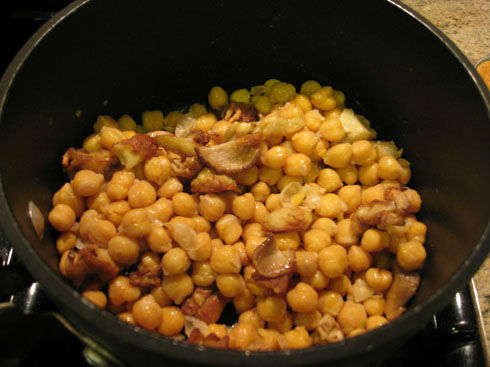 Our kit is still producing. Once it petered out on one side, we took out the bag, soaked it again and turned it around for another batch. What fun!
These would make great gifts for the experimental types in your life. The kits retail online for $19.95, with free shipping if you order two or more, and in the interest of full disclosure, if you use this link, you'll help Gardenerd out a little bit.