For so many years, arugula has been a staple in the garden.  It's a fantastic addition to salads (grown right next to mustard greens and lettuces, it adds amazing texture to the garden as well), and can be cooked into pasta dishes, thrown on sandwiches or served as a garnish for Italian dishes.
This year, our regular arugula plants are getting some competition.  We've always grown arugula (A.K.A. rocket salad, rocket arugula, eruca sativa), but ever since a visit to Italy where we ate an entire salad made from Wild arugula (A.K.A. Sylvetta or rustic), we've been dying to add it to our garden.  This year the waiting comes to an end.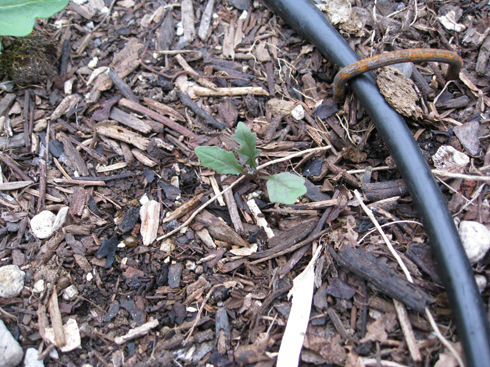 Tiny wild arugula sprout getting a start in the garden
The first thing you'll notice when growing rustic arugula is that it doesn't sprout nearly as quickly as rocket, or regular, arugula.  It took about 14 days for our seeds to sprout, instead of the three days that its more conservative sibling took.
As it grows wild arugula's leaves look different.  They are thinner and more jagged. The color is noticeably darker as well.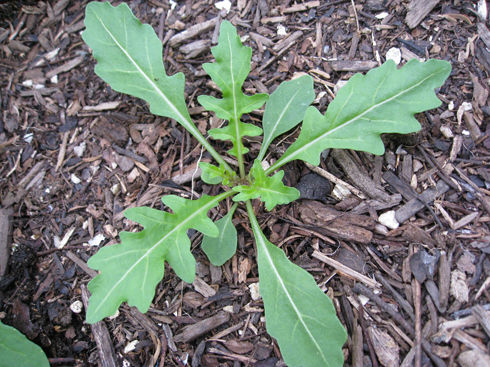 The cotyledons and first set of leaves look more like regular arugula, but the second set of true leaves show that this arugula is marching to its own drummer.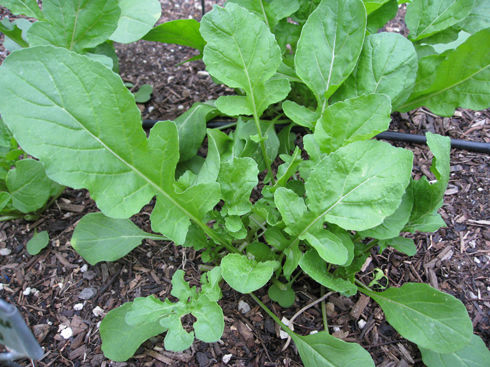 Rocket arugula germinates in three days and produces prolifically in a very short time. The leaves are more round and broad than its wild counterpart.
As memories take me back to Italy, the most delicious meal was made from fresh mozzarella (we were in Naples, the birthplace of mozzarella), fresh tomatoes and a bowl full of wild arugula.  It was the peppery-ist salad I've even had, and yet I couldn't stop eating it.
As for care, wild arugula can be planted right next to rocket arugula, as they share similar watering requirements.  If you are planning to save seeds though, I would separate them to preserve genetic integrity.
What to do with wild arugula?  Here are a few ideas:
Wild Arugula Salad with Garlic Croutons and Shaved Parmesan
Wild Arugula and Tomato Risotto
And even if you don't like the sound of this one, look at the website for beautiful pictures:
Wild Arugula and Quinoa Salad with Cherries
Do you have a favorite dish to make with wild arugula, or any arugula for that matter?  Share it with us here.