A while back, I met Kathleen Jacecko of Teaching Green, and have since been on her mailing list of newletters filled with ideas for sustainable living.  Last month, she published an entry about a field trip she made to the Materials Recovery Facility – a.k.a. where the recycling goes.  I have always been fascinated with recycling (my first environmental passion after gardening).  I thought the Gardenerd Community would enjoy reading about where your recycling actually goes when it disappears into that blue bin.  Enjoy!

Behind the Scenes at a Materials Recovery Facility
A materials recovery facility (MRF) is a fancy name for a recycling plant. Last month, I got to tour Waste Management's (WM) MRF in Pico Rivera, CA. It was an eye-opening experience, to say the least.
Here's a taste of what I saw: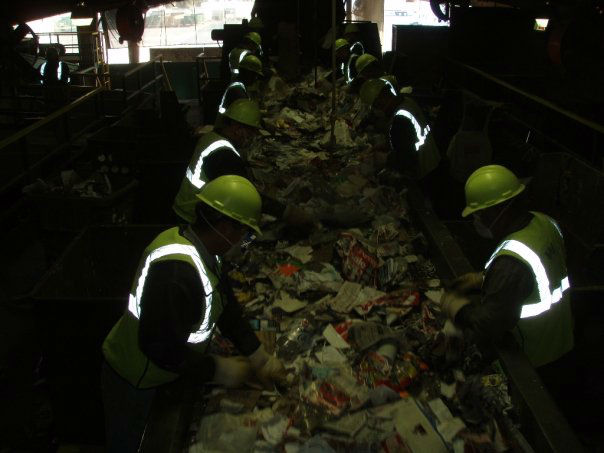 WM
employees separating out the recyclables by hand. Some of these guys
pull out cardboard, some pull out scrap metal, some milk jugs…you get
the picture. By the way, that conveyor belt moves at a rate of 60-100
ft/s.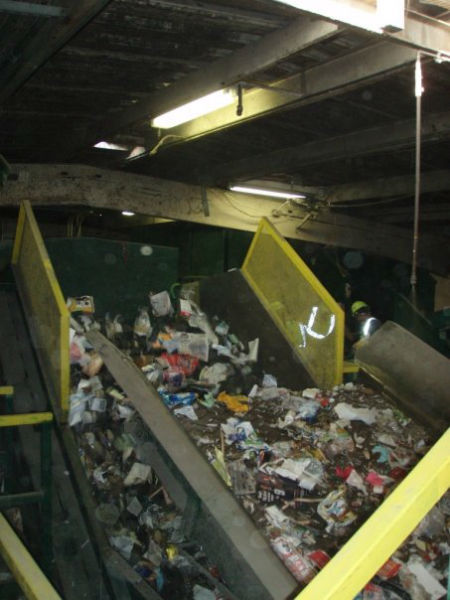 The
conveyor belt continues on, carrying what's leftover through a series
of mechanical separation devices. Here, gravity is used to separate
paper from heavier materials, which fall down below.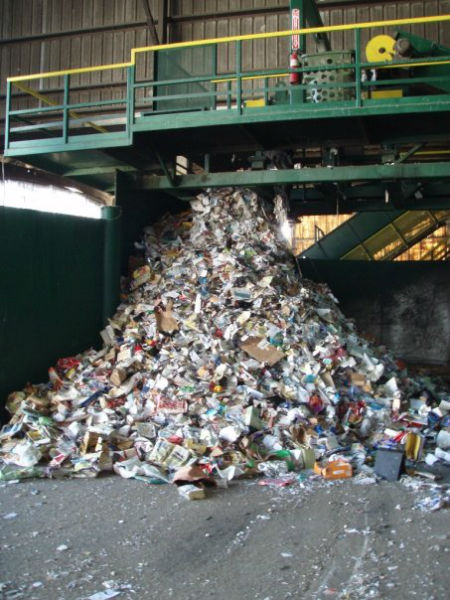 What's
left at the end of the sorting line. This stuff has gone through TWO
manual separations and several mechanical separations. Still, plenty of
good recyclables are missed. So at the end of the day, this pile is
sent through the whole process again to catch what was missed the first
time through.
When it's all said and done, about 30% of what comes into the facility gets sent to a landfill as trash.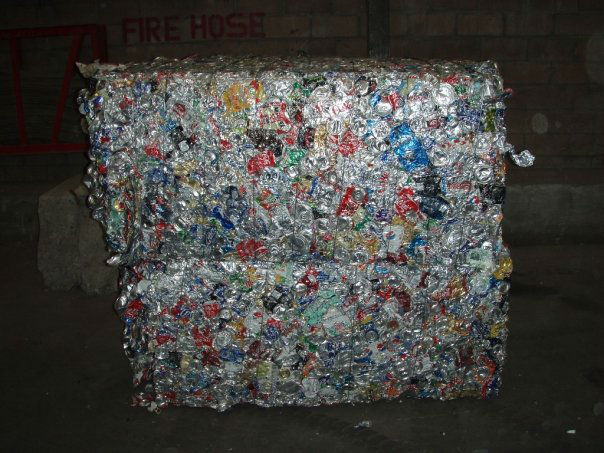 A
solid cube of crushed aluminum cans. If you must drink canned
beverages, keep this in mind: it takes at least four times more energy
to make an aluminum can from virgin ore as from a recycled can. And
according to WM, recycling one aluminum can saves enough energy to run
a laptop computer for four hours.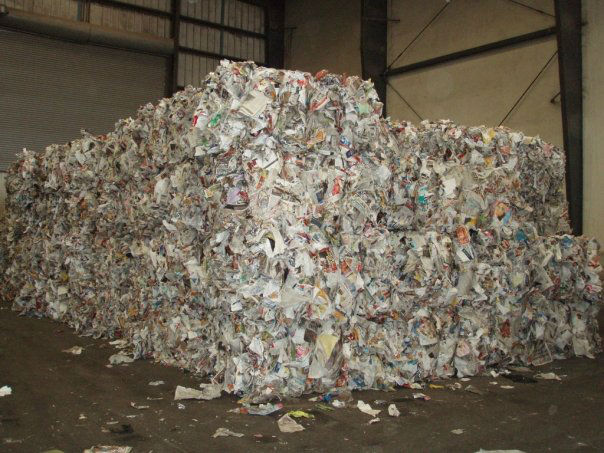 All
the recycled newsprint. According to WM, there are no paper mills in
California, so all recycled paper gets shipped out of state. Most of
the newspaper is shipped to China.
So what practical knowledge about recycling did I gain from this experience? Well, I learned that at THIS recycling facility,
Containers DO NOT have to be rinsed (although it's helpful)

Caps DO NOT have to be removed from plastic bottles (again, helpful)

Broken glass IS accepted

Peanut butter containers are NOT accepted

All plastics are accepted (even those without numbers), except Styrofoam
Most
importantly, I learned that because humans play a key role in sorting
the recyclables from the non-recyclables, when in doubt, you should
recycle. In other words, if it's paper, plastic, glass or metal, you
should recycle it.
Still, all facilities are different, so if
you want to make the most out of your curbside recycling program, ask
your city what's accepted and what's not. Most cities list this
information on their website under Public Works.
I encourage
you to contact your waste hauler about touring your local materials
recovery facility. In Los Angeles, contact Lily Lee, Public Affairs
Director for WM, at 818-252-3106. She's in charge of tours at all WM
facilities, including MRFs, landfills and transfer stations.