As I write this, I'm sitting in the lodge at the Esalen Institute in Big Sur, CA.  When last I was here, I was particpating in a 5-rhythms workshop.  This time I'm on the teaching side of things.  Like a miracle that fell in my lap, I was invited to co-teach a workshop on the Heart of Organic Gardening with Shirley Ward, the fabulous woman in charge of the farm and garden at Esalen.  With Shirley and a few other guest teachers, we've been immersed in the wonder of Esalen's soil structure, composting production, seed-starting and transplanting schedule, and harvesting techniques.  All this work and learning culminates, essentially, into breakfast, lunch or dinner at Esalen. 
With Daily Harvest at 7:15 a.m., morning session classes which include seeding kale in 1″ seed trays, transplanting lettuce starts out into the garden, and being up to our elbows in kale – washing it for the kitchen staff, you'd think we'd be tired by lunch time.  But the participants are eager to learn more each day, and look forward to the afternoon sessions (which run another 3 hours until dinner time).  Talk about heaven!  This is a gardenerds delight!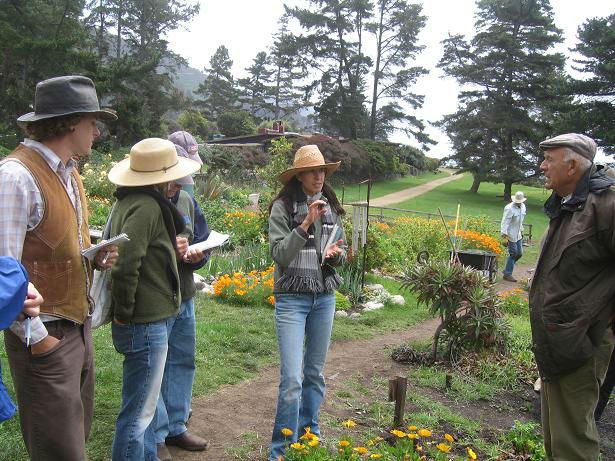 I have been teaching about small space gardening, a stark contrast to the large scale farming and gardening techniques that the other teachers have to offer.  The participants seem to be really enjoying the balance of information being offered.
Among today's adventures, we toured the herb garden and tasted, sniffed and absorbed the scent of dill, oregano, different varieties of mint, borage, tarragon, thyme, along with poppies, calendula and other plants that volunteer each year.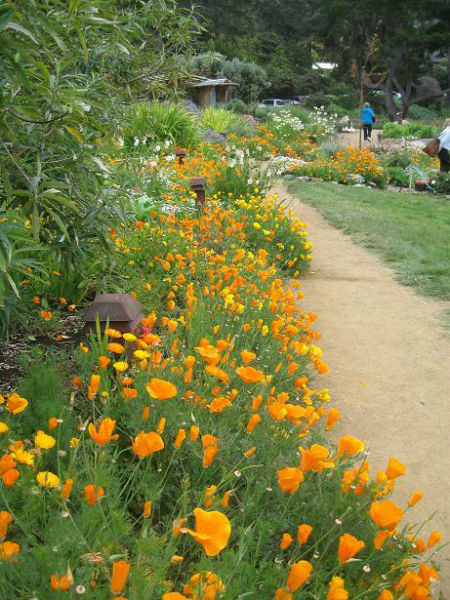 We still have two days left.  Tomorrow we make salve and learn more about pest control, or "working with nature" as Shirley calls it.
More on this later…