This is the time of year when the abundance of basil in the garden can often overshadow the need in the kitchen.  What's a gardener to do?  Make pesto, of course.
Whether you preserve pesto by canning or freezing, you can make the flavors of summer last a long time. To start off the pesto season, I took a field trip to Pesto Madness, the Learning Garden's annual fundraiser.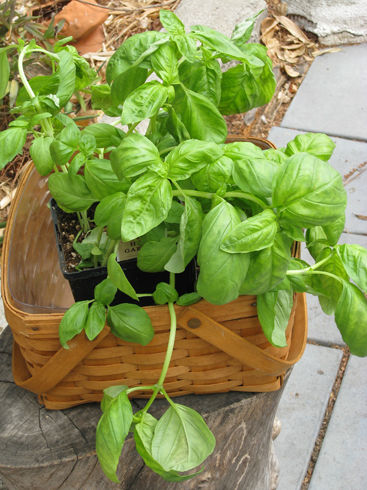 David King, the illustrious leader of the Learning Garden, was giving a tour of the garden when I arrived.  He led a group of pestoian around to the various vegetable gardens, fruit trees and flower beds.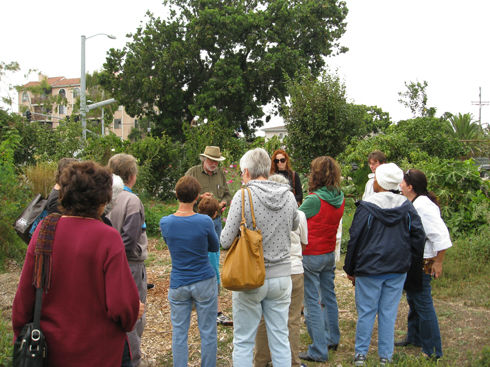 That's David King in the hat.  He shared tips and tidbits about growing food
as he toured the group through the garden.
David also demonstrated how to make the Learning Garden's famous pesto using this recipe on display: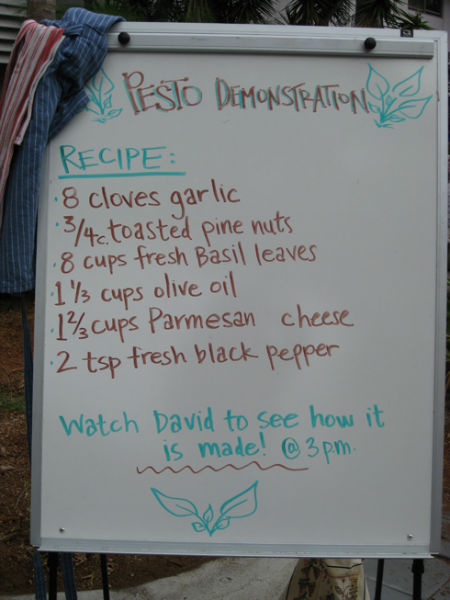 It must not be a secret recipe if they have it posted on a white board, right?
Along with your ticket for the tour and demonstration is an opportunity to stuff your face with pesto pasta, and for an additional cost, you can take home a jar of Pesto Madness Pesto.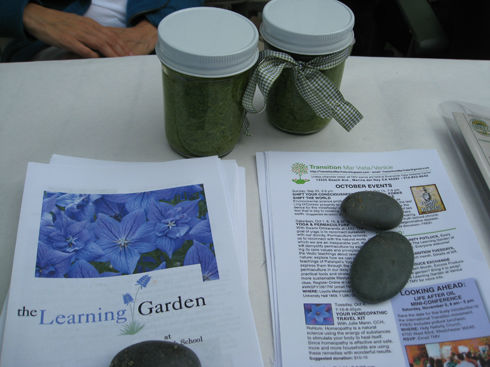 The Learning Garden and Transition Mar Vista events brochures provide a welcome setting for beautiful jars of pesto.
I purchased my jar of pesto and plan to use it on top of tomato soup or this recipe that I was fortunate enough to sample on the episode of Food for Thought with Claire Thomas that I was in (with David King, as a matter of fact!):
Of course, if you want to try something a little different than the traditional pine nut-based pesto, I highly recommend my favorite pesto recipe from Rose Elliot which uses cashews instead.  Scroll down in this newsletter to find the recipe.
Storage: As for keeping pesto, you can freeze it in ice cube trays or serving sized containers.  It will also store in the fridge for awhile if you keep a layer of oil on the surface to prevent discoloring.
There seems to be a debate as to whether you should can pesto or not. Some say that since it's raw you shouldn't (botulism from garlic and all that good stuff), while others claim that they have been canning pesto in pressure canners for years with no illnesses or deaths.  What are your thoughts?  Post them here.