Summer has arrived early it seems, with the first clear indicator being the garden's bountiful offering of basil.  This year we planted more (varieties and quantities) than usual, and the results are in.  Basil is here to stay (at least for the summer), so it's time to start using it.
We planted a test round of Salad Leaf Basil from Renee's Garden Seeds, along with our old stand-by Lettuce Leaf and Opal Basil. Expecting the Salad Leaf and Lettuce Leaf to look pretty much the same, it was a delightful surprise to find that they couldn't be more different from one another. The lettuce leaf basil leaves were huge and crinkled, not at all like the modest standard basil we're used to seeing.

Lettuce Leaf Basil has very large leaves and crinkling like lettuce. Opal basil
offers a lovely contrast.
Okay, now what?
It might sound like a ridiculous question to ask, but what do you do with all that basil? The obvious answer is pesto. Now, I've been eating pesto for years, but only recently have I discovered just how versatile pesto sauce can be. Let us explore:
First the basics – I made a batch of David King's pesto sauce from a recipe I acquired last year. Served simply over conchiglie (shell) pasta, it was the perfect dish to usher in warmer weather.
Next, a little something delicate – A few sliced tomatoes, some farmers' market fresh mozzarella, a dab of pesto sauce on top, and some cracked pepper and course salt. What you get is a bit-sized flavor explosion of summer. You'll want to mediate on it as you savor the deliciousness.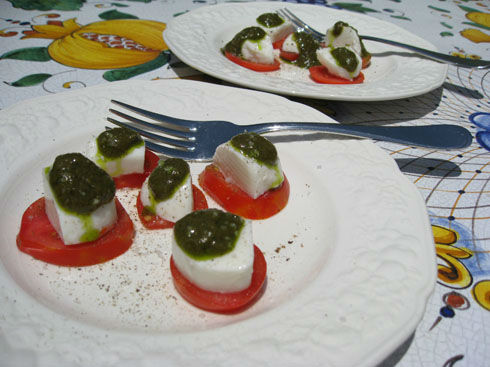 Market fresh flavors of creamy cheese, bright olive oil, basil and sweet tomatoes
For the Finale – With the leftover pesto, I made this Spring Pea Soup with Pesto Goat-Cheese Tartines. It was surprisingly delicious. Made with home-grown carrots and celery, I expected a bland pea soup, but it was truly flavorful and loaded with umami.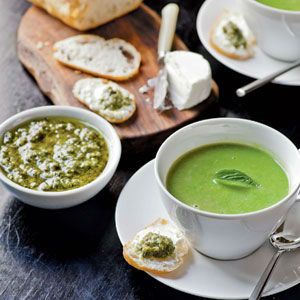 Photo courtesy of Organic Gardening Magazine
Pesto is swirled into the recipe after the soup is pureed, then the last tablespoons of pesto are spread onto crostini with goat cheese (we used home made whole wheat bread, and it was still great). The whole experience was more than satisfying.
It's not even summer yet, and the basil celebration is already well underway. How will you use your basil this season? share your ideas with us here.