There they were, just sitting in the refrigerator, waiting for something to happen.  Those freshly picked blackberries weren't going to last long, and since nothing captures the taste of summer fruits like freezing them into ice cream, we decided to make up a recipe on the spot. 
Here begins the lazy-person's blackberry ice cream recipe.  No cooking, no straining, just combine a few ready ingredients and you're done.  To start, gather your supplies: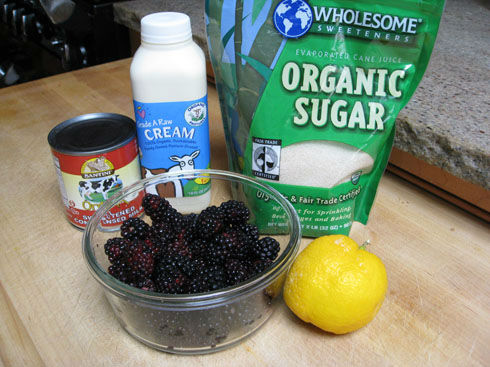 2 cups blackberries
1/8 cup lemon juice (about 1/2 a lemon)
1/4 cup organic cane sugar
2 cups heavy cream (we used raw organic)
1 can organic sweetened condensed milk
1/2 vanilla bean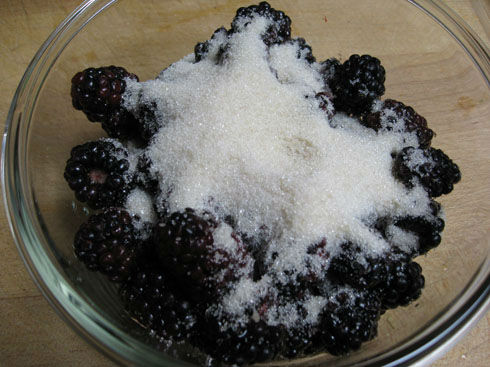 1)  Combine blackberries, lemon juice and sugar in a bowl, stirring well.  Refrigerate for at least 1 hour, stirring every once in a while.  Smash about half of the berries up with a fork.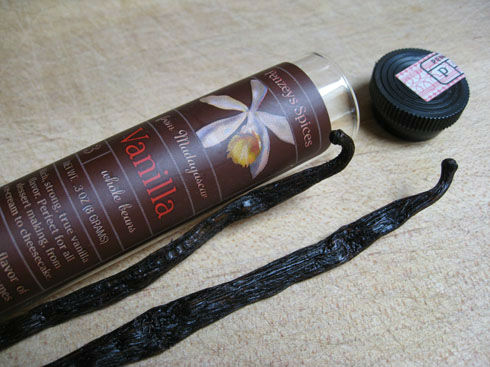 2) In a separate bowl, combine the sweetened condensed milk and heavy cream.  Cut the half vanilla bean in half lengthwise and scrape out the seeds, adding them to the cream mixture.  Whisk to combine.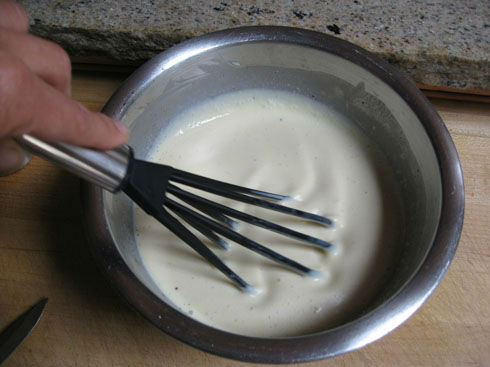 3) Add berry mixture to cream mixture and stir to blend well.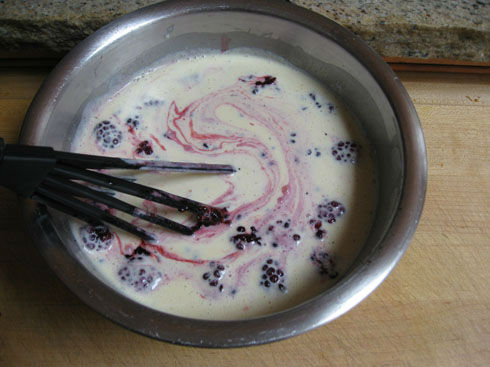 4) Pour the whole thing into an ice cream freezer and freeze according to directions (for some reason, maybe because sunlight was coming through the skylight, our ice cream didn't set up.  We ended up pouring the mixture into containers, freezing for a couple hours, then stirring to mix the berries through evenly, then freezing the rest of the way – hopefully this won't happen to you.  If it does, please post a note here).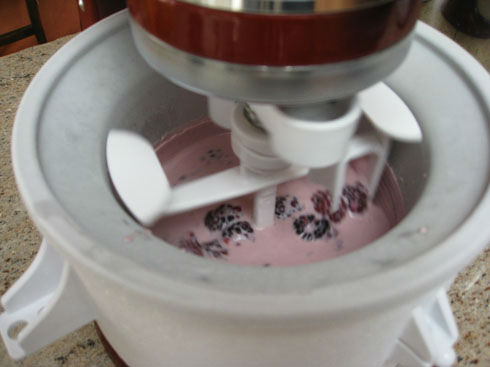 5) Transfer to a freezer-safe container and freeze until firm.
The result is a creamy, fruity mixture with big chunks of blackberries.  If you prefer smaller chunks, then consider pureeing or mashing the berry mixture more before adding it to the cream.  If you don't like seeds in your berries, then go that extra step and puree/mash and strain the mixture for a smoother ice cream.  We like it au naturale around here.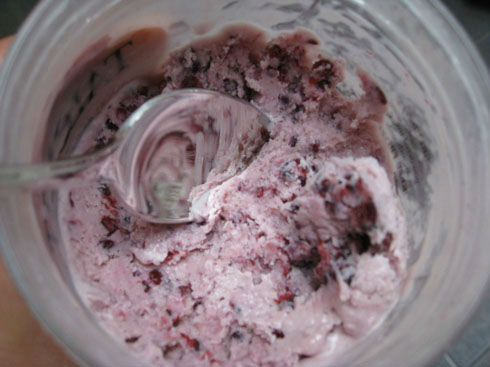 Yummy!  Special thanks to Eileen Kearn for gifting us more blackberries for this recipe. Eileen,
you made this possible!
Got a favorite way to use blackberries?  Share your ideas here.