The giant Crimson Sweet watermelon is taking up a lot of room in the refrigerator, so something must be done.  The pile of limes on the counter, gifted to me from a friend, is also singing out a call to action.  The solution?  Watermelon Lime Sorbet.
It's no surprise that watermelon and lime is the perfect, orgasmic combination of flavors that bridges the seasonal change from summer to fall.  Even though we are moving into flavors of earthy root vegetables and hearty stews, the refreshing sweetness of citrus and melon is a welcome treat.  Here's how it goes:
Watermelon Lime Sorbet
from MyRecipes.com (a Southern Living recipe)
3 cups water
1 cup sugar
4 cups seeded, chopped watermelon
1/4 cup lime juice
Preparation
Bring 3 cups water and sugar just to a boil in a medium saucepan
over high heat, stirring until sugar dissolves. Remove from heat. Cool.
Process sugar syrup and watermelon, in batches, in a blender until smooth. Stir in lime juice. Cover and chill 2 hours.
Pour mixture into the freezer container of a 1-gallon ice-cream maker, and freeze according to manufacturer's instructions.
First, the simple syrup.  It takes about 5 minutes for the sugar to dissolve, about a half hour to cool. I put mine in the fridge overnight.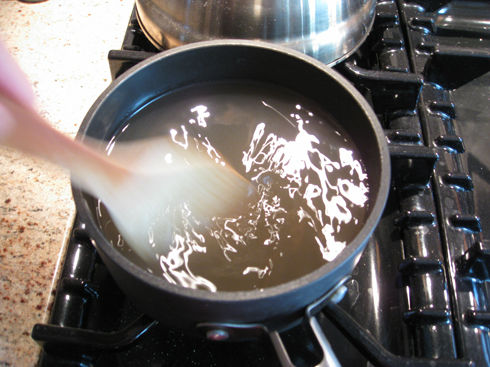 Organic cane sugar dissolves quickly
Then the other ingredients.  For the amount of lime juice needed, I used 3 small limes.  4 cups of watermelon was equivalent to the size of the piece in this photo.  (Remember this is from a very large watermelon)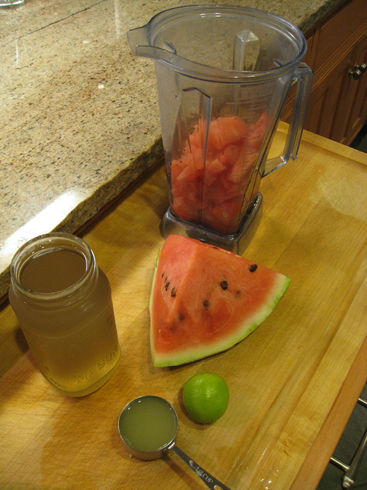 Simple syrup, watermelon and limes – a heavenly combination
Next, hit frappe!  The Vitamix handles the task in about 10 seconds.  A regular blender will take a bit longer. You are supposed to chill the entire mixture, but if your watermelon has been stored in the fridge (and why wouldn't you?) ,and you chilled your simple syrup prior to blending, you're ready to go!
Into the ice cream freezer it goes for about 20 minutes.  Sorbet sets quickly because there is no butter fat, just water crystals.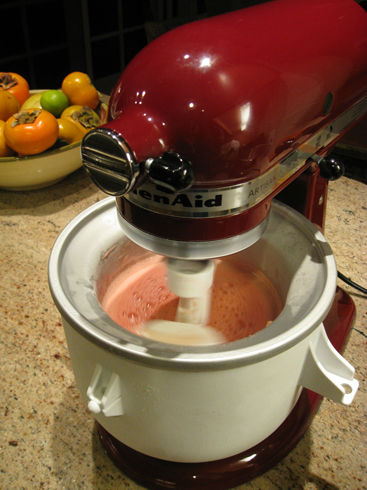 The result is a delicious sorbet with a bright, sweet flavor that had us rolling our eyes with delight.  I supposed you could serve it with a curl of lime zest on top, or a couple of watermelon seeds for garnish, but they just get in the way.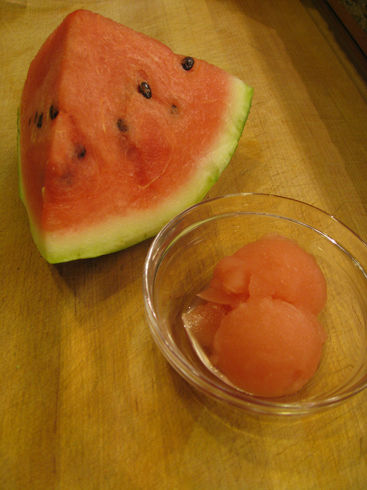 Allow the sorbet to chill in the freezer for a few hours for firmer sorbet.
You may have noticed that the website offers a plethora of other fruit options like strawberry, grapefruit, raspberry, and of course, lemon.  I shutter to think what the world would be like without lemon sorbet, but I digress…
This simple dessert will satisfy the sweet tooth as well as your longings for summer days gone by.  Let us know what you think – post your results here.