Fall is the time to start thinking about next year's fruit, mainly because bare root fruit trees and cane berries will soon be in stock.  Most seed companies and nurseries encourage you to order early for deliveries that start in January, and their supply sells out quickly.  So now is the time.
Peaceful Valley Farm and Garden Supply has always been my go-to place for bare root fruit trees and  cane berries (no, I don't get any kickbacks for promoting them, I just love these guys).  The folks at PVF offer a wide selection of stone fruits, apples, citrus, pears, persimmons, pomegranates and more as bare root trees, which save gardeners money.  Their catalog also offers helpful information about chill hours (that's how many hours below 45º the fruit tree needs each year).
Want to know how to plant a bare root fruit tree?  Check out what we did to plant our nectarine tree.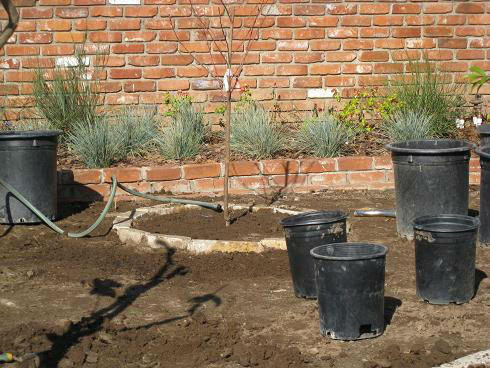 While you're looking around Peaceful Valley Farms, check out the nut trees.  Almonds, walnuts, chestnuts and pecans are all available for your fantasy garden.  I have dreams of planting almonds because we make our own almond milk.  Hmmm…what can I bulldoze to make that happen?
Blackberries, raspberries, blueberries and everything in between are also up for grabs this fall. PVF sells berries in bundles, which is very economical if you have a large space to plant.  Local nurseries will carry varieties that are suited to your climate, but big box stores like Costco may not be that thoughtful.
Want asparagus?  Now is also the time to order asparagus crowns as well as bare root strawberries, artichokes and rhubarb.  Plant in the new year and with a little patience,  you'll have fresh asparagus for the next 15 to 20 years.  Take that, supermarket!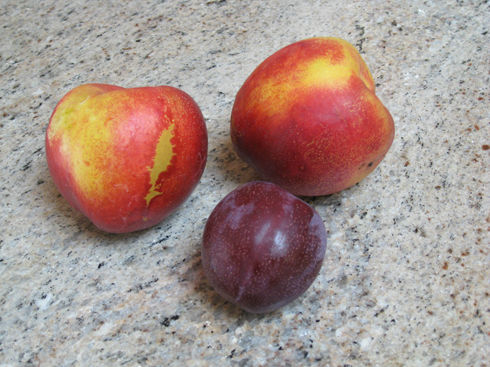 Fantasia nectarines and a Santa Rosa plum from our trees