This is exciting. The folks at Peaceful Valley Farm and Garden Supply (PVF) have asked Gardenerd to participate in their Garlic Planting Party this week, and you reap the benefits. One lucky Gardenerd reader will win a Garlic Party Prize Package (details below) to enhance your garlic growing experience this fall.
But first, a little about the subject at hand. Here in Southern California, we typically grow softneck varieties, though I know someone who grows hardnecks because he didn't know he wasn't supposed to grow them here. Seems to work for him.  Anywho… we plant in October, it grows through winter, and is harvested sometime in May through June.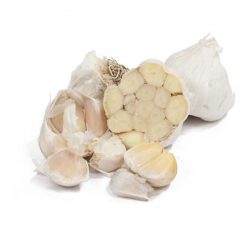 Garlic is one of the easiest crops to grow, with relatively few pests or diseases. We have rust fungus in our soil, so we rotate garlic to a new location each year to keep it at bay. PVF has a great instructional video on how to plant garlic, so check that out to get started.
In the south, California Early White is a popular variety to grow. It is a Silverskin variety, which tends to keep longer, and produces between 12-16 cloves per bulb. Long-storage softnecks are best for garlic braiding, so California Early is a good choice if you plan to braid your harvest.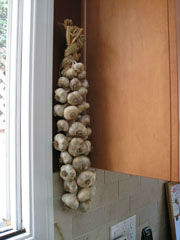 When it comes to harvesting, we wait until only 5 or 6 leaves are still green, we stop watering and wait a few days for the soil to dry out before pulling the bulbs. We cure the harvest for several weeks on newspaper out of direct sunlight and then it's ready for braiding.
Check out our Garlic Braiding Video learn how to store your harvest in style.
Now – on to the Garlic Party.
This is a chance to learn more about growing, harvesting and cooking with garlic and shallots from bloggers all over the country. Each blogger will be giving away a different variety. Here are my cohorts and their respective giveaways:
Susy Morris at Chiot's Run                         (Garlic combo)
Gen Schmidt at North Coast Gardening  (Russian Red)
Jodi Torpey at Western Gardeners           (Purple Italian)
Theresa Loe at Living Homegrown           (German Red)
Chris McLaughlin at Urban Farm (Purple Glazer)
Charlotte Germane & Cindy McNatt  at Dirt Du Jour  (Shallots)
Peaceful Valley Farm & Garden Supply  at PVF (Bogatyr)
If you want to win that variety of garlic or shallots, leave a comment on the respective blog. You have until midnight PT, Wednesday, October 17th to post. Winners will be chosen at random and here is what you'll win: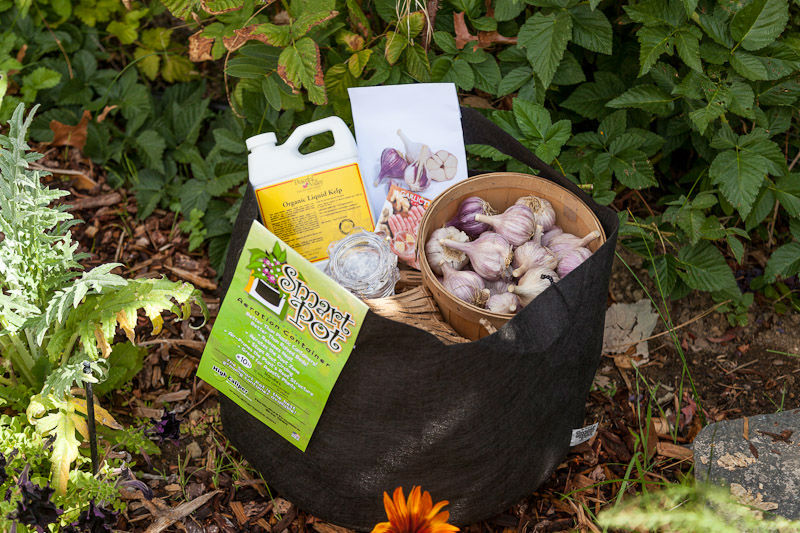 1 pound of organic seed garlic (each blog will have a different variety)
1 quart of our Liquid Kelp (for soaking the cloves overnight before planting)
10 gallon Smart Pot (to plant some in a container)
1 Garlic Twist (clever kitchen gadget that minces the cloves when you twist it; easy to use and clean)
1 5×7 photo print of the garlic variety
More about Garlic
Before we get to the contest question, here are some great Gardenerd blog posts about garlic that can help you this season:
The Trick to Bigger Garlic
Storing Garlic: Sprout Not My Friend
Okay – now for the question: What's your most successful garlic experience? This includes growing, cooking or eating it. Leave your comment below (be sure to include an email address) and we'll announce the winner next week.
Happy garlic-ing!