One of the great delights about gardening is growing something for the first time. Each season, we plant new varieties or a veggie we've never grown before to see what it's like.  In our test garden so far, we've planted and enjoyed asparagus (3 years ago), brown mustard seeds , quinoa (Growing Quinoa), garbanzo beans (stay tuned for a blog on that) and popping corn (see Growing Pop Corn).
Admittedly I've always avoided growing corn because the squirrels would always get to it in my neighbor's gardens before they could.  Didn't seem worth it.  Luckily, the squirrel community has not discovered the test garden yet.  Knock wood… we made it through the season without a single disturbance and, as you'll see below, things went rather well: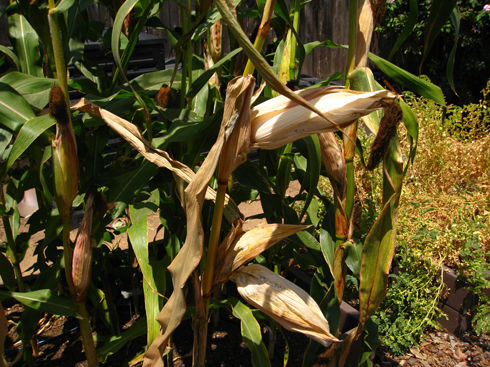 As the corn dries, the ears tip toward the ground.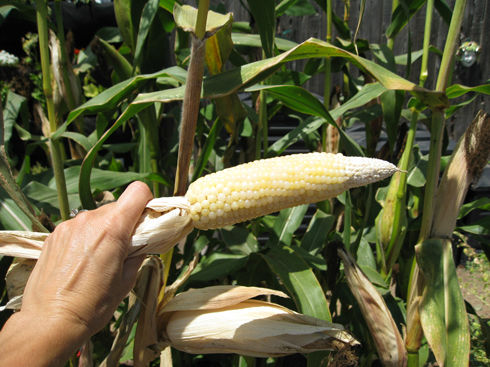 After peeling back the husks, squeals of delight accompany the discovery of rock hard corn kernels in  neat rows. You know it's dry when you can't dent it with your fingernail.  We left the corn on a drying rack for a few days to continue the process.  Then we got this handy-dandy corn sheller for about $6 from Agri-Supply.com.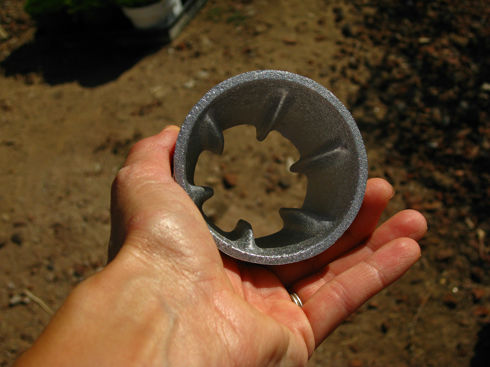 Basically you feed the narrow end of the corn into the fat end of the sheller and twist back and forth.  Interesting discovery: wear gloves.  It shreds your knuckles without them.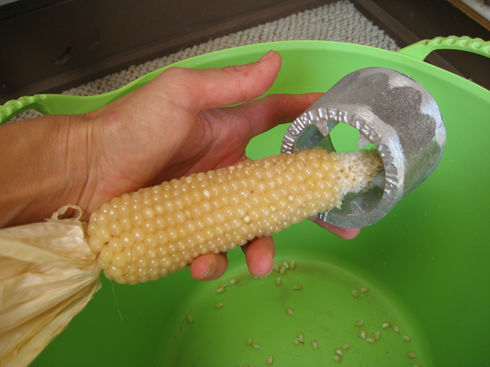 Gloves removed for photographic aesthetics
The urge to test the result was irresistible.  We had a pan with oil over a hot burner in seconds.  The sound of popping was different than store bought corn – somehow more gentle.  Lifting the lid revealed that we had a lot of "widows" – unpopped kernels.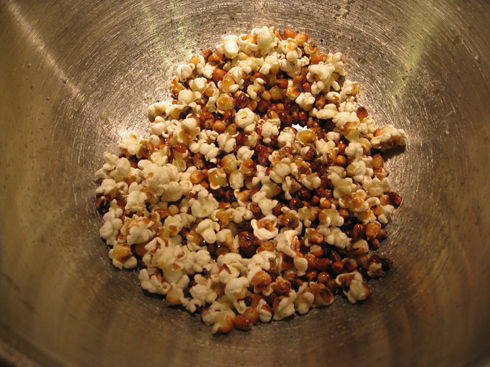 Problem suggests that the corn is in fact too dry, and the solution we found on many websites suggested to add a tablespoon of water per quart of corn and shake it over a few days.  We're in the process of experimenting with that for better results. In the meanwhile, here are the statistics of our yield:
15 plants yielded about 31 ears (there were more, but some of the were only partially grown, so we combined for a total)
31 ears yielded 54 oz or 3.4 pounds
3.4 pounds = 11.5 cups or 34 servings at 1/3 cup each.
So we estimate that being a 6 month supply for those who eat popcorn every 10 days.   Not bad for 15 square feet!