The moment of truth has arrived. We just harvested the Glass Gem Popping Corn we grew this summer. Between the rats and corn worms, we lost at least half the harvest, but what was left was substantial enough to be proud of.
Glass Gem is an open pollinated seed "bred from a number of Native varieties by Carl 'White Eagle' Barnes, the famous Cherokee corn collector to whom we owe our gratitude for his life's work of collecting, preserving and sharing so many Native corn varieties," according to Baker Creek Heirloom Seed company. We got our seeds from Native Seeds/SEARCH a couple years ago. One look and you'll want to grow this beauty yourself.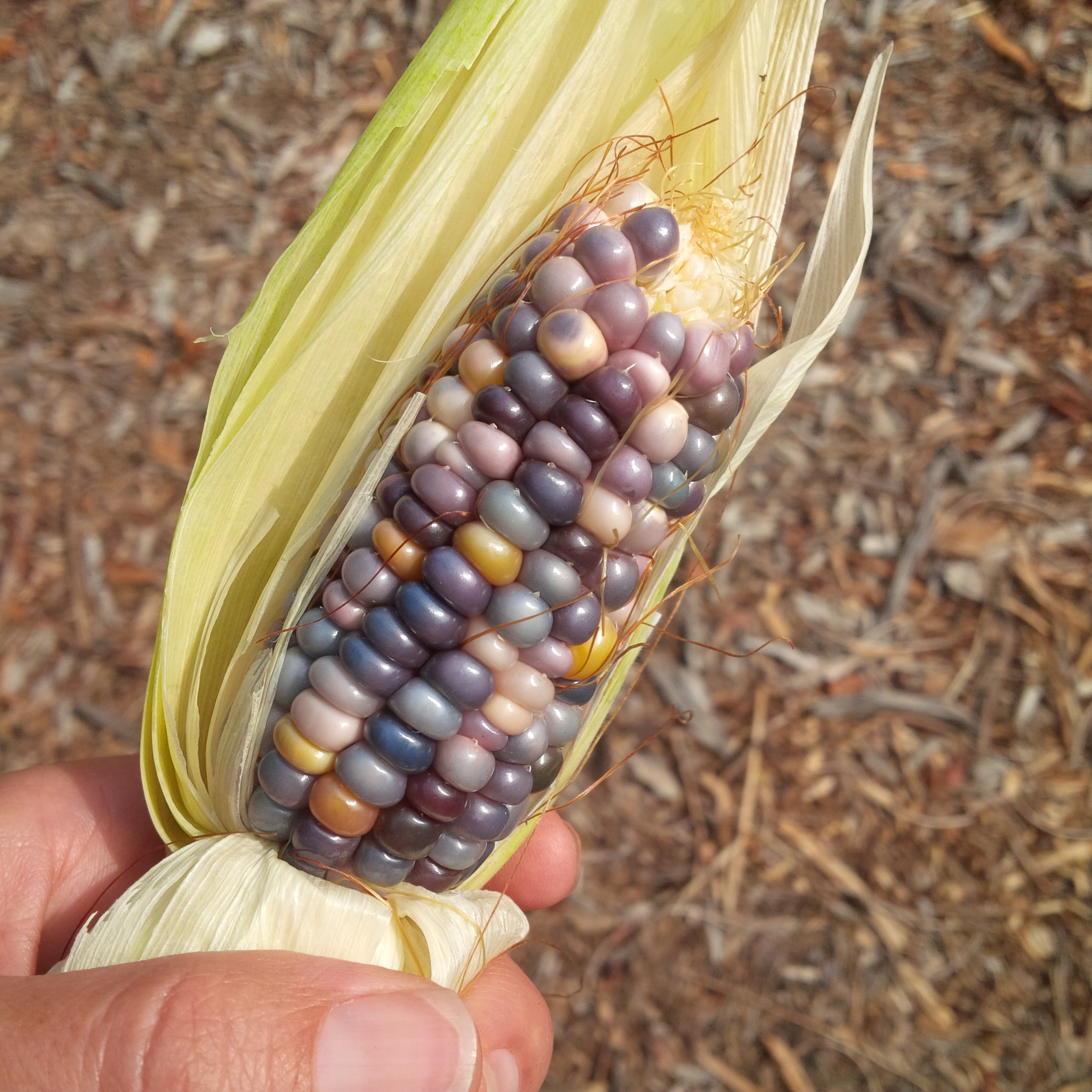 Popping corn is easy to grow, as indicated in other blog posts. It's the easiest of all crops. Just let it dry and harvest it. No need to check for ripeness or harvest in a 2-week window. We picked the ears when the husks were completely brown and starting to tip away from the stalk.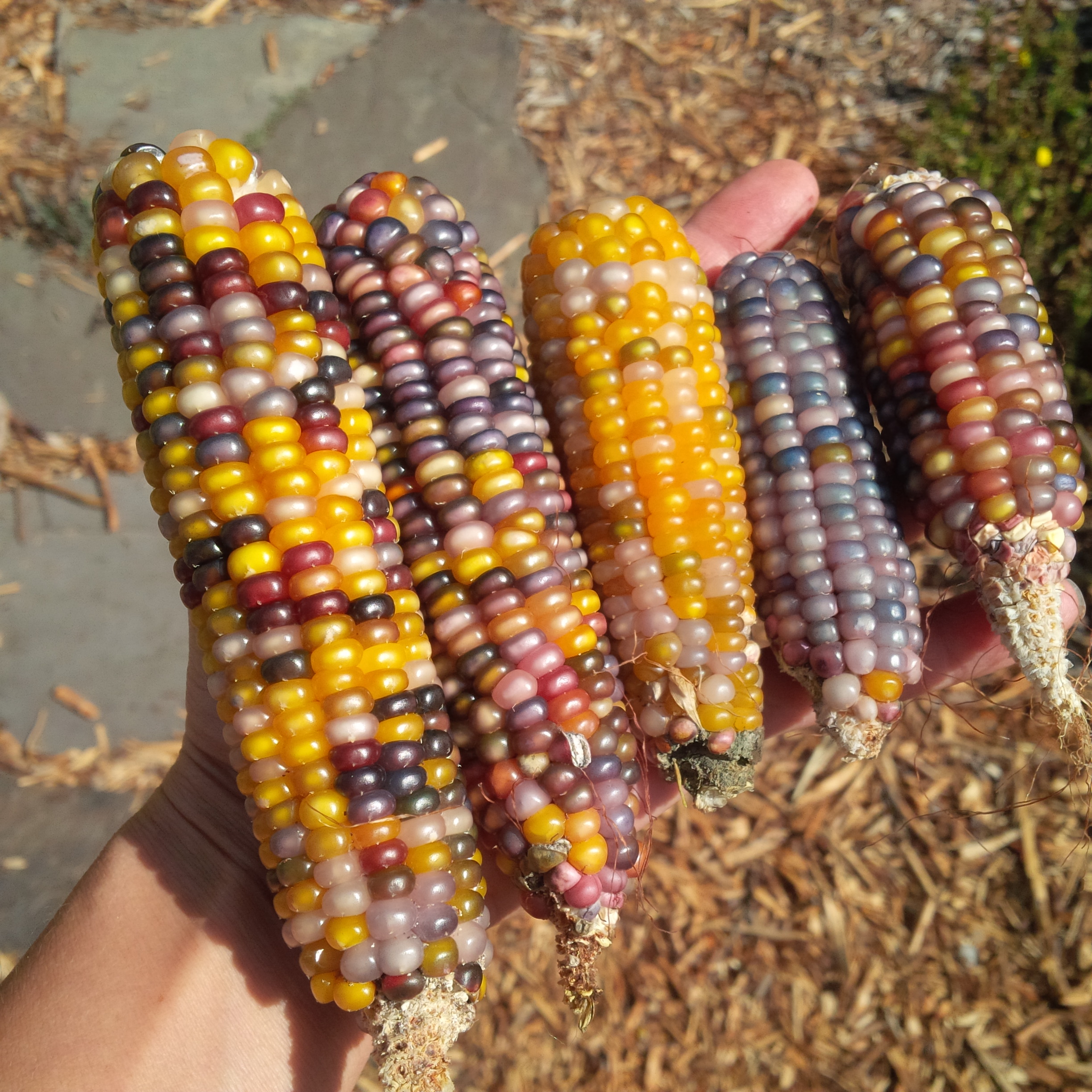 Glass Gem, as you can see, manifests in a variety of colors. Bright yellows, deep blues, reds and even greens find their way into each ear. Once the kernels were dry enough to pop easily off the ear, we shelled the corn with our handy corn sheller
.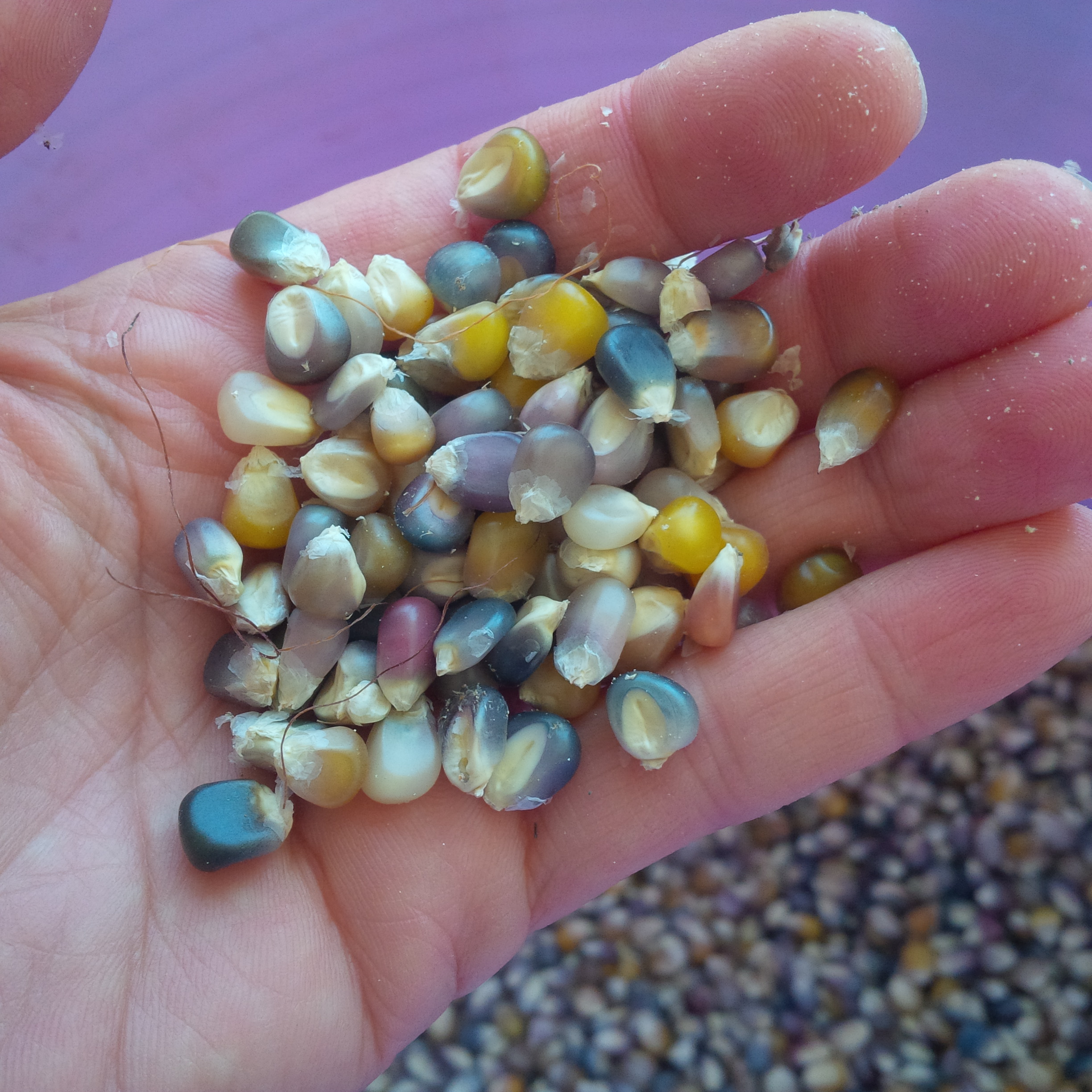 Hint: wear gloves when shelling corn. That sheller can really tear up your knuckles.
Next, we winnowed the corn in front of a box fan. It doesn't take long to clean off the chaff on corn. Just pour the seed from one bucket to another slowly. The corn is heavy and falls to the bottom bucket while the chaff floats away in the breeze.
The result is this gorgeous popping corn you almost don't want to pop.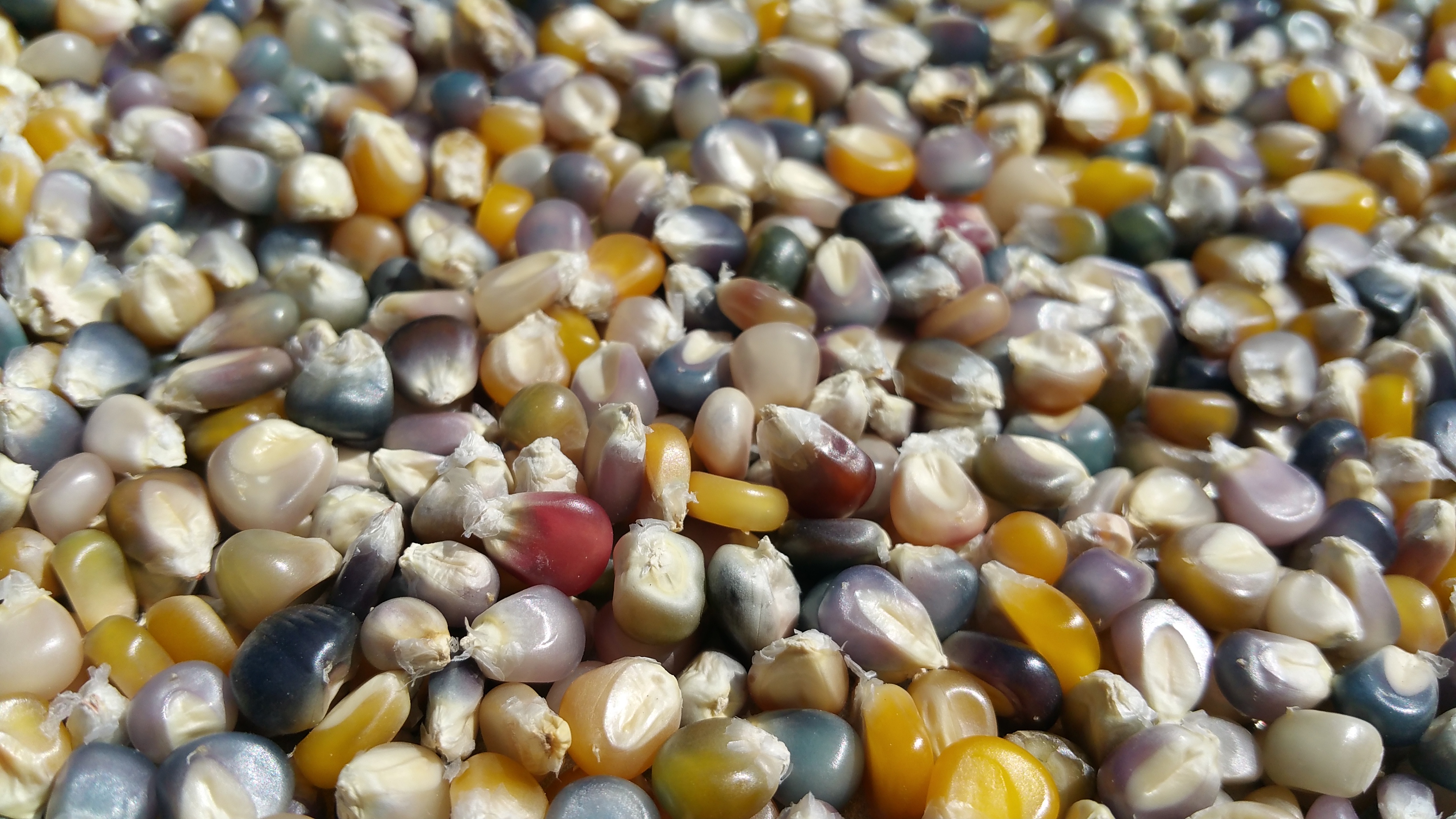 Almost…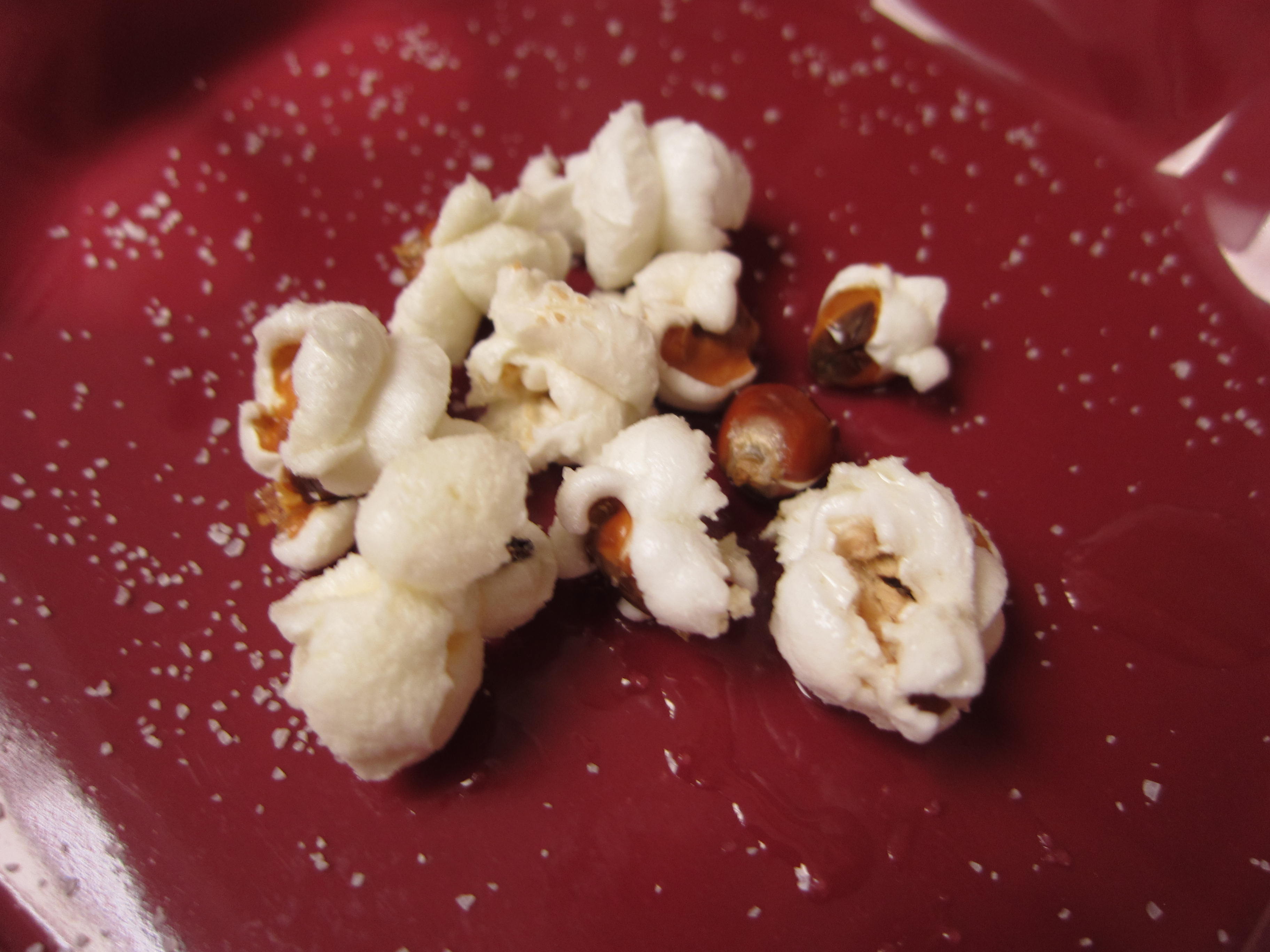 The kernels pop white (I know…we secretly hoped for Fruit Loop colored popcorn). Delicious, no butter needed. The moisture content needs to be around 13% for all the kernels to pop. Our first test batch of 10 kernels only popped 7. We added a tablespoon of water to the storage jar and covered for a few days, shaking several times a day. Today's batch (above) only gave us 1 widow, but several undersized pops as well. So we're adding another teaspoon of water and will test again in a few days. If all goes well, we'll put the kernels in the freezer for a few days to kill off any critters and mold spores.
We ended up with 2.7 pounds of popping corn from a 15 square foot space. If we hadn't suffered losses from rats and worms, the result would have been double. Not bad for a home gardenerd. This will last us a year.