A great question came in to Ask Gardenerd this week:
"I am looking to purchase a variety of grain seeds. Not bulk, not for
production? Yet.  My goal is start growing and saving seeds from
planter pots, as my yard is xeriscaped and I am in the process of trying
to sell my home. This way once I move I should have seeds for planting
a small scale grain garden for personal use.  Where can I find open-pollinated grain seeds that are not planting a whole flappin' acre at a
time?"
I hear your plea and I have an answer for you!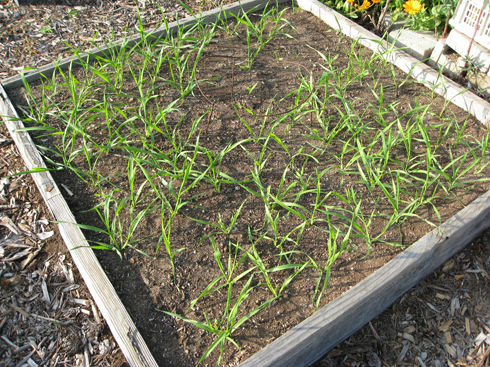 Triticale growing in a 4 x 4 square foot bed 
BountifulGardens.org
This is the retail wing of Ecology Action, founded by Jon Jeavons in Willits, CA.  They sell scads of wonderful grain seeds in small packets for the home gardener. The link above takes you right to their grain selection. I'm currently growing triticale from Bountiful Gardens (shown above).
Peaceful Valley Farm and Garden Supply
– better known as Groworganic.com – also sells grain seeds under their "cover crop" section.  The link above will take you there as well.  They offer a wide range of quantities from home gardener size to vast acreage size.There are probably a few others as well, but these are the two off the top of my head.  I've also grown
quinoa
from Seeds of Change, but their other grain offerings start at 5 pounds.
Growing grains can be a lot of fun, even on a small scale.  We harvested 2 1/2 pounds of
popping corn
from a 4×4 raised bed last year, and almost a
pound of quinoa
from 2 plants the year before.  Rosalind Creasy, of Edible Landscaping fame, tells a story of growing wheat in her front yard, then making bread with the neighborhood kids.  It's hard to resist the appeal of home-grown grains!If you need help growing grains, check out this book which offers great guidance:
Thanks for writing in, and good luck with your grain quest.
Fellow gardenerds – what grains have you grown?  Share your experiences with us here.