I would like to present one of the best soups I've ever eaten.  It was restaurant-quality delicious and very easy to make.  It uses kale and garlic from the garden (save this for your upcoming garlic harvest) and shiitake mushrooms from the farmers' market. 
Garlic Kale Soup – Vegetarian Times, February 2010
I ran across the recipe recently in an Anti-Inflammatory eBook put together by Vegetarian Times.  It showcases inflammation fighting ingredients like kale, garlic, lentils, hemp seeds, turmeric, celery, ginger, whole grains and omega-3 oils like flax and walnut oil.
First, soak 1/2 cup wheat berries overnight (I only soaked for a couple hours and used more water in the recipe – next time I'll soak overnight).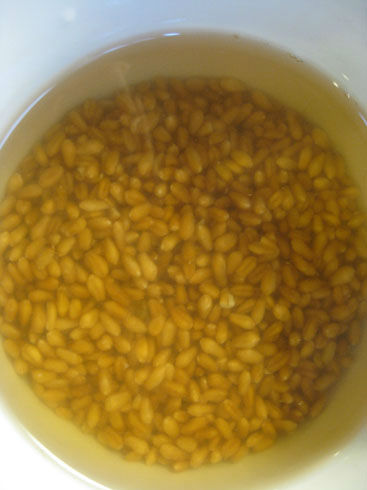 Wheat berries soaking in water
In a stock pot or sauce pan, saute 1 cups of sliced shiitake mushrooms in 1 TBS olive oil for 10 minutes.  Add 10 cloves of garlic that have been thinly sliced and continue to cook for 2 minutes more.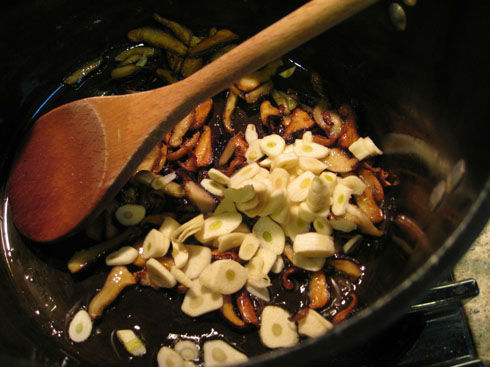 This makes the soup so incredibly good.
Stir in 1/4 cup brown rice vinegar and simmer until it's almost evaporated.  Then add the drained wheat berries and 4 cups vegetable broth and 1 cup of water.  (We used more than twice the amount of water/broth that was called for – see how it works for you with less).  Bring the whole thing to a boil and simmer on low for 20 minutes.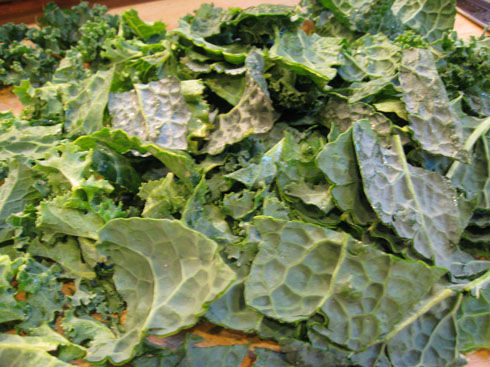 Dinosaur and Siberian Kale from the garden
Finally, stir in 10 oz. of coarsely chopped kale and cook another 10-20 minutes, until kale is tender.  Season with salt and pepper and enjoy!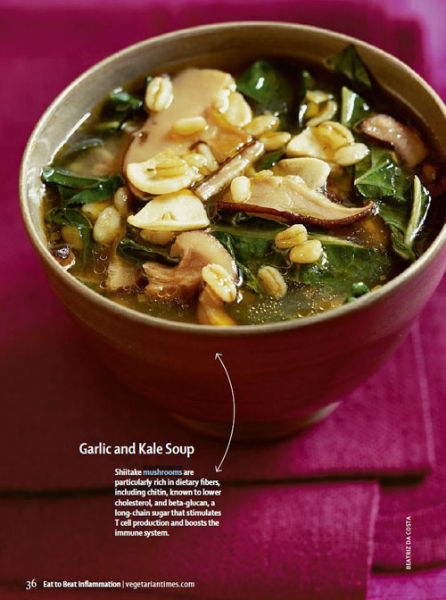 Photo by Beatriz Da Costa for Vegetarian Times.