The sweet potato is the jewel of fall and winter. This year we grew our own, and now it's time to serve them up in a savory recipe.
There are far too many recipes which add sugar or maple syrup to sweet potatoes, which IMHO is a disservice to the tuber. Why not enjoy them in their natural state? Here's our favorite way to prepare sweet potatoes.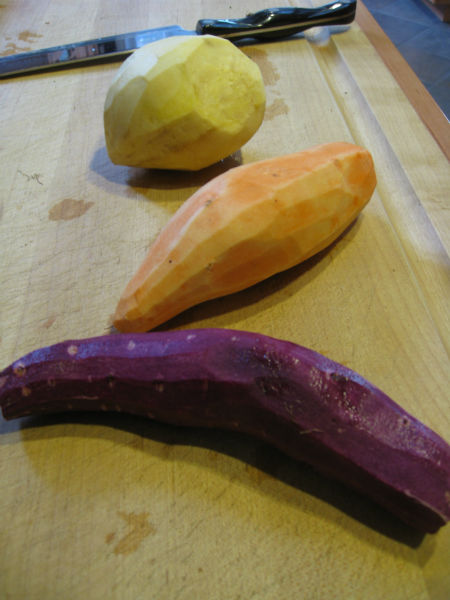 Aren't they gorgeous!? They cook up beautifully too.  We used our one and only red onion that we grew last season in this recipe as well. 100% home grown with our own rosemary and garlic (okay, store-bought oil, salt and cheese).
Roasted Sweet Potatoes and Onions with Rosemary and Parmesan
Bon Appétit  | November 2002
2 3/4 pounds tan-skinned sweet potatoes, peeled, cut into 1-inch cubes
8 tablespoons canola oil
3 garlic cloves, minced
2 1/2 teaspoons salt
1 1/2 teaspoons coarsely ground black pepper
1 1/2 pounds red onions (about 3 medium), halved lengthwise, cut crosswise into 1/4-inch-thick slices
1/2 cup freshly grated Parmesan cheese
1 tablespoon chopped fresh rosemary
Set 1 rack in center and 1 rack at lowest position in oven and preheat to 375°F. Line 2 large baking sheets with foil. Place sweet potatoes on 1 sheet; drizzle with 6 tablespoons oil. Sprinkle with garlic, 1 1/2 teaspoons salt, and 1 teaspoon pepper. Toss to coat, then spread in single layer. Place onions on second baking sheet; drizzle with remaining 2 tablespoons oil and sprinkle with remaining 1 teaspoon salt and 1/2 teaspoon pepper. Toss to coat, then spread in single layer.
Place sheet with potatoes on center rack and sheet with onions on lower rack in oven. Roast until potatoes are tender and onions are tender and brown around edges, stirring every 10 minutes, about 30 minutes total for potatoes and 35 minutes total for onions. (Can be prepared 4 hours ahead. Let stand at room temperature loosely covered with foil. Rewarm uncovered in 375°F oven about 10 minutes.)
Combine sweet potatoes and onions in shallow bowl. Sprinkle with Parmesan cheese and rosemary and toss to coat. Season with salt and pepper; serve.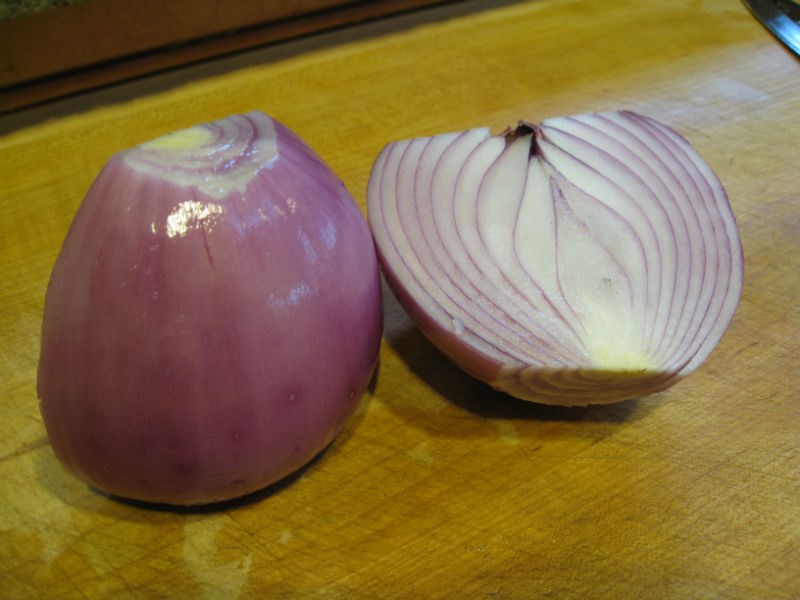 Don't be afraid to use plenty of oil, otherwise they potatoes may stick to the foil. In the end, even if your potatoes fall apart and look sad, the taste of this dish will overshadow any mangled appearance. Sadly, we ate it all before I could get a picture. I hope you enjoy it as much as we did.