Tag Archives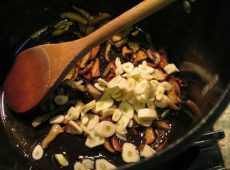 I would like to present one of the best soups I've ever eaten. It was restaurant-quality delicious and very easy to make. It uses kale and garlic
from the garden (save this for your upcoming garlic harvest) and shiitake mushrooms from the farmers' market.
Garlic Kale Soup – Vegetarian Times, February 2010
I ran across the recipe recently in an Anti-Inflammatory eBook put together by Vegetarian Times. It showcases inflammation fighting …
Continue reading → Continue reading →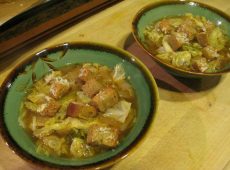 'Tis the season to harvest cabbage, and we've been on a campaign to find tasty uses for it this month. Our crop consists of Vertus Savoy
cabbage (with seeds from Bountiful Gardens). It grew well in Southern California, and it was a delight to finally be able to grow an open-pollinated variety of savoy cabbage (hard to find).

Here is another savory and delicious way to incorporate this healthy brassica …
Continue reading → Continue reading →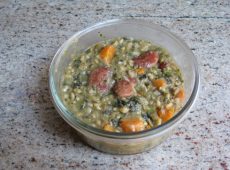 With all the talk of winter storms and canceled flights, it's clear that comfort food is in order. As a blanket apology from Southern California and our lovely weather, I offer this warming recipe to
those in icy places across the country.
It starts with baby lima beans, but we used Christmas Lima Beans that we grew this past summer:
It also calls for pearl barley, but we didn't have any on hand, so we used brown rice, since they cook in …
Continue reading → Continue reading →