Our ongoing effort to use up the bounty of cabbages harvested this winter continues.  This week, try this recipe for cabbage muthias, an Indian spiced dumpling that is sure to please.
The recipe recommends using Bob's Red Mill Garbanzo & Fava Flour, but I didn't have that, so I used straight Garbanzo flour.  I suspect that the dumplings would have held together better during the process of making them.  The end result held together fine, and tasted delicious.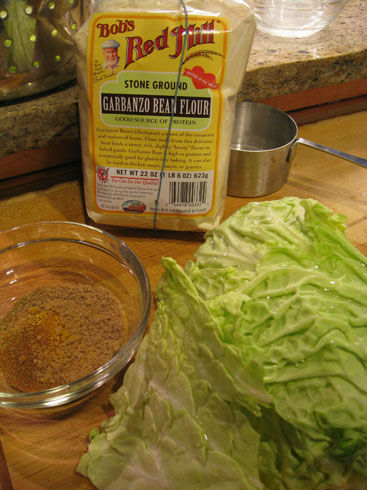 Garbanzo bean flour, spices, and cabbage start off the ingredients list
Cabbage Muthias – from Vegetarian Times Magazine
3/4 cup garbanzo-fava flour blend
1 Tbs. coconut oil, melted
1 Tbs. minced fresh ginger
1 serrano chile, finely chopped (1 Tbs.)
1 1/2 tsp. ground coriander
3/4 tsp. ground cumin
3/4 tsp. salt
1/4 tsp. ground turmeric
1 large pinch cayenne pepper
1/2 medium green cabbage, large outer leaves left whole to line steamer basket, remainder finely chopped (3 cups)
1/4 cup chopped fresh cilantro, for garnish
3/4 cup plain low-fat yogurt
First mix the flour with coconut oil and work with your hands to combine. Then add chopped ginger and the chile…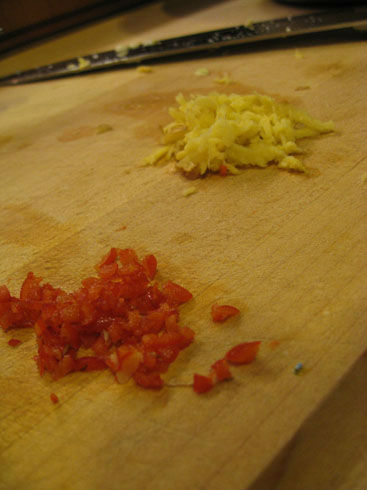 …then mix in the spices.  Add the chopped cabbage and work with your hands, squeezing the mixture until the dumplings hold together. I added water to help the process. I believe that shredding the cabbage into finer pieces would help too.  My chopping skills are lacking when it comes to "fine dice". Form dumplings with about 1/4 cup of mixture each.
Layer a few cabbage leaves at the bottom of a steamer, and set the dumplings on top in a single layer.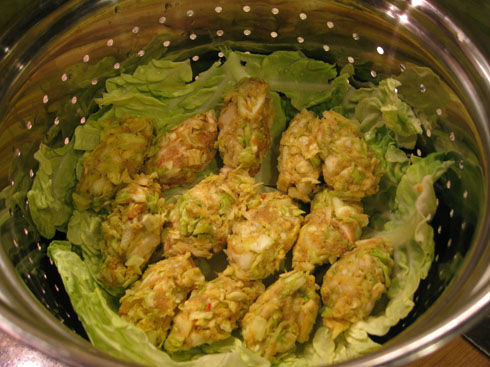 Cabbage dumplings nested on cabbage leaves, ready for steaming. We got 13 instead of 12.
Bring 2″ of water to a boil and fit the steamer basket in place. Cover and steam for 20 to 25 minutes, until the dumplings are shiny.  Transfer dumplings to a plate, sprinkle with fresh cilantro and serve with a blob of yogurt.  We added a brown rice/pearled barley combo to the plate and used home made yogurt for a well-rounded meal.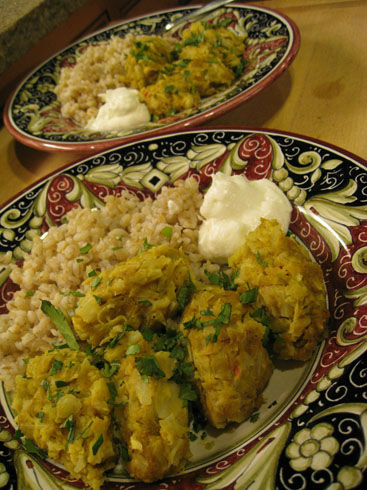 Delicious!
Got a favorite way to serve cabbage?  Share it with us here.