You know the drill: you go away for a weekend and come back to baseball-bat sized zucchini. After you've given away as many as you can and your neighbors have stopped talking to you, there's only one thing you can do–make Spicy Zucchini Soup.
This recipe is the perfect solution for zucchini overload because it uses 2 POUNDS of chopped zucchini (you don't have to shred or even peel it). It comes together in about 30 minutes and is perfect for a light summer meal, with leftovers for tomorrow's lunch.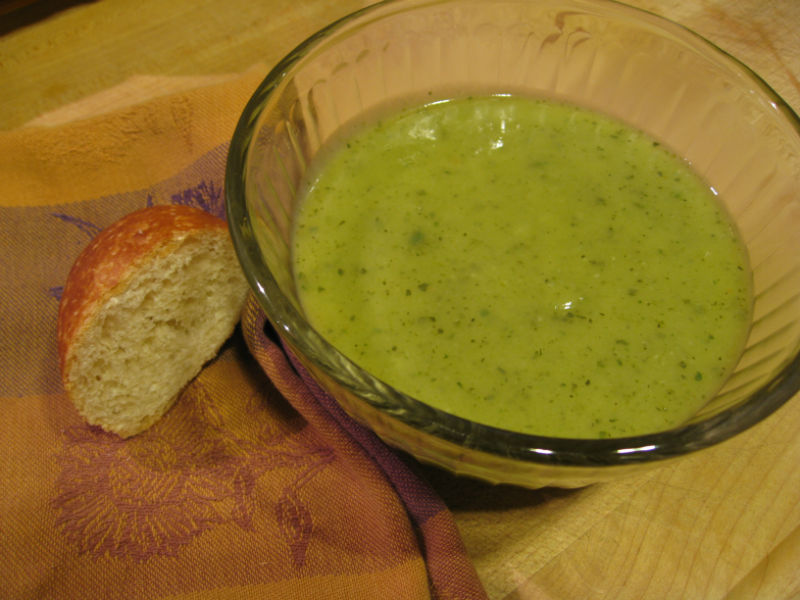 Spicy Zucchini Soup – from Elise Bauer on Simply Recipes (serves 4)
Ingredients
4 tablespoons olive oil
1 onion, finely chopped
1/2 jalapeno chile (or more to taste, depending on how spicy you would like the soup to be), seeds, stems and ribs removed and discarded, chopped (we used a small whole one from the garden)
3 chopped garlic cloves
2 pounds chopped zucchini (skin on), about 5-6 cups
1 1/2 cups chopped day-old bread
3 cups chicken broth (use vegetable broth for vegetarian option)
1 cup water
1/2 cup fresh mint leaves (spearmint), loosely packed, chopped (we didn't use mint)
1/2 cup fresh cilantro, loosely packed, chopped (optional) (we did use cilantro)
2 teaspoons lemon juice
Salt
Pepper
First – Cook onions and jalapeno chile in olive oil for 4-5 minutes on medium-high heat. Onions should be translucent but not browned.
Next – Stir in zucchini and garlic and saute for another 3-4 minutes. Season with a dash of salt at this point.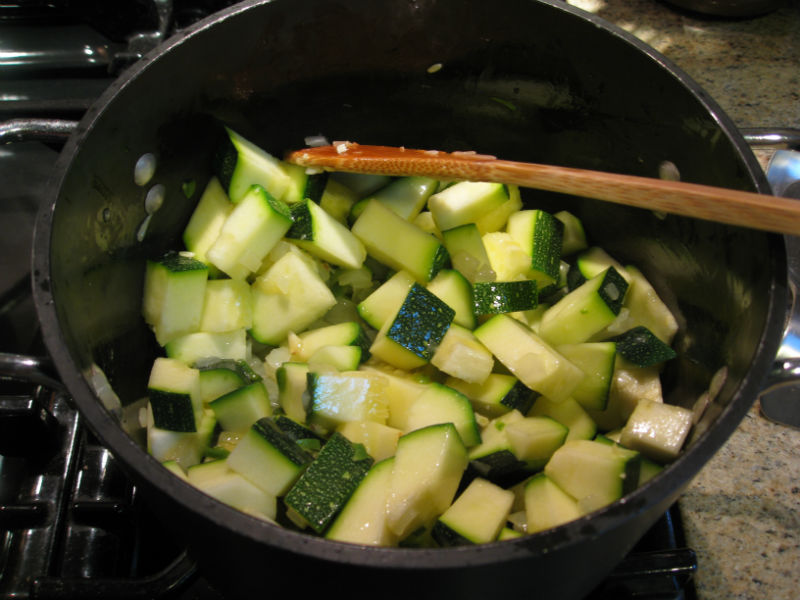 Then – Mix in broth, water and bread and bring the pot to a simmer. Reduce heat and simmer for 20 minutes.
Once you're done, turn off the heat and stir in mint (if using) and cilantro and use a stick blender or food processor to puree the soup.
Lastly – Add lemon juice, salt and pepper to taste.
Eat hot or cold, but preferably outdoors in the garden. After eating this soup, you'll want to let your zucchini plants go crazy.