We all have limited space for tomatoes, and given the abundance of options (there are more than 600 varieties of heirloom tomatoes alone!) deciding which to grow can be like choosing a favorite child. In this video we share our selection of colorful tomatoes that we are growing here at Gardenerd.
Tomatoes come in all shapes and colors, and flavors that range from tart to super sweet. We choose paste/plum, cherry, beefsteak, and salad sized tomatoes for variety, color, and functionality. See what you think of these varieties. Maybe give them a try in your own garden.
Colorful Tomatoes to Grow In 2021
We include some of our tried and true favorites along with a couple of newbies to try this year. We're also revisiting a few we haven't grown in years. They range in color from green to yellow, orange to pink, and deep red with black shoulders.
Don't blame us for being superficial–yes, we grow some tomatoes just because they are pretty. But many of these selections are geared toward coastal gardening where temperatures don't get as hot as inland gardens. Many of these will function great in any garden, too. And they all have great tomato flavor.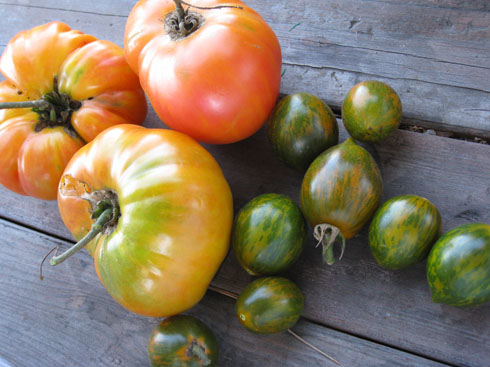 Resources
If you need help starting seeds this year, check out our video on Seed-Starting 2 Ways.
Do your sprouts need more room to grow before they go out into the garden? See how we pot them up here.