Often when people leave for vacation, they experience a pleasant surprise of a thriving garden when they return (as long as it's being watered while they're gone).  My clients often report that just a week away produces a huge growth spurt in their gardens.  I've had this experience myself.
Recently though, I'd like to say that I went away on vacation, but the truth is I just got lazy and didn't check in on the zucchini for a few days.  Oops…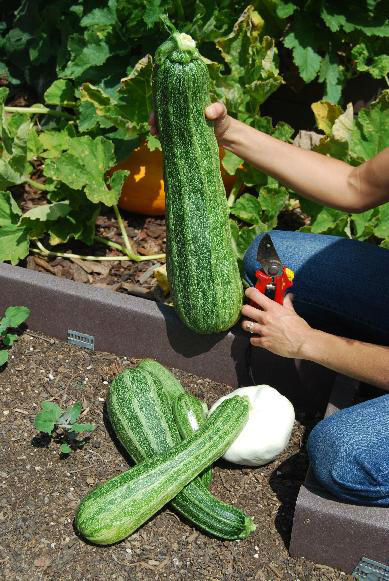 This morning I picked 5 zucchini from one plant, including one that measures 18 inches long with a diameter of 5 inches.  It's closest sibling is 14 inches long, and the one after that is 12.  Now either I'd better find a few mailboxes to shove these in around the neighborhood, or I need some good recipes for stuffed zucchini.  Here's one that I found today on Epicurious.com:
This recipe calls for veal, which I personally don't eat, and I found that many people commented on the recipe that they substituted turkey or chicken for the veal with great success.  I plan to sub out the veal for a well-spiced tofu mixture I'm dreaming up.  I'll let you know how it goes.
Do you have any favorite recipes for stuffing overgrown squash?  Share them with us here.