In an effort to use up more of the gifted limes from a friend (see Watermelon Lime Sorbet), I pulled out Ann Gentry's Real Food Daily Cookbook for ideas.  Flipping through the index, I found several lime-infused dishes that must be tried.  The first: Black Bean Soup with Jalapeño Lime Creme.
Alicia Silverstone has kindly reproduced it on her site, The Kind Life, so I won't duplicate her efforts here, but I will share the down-home, non-professionally photographed version of How-To:
While the black beans are cooking gently with a bay leaf and kombu (a seaweed that adds minerals and flavor to the food), make the Jalapeño Lime Creme.  Roast the jalapeños, put them in a bag, then rub off the skins.  Into the blender they go, along with the cashews, soy milk (I used homemade almond milk)…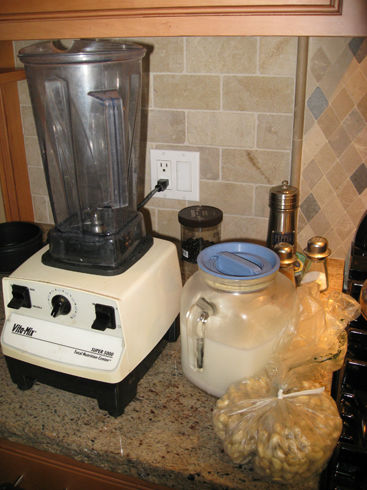 Raw whole cashews are worth the expense for this meal
the lime zest and juice…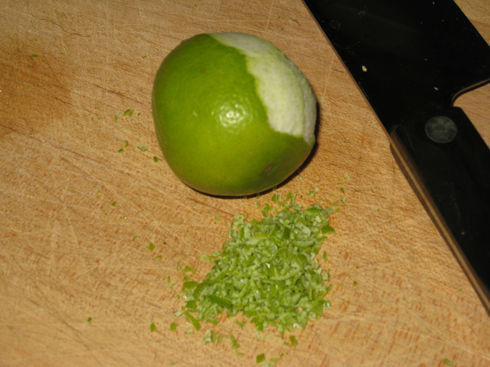 About three limes were used to get 1/4 cup of juice
and canola oil and salt.  (Be sure to use organic canola oil – anything else is GMO)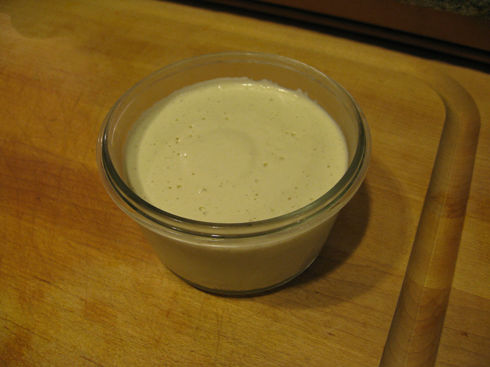 The resulting creme is suitable for kings. I wanted to eat this creamy, tangy, spicy creme with a spoon.  However, using a modicum of restraint, I was able to save it for the soup.  Speaking of soup…
As the beans continue to cook, use a large stock pot to cook the carrots, celery, onions and garlic for about 15 minutes.  The instructions don't tell you to use a large stock pot, but my bean pot was clearly not going to be big enough to hold all these vegetables.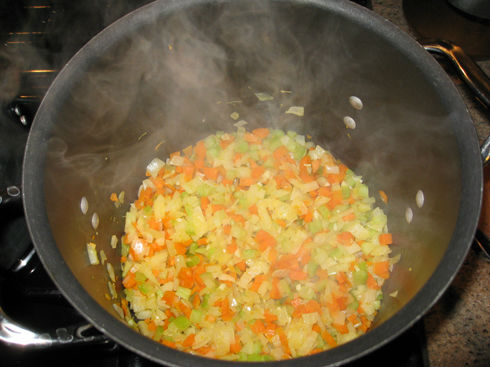 Carrots, celery, onions and garlic as finely chopped as I could manage
Add in the tomatoes and your spices, simmer 5 minutes, then add the beans (after removing the kombu and bay leaf from the bean pot) to this mixture  – again, the recipe says to do it the other way around, but adding the beans to the larger stock pot kept it from overflowing the pot.
Then puree half the mixture in a blender (I had to add a little extra water because it was very thick), and toss in your cilantro.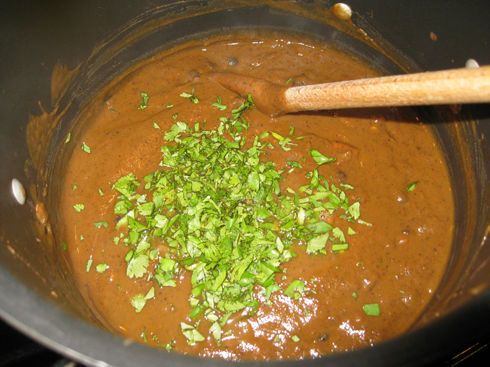 You'll definitely get your "5 a day" with this soup
The result was a deliciously flavorful soup with plenty of room on top for Jalapeño Lime Creme.  All restraint aside at this point, I drizzled the creme with a little more than vigor than recommended.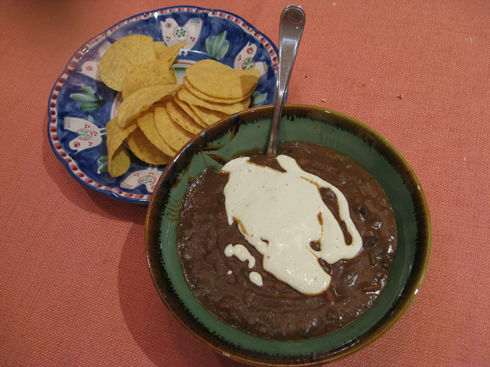 Serve with tortilla chips – great for dipping!
The recipe made enough for about 6 servings, and there's still Jalapeño Lime Creme left over for other meals.  I followed up the next evening with Chile Rellenos and generously topped those with the Creme as well.  It just goes to prove that Jalapeño Lime Creme is 1) worth making, and 2) it goes with everything.  Try it and see for yourself!