It's time to start thinking about the future, and whether that's the upcoming holiday season or next year's garden, Gardenerd is here to motivate you.  What better way to start the ball rolling than a tour through the new 2012 Spring/Summer Seed Collection?
Each year we select our favorite heirloom varieties, or coveted heirlooms that we've been dying to grow.  We choose a trusted seed source that takes the Safe Seed Pledge and promotes bio-diversity by offering heirloom and open pollinated varieties that you can grow, save and plant again year after year.  Here's what we've chosen for 2012: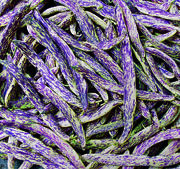 Dragon Tongue beans – We've grown these sweet tasting beans for several years and can't think of a garden without them.  Cream/yellow pods with purple streaks make them a conversation piece in the garden.
Christmas Lima beans -Again, one we've grown and loved.  These limas cook up like regular lima beans, but they double in size and taste like chestnuts.  So delicious and hearty in winter soups.  White beans with deep crimson flecks – you can't go wrong!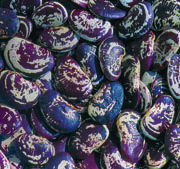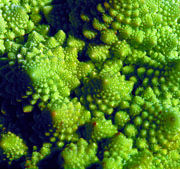 Romanesco
broccoli –get out your Fibonacci numbers and fractal software, this is an open pollinated variety (hard to find an OP, easy to find F1s that don't breed true to type) with swirling buds of chartreuse that will bring any meal to life.  Not to be missed.
St. Valery carrots -This has long been a staple in the Gardenerd garden.  Long roots of bright orange with reliable harvests.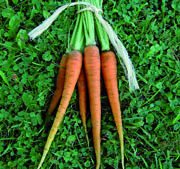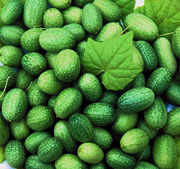 Mexican Sour Gherkin cucumbers -We've been eyeing these cute little cukes since we first drooled over the photo in the Baker Creek Heirloom Seed catalog.  The tipping point was seeing them in person at a local garden show.  So cute and versatile, it will be one of our experiments in the Gardenerd Text Garden this summer.
Ancho Gigantea -These are great for chile rellenos and just about any other dish that need mild spice.  We've grown them for several years and feel these waxy peppers are essential for the summer garden.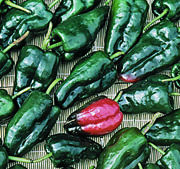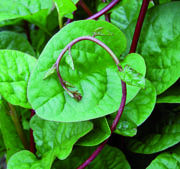 Red Malabar spinach -not a true spinach, but it grows up a vine!  How could we resist this.  Prolific producer of spinach type leaves that can be eaten raw or cooked.  Grows in hot weather when ordinary spinach bolts to seed.
Ronde de Nice zucchini -We grew this round heirloom zucchini last year and had an abundance (remember, 1 plant is all you need of any zucchini unless you have a zucchini bread business).  Softball sized squash that can be stuffed, sliced, shredded – you name it.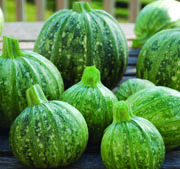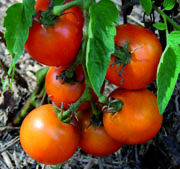 Jaune Flamme tomato -This is one of my favorite tomatoes that does well every year.  Bright orange orbs of sweet, sweet tomato goodness make it a winner.  They tend to be bigger than a salad tomato, but smaller than a beefsteak.  Adds color and flavor to any meal.
Stupice tomato -pronounced stu-PEACH-kah, this Czech Republic tomato is another staple of the Gardenerd garden each year.  First to produce, most prolific, and incredibly reliable, this red salad tomato is flavorful and delicious.  You can count on Stupice.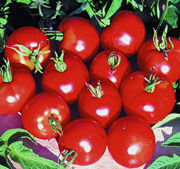 Updated!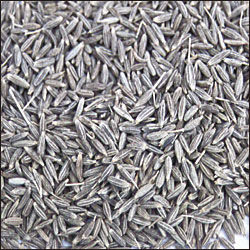 Cumin – our source informed us that Stevia wouldn't be available until well after Christmas, so we made a change to allow for holiday shopping.  Cumin is a wonderful spice that is used in Indian cooking, soups, curries, and more.  Use it whole or ground.  It grows low (about 6″ tall) and re-seeds itself.  Pop this into your herb garden this spring and enjoy it for years to come.
Lemon Queen sunflower – This is the specific variety of sunflower that is promoted by The Great Sunflower Project.  They contain more pollen than most sunflowers and attract bees to your garden.  Since every garden is an eco-system, and flowers are an integral part of that eco-system,  we've included it in this year's collection.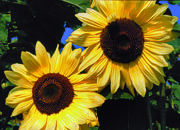 This new collection is available for $28 – a 15% savings over individual seed packet prices.  It will be ready to ship after December 6.  Pre-order yours today for all the Gardenerds in your life at the Gardenerd Store.