I'm a little bit of a late bloomer.  Or maybe it's just that I get used to looking at – or stepping over – something that's in my way and then I don't do anything about it for a long time.  It's kind of like that pile of laundry in the middle of the room.  It doesn't go away, but you start to ignore it – so it really isn't there any more, right?
This was the case with the wild patch of asparagus in the raised beds.  We're at the end of our second year, which means that the next time those crazy fronds get cut back, it's fair game for everyone.  The 3-year wait will be over; we can pick all we want.  But until that time, the asparagus fronds are, shall we say, making themselves known.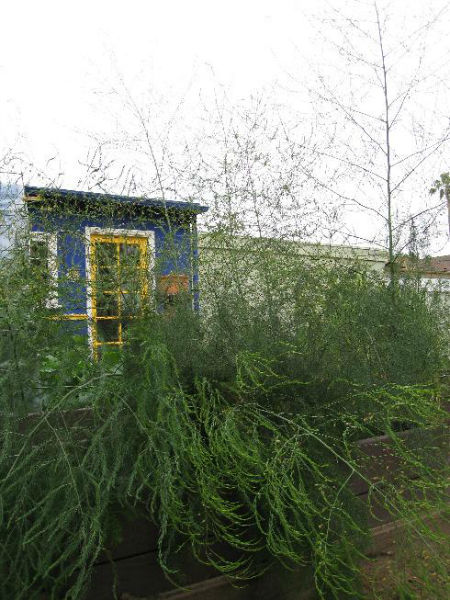 Not long ago, I had a forehead-smacking moment when I saw a picture of someone's asparagus patch neatly contained by a circle of stakes and twine.  Having not ever grown asparagus before, it didn't occur to me that I could do this until I saw the picture.  "Oh – of course." (head-smack) It was a no-brainer.
So after a trip to the hardware store for some 6-foot coated metal stakes and a bundle of twine, I grabbed a rubber mallet and went to work: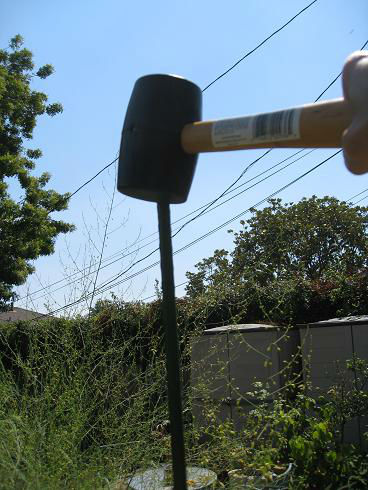 After hammering in a stake in each corner of the raised beds, I started wrapping twine around the perimeter, looping it around each stake.  There was a visitor that stopped me in my tracks. He/she was about an inch long and fuzzy as all get out, and stayed put long enough for me to photograph him/her.  I've never seen a bee or beetle like this before.
Does anyone know what the heck this is?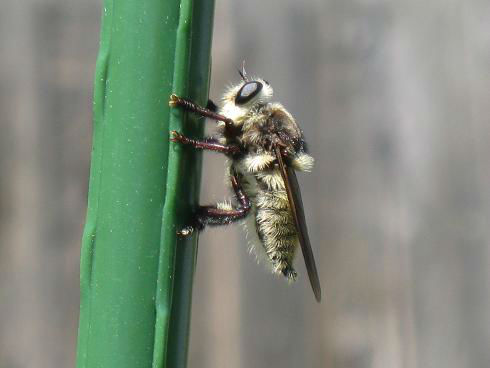 It took about 20 minutes to wrestle the asparagus fronds in two raised beds into their proper place, and blood was shed in the process.  Be careful – those fronds have thorny bits that will catch you by surprise.  Wear gloves (I forgot them – so you get to learn from my mistakes)!
The finished product has re-opened the pathways in the garden and suddenly you can actually see the new growth beneath all the fluff.  What a novel concept!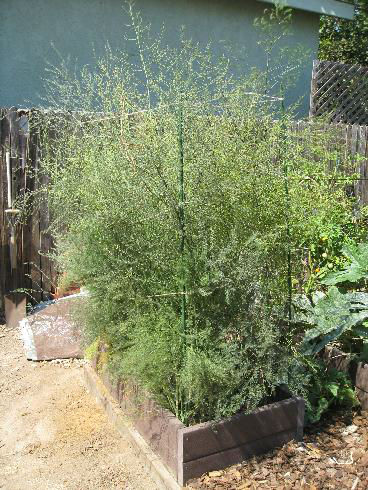 I guess now it's time to tackle that pile of laundry on the floor…