I'll admit it.  I've never made eggplant parmigiana.  I ate it growing up; as a picky eater it was probably the only way I'd ever eat eggplant.  So leave it to a gardenerd to grow eggplant and not know what to do with the finished result.  Until now.
I've been hoarding a copy of Frances Mayes Bringing Tuscany Home  for a few years now, just waiting for the perfect moment to strike, when I felt confident enough to try making what I thought would be a daunting recipe. The torn piece of paper marking the page was nearly withered in anticipation.  That moment came last week.
I've been growing Black Beauty eggplants at my community plot and while they didn't produce a thing last year, the same plant made it through winter and started bearing fruit this year. There are 4 in this pictures of the harvest from last week: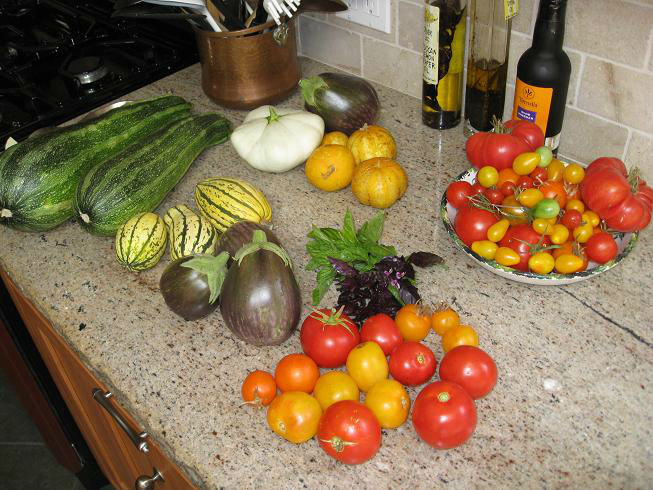 This particular recipe calls for peeled eggplant dredged in flour and fried in oil.  What a surprise!  I thought I'd have to salt the eggplant and let them sit for hours to sweat. No such thing here.  They fried up nicely and then, after slicing some fresh mozzarella cheese (it calls for grated cheese, but fresh mozzarella doesn't grate, as I found out), and grating some parmigiana, I layered everything with tomato sauce (yes, I used jarred tomato sauce – don't tell Nonna) and put it in the oven.
I tried to take a picture of it in the oven, but that didn't work out as planned.  In fact, the heat fogged up the lens.  So… here's the result of 45 minutes in the oven: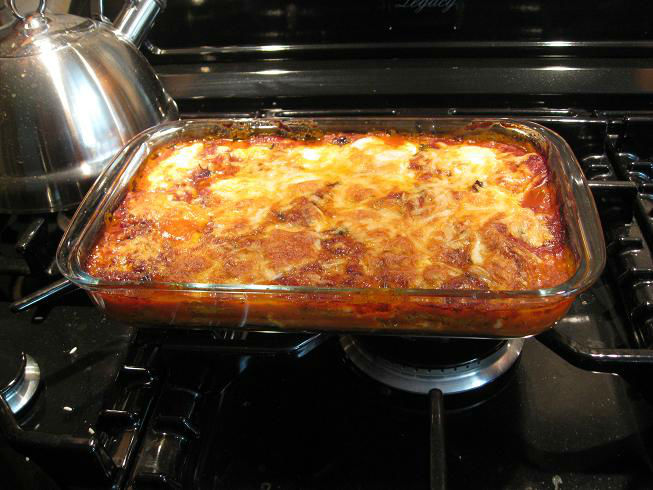 I decided to drift from convention just a little bit and serve it atop a bed of fresh pasta noodles.  As it turns out, that's pretty darn tasty.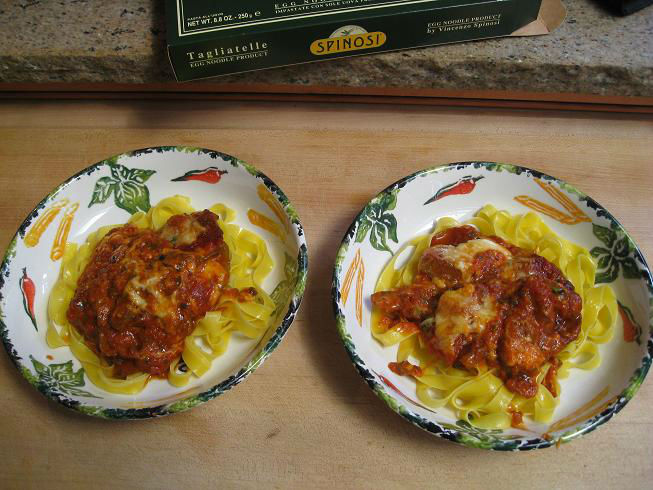 What have we learned?  That this particular Eggplant Parmigiana recipe is a piece of cake to make, and pretty fast too.  Do you have a favorite way of cooking eggplant?  Please share it here – we need ideas!
P.S. I found an online version of this recipe, but it's different than the one in the book.  You can find that here:
Taste Book's version of Frances Mayes Eggplant Parmigiana
But if you'd like to get a copy of Frances Mayes wonderful book, click here: