It might seem crazy to grow something in the garden specifically for one dish, but when it comes down to it, there's something to be said for seeing a meal through from start – as in seedling – to finish.  This is the case of our poblano peppers.
We grew poblanos for one reason and one reason only – to make chile rellenos.  Not that I even knew how to make them, but it was about time to learn.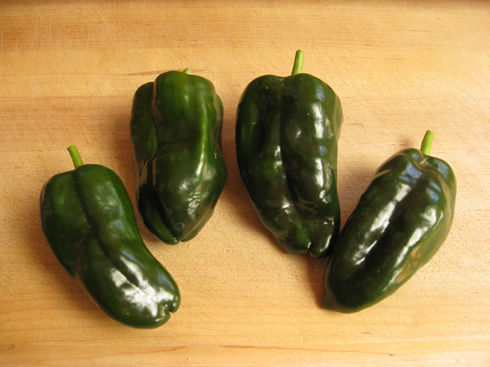 These proud poblano peppers grew over the summer, no thanks to the dreary weather we had all season long.  After finding the perfect recipe, we harvested and washed the peppers and then held them over an open flame to char the skin.  Then we threw them into a plastic bag to steam the skins off.  Note to self: if you touch the plastic bag with the hot tongs, the bag melts – don't do that.
Once the skins are removed (they peel off easily after steaming), we cut out the veins and seeds.  Then we stuffed them each with a combination of 2 shredded cheeses (see recipe below).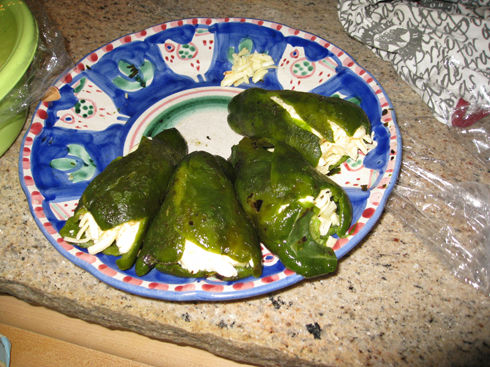 I have an immense appreciation for food photographers who can make anything looks appetizing.  I am not such a person, but trust me – these were delicious!
Next is the real cooking part.  We whipped up some egg whites and gently folded in yolks.  Each chile gets dropped into the batter and then, one at a time, fried in oil until golden.  Who knew!?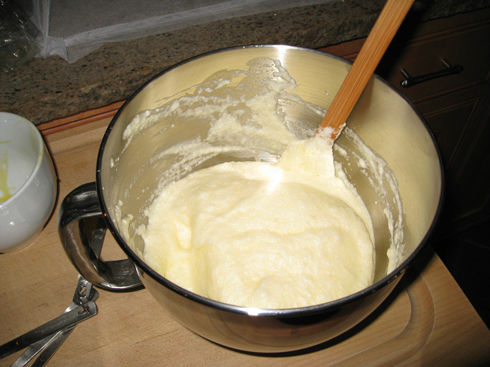 Infamous egg batter
Armed with two spatulas, we dropped each egg-battered chile into hot oil and prayed that it would turn over easily when the time came.  It actually worked!  We drained them on paper towels while the salsa was being made.
Next the chiles went into a baking dish, covered with salsa and baked.  The result might not be pretty (my understanding is that presentation comes later in the culinary educational journey), but they tasted like the real thing.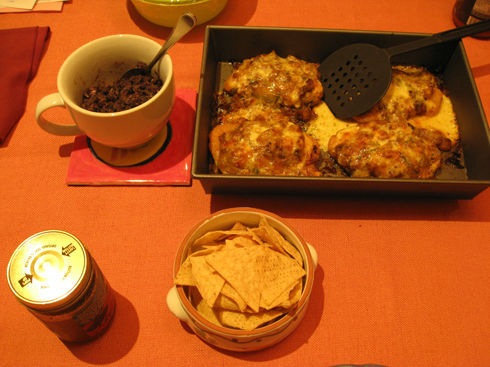 Served with black beans, chips and salsa.  What a delicious meal.
There are a few more chiles growing on the plants, so this recipe will probably come in handy in the near future:
Careys Authentic Chile Rellenos
Preparation
1) Peppers: combine both grated cheeses and take small amounts and roll together to make " BULLETS"
2) If using fresh peppers, Roast them and take the skin off and snip stem end off and " hollow " out,
if using canned peppers that are already cleaned out and hollow, at this point stuff the peppers well with the bullet of
cheese and set aside , do this for all of them.
3) Lightly roll or coat the peppers in flour.
4) beat your egg whites till stiff ( like Meringue) then fold the yolks back into the whites
5) Fold in 2 tbsp flour.
6) Drop stuffed chilies into batter, one at a time.
7) Slide into 1 1/2″ moderately hot oil.
8) Fry until golden brown, working quickly, drain chiles on bed of paper towels.
9) **SAUCE ***: Cook all ingredients together in saucepan, slightly thicken with some corn starch and cold water if needed.
10) Pour over fried chilies.
11) Sprinkle with remaining cheese.
12) Bake in a 350º oven for 30 minutes, or until bubbly.
Do you have a favorite use for poblano chiles?  Share them with us here.