Last year when the first Heirloom Expo took place, I was not able to attend but swore that I would next year, come what may. Fast forward to year two, and it was looking like I wasn't going to be able to go again. Curses. Then the free media passes showed up in the mail. I had no choice.
Heirloom Expo 2012 went beyond expectation. Not only was it a gardener's heaven, but every lecture, every seed company, every food vendor reinforced the message that real food (not GMOs) is where it's at. Here is a quick summary of my adventures there.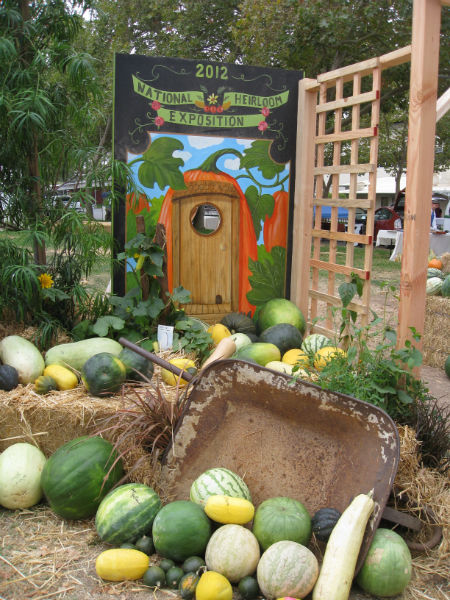 Heirloom Expo 2012
Day 1 was spent running between lecture halls to see as much as possible. Dr. Vandana Shiva's video presentation was inspirational, Ronnie Cummins from Organic Consumers Association's lecture about the politics of GMOs was sobering, and Ira Wallace's chat about growing onions, garlic and shallots offered handy tops for triumph in the garden.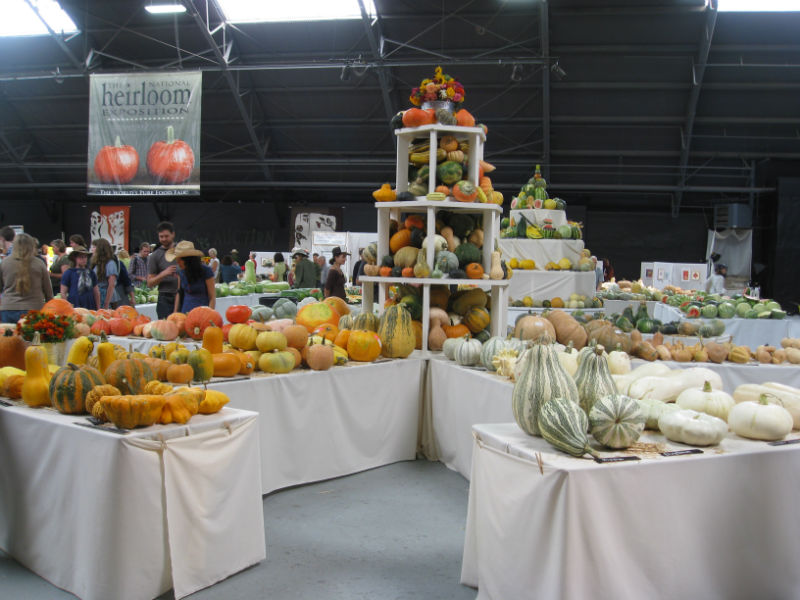 Diane Ott-Whealy, a founder of Seed Savers Exchange, told her story of how Seed Savers came to be. What started as a pile of envelopes on her desk from hopeful seed savers has become a full-fledged seed company with over 600 varieties of heirloom and OP seeds, and a farm featuring 550 heirloom apple varieties and 230 breeds of heirloom chickens, ducks, geese, and turkeys.
By the time I found a moment for a breath, it occurred to me that I hadn't yet seen the "giant pile of squash" that everyone was talking about. I had to ask where it was because I thought I had covered the entire Fairgrounds already. Apparently not. Behold the Giant Pile of Squash: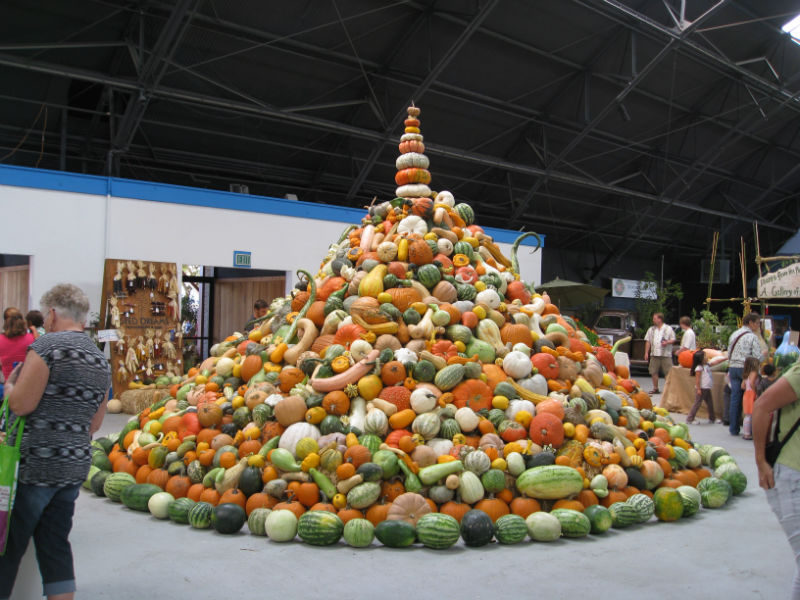 In addition to the Pile, there were tables featuring hundreds of varieties of squash and melons (See Inside the Hall of Flowers above). The most impressive squash were the contestants in the giant pumpkin contest. These were big, but not big enough: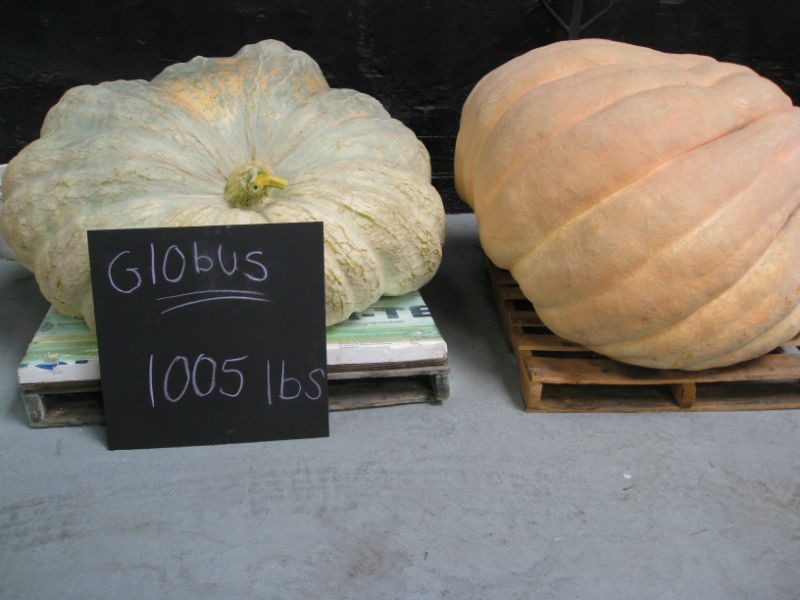 Day 2 was all about shopping and schmoozing. That press pass came in handy. I got to meet Jere Gettle, Founder of Baker Creek Heirloom Seeds and several garden book authors, including Robert Kourik, author of Roots Demystified, and Jill Nussinow (AKA the Veggie Queen), who has written two garden-fresh cookbooks. I met a gal named Lynnette Pate, who is cycling across America to promote healthy living and natural foods through FuelForTheBody.org.
Speaking of cookbooks, Jere and his wife Emilee have just published one: The Baker Creek Vegan Cookbook. We media folks got a copy and Jere was there to sign it. Woo-hoo!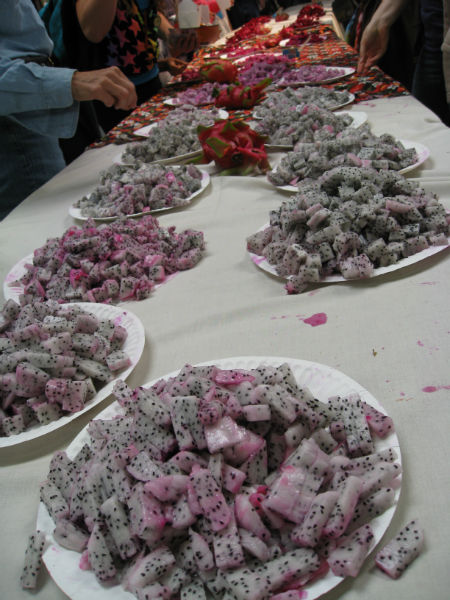 Between lectures from Bob Hornback, a Luther Burbank historian, and Steve Sando of Rancho Gordo Heirloom Beans and John Jeavons of Ecology Action, there was hardly time to shop. There were seeds to buy, products to investigate!
The trade hall featured some of the best seed companies around. Bountiful Gardens, Baker Creek, Peaceful Valley Farms, The Living Seed Company, Turtle Tree Seed, D. Landreth Seed Company, and Franchi Seeds were all there.
One non-GMO advocate, Vanishing Feast, offered beautiful T-shirts to spread the message. The front says 100% GMO-Free and the back features one of several heirloom seed varieties laid out like a seed packet. I've got my eye on the Moon and Stars Watermelon shirt on Printfection.com.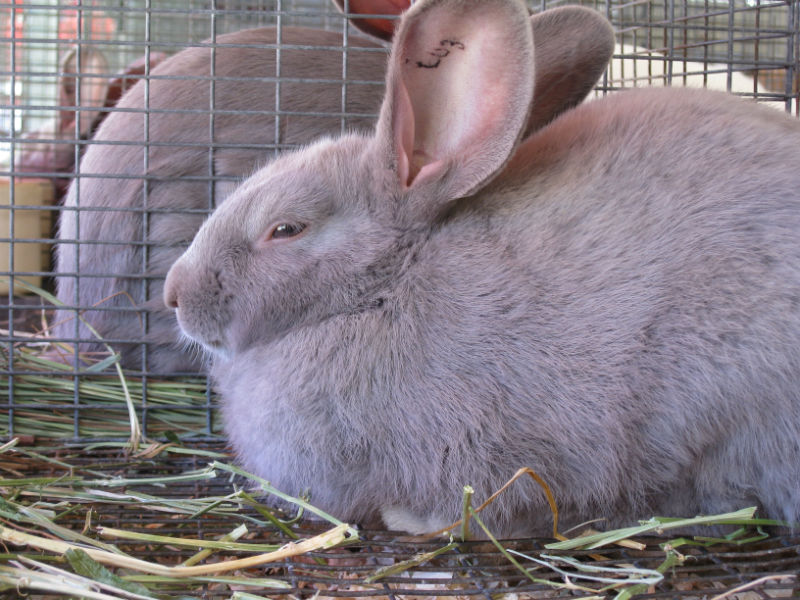 Then there was the exhibit of rare and heirloom livestock. Note the lilac rabbits above. That's not special lighting, those bunnies are purple.
There were turkeys and chickens, goats and ewes, ducks and pigs on display. All interesting, even when napping.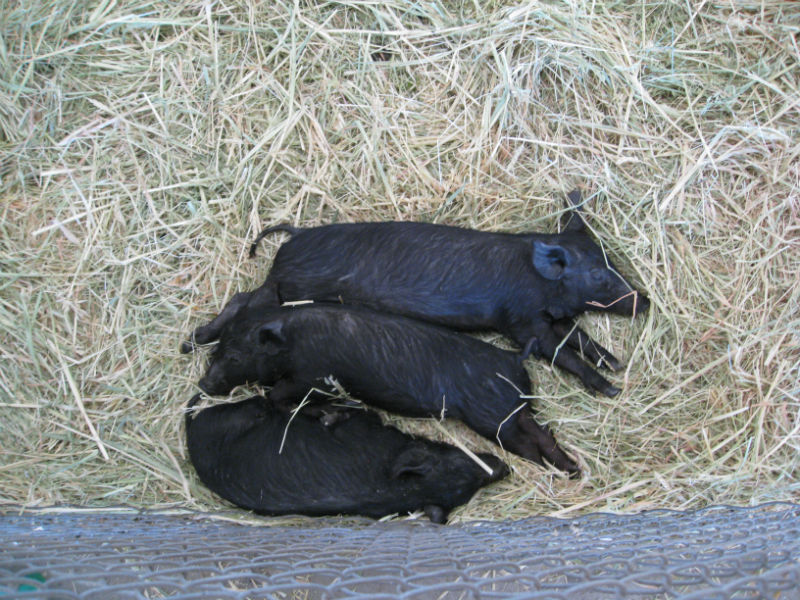 On the way to the barn, I spied a small vendor selling what could be the solution to my chickens dumping over their water jug on a daily basis. It's a watering device that hooks onto a Rubbermaid water cooler so the contents stay sanitized. I'm sold. I didn't get a photo, but check this out. It's genius! Chickenwaterer.com.
Whew! So much to see, and still I'd say I missed out on at least half of what was going on. Next year I will go for all three days. See more pictures from the Heirloom Expo, visit our Gardenerd.com Facebook Page.