With cool weather upon us, it's time for soups and stews.  What better
way to showcase the often-neglected kidney bean (it's not just for the
salad bar) than to highlight some of our favorite dishes made with this crimson legume?
I'll confess, I didn't grow kidney beans this summer, but I will someday. In the meanwhile, we buy them dry and soak them overnight to make great meals.  We cook them for about 15 minutes in a pressure cooker and voila!  Perfect beans.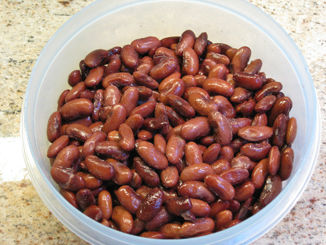 Cooked organic kidney beans, fresh from the pressure cooker
Over the past year, I've made a few new recipes that call for kidney beans.  Here's one that calls for chard (also abundant in the garden these days) and plenty of fresh herbs:
Herbed Bean and Pasta Soup – this recipe was featured in a previous entry about dill: Dill you be mine?
It first appeared in Gourmet Magazine in November 2005:

Ingredients:
---

Another recipe that has wowed guests at parties is this one for Cajun Red Beans and Rice Salad.  Don't be put off by the fact that it's vegan.  Even the meat eaters at a New Orleans themed party raved about it!  Fair warning – it's spicy!
Cajun Red Beans and Rice Salad – Bon Appetit, August 2004
Buon Appetito!