With all the talk of winter storms and canceled flights, it's clear that comfort food is in order.  As a blanket apology from Southern California and our lovely weather, I offer this warming recipe to those in icy places across the country.
It starts with baby lima beans, but we used Christmas Lima Beans that we grew this past summer: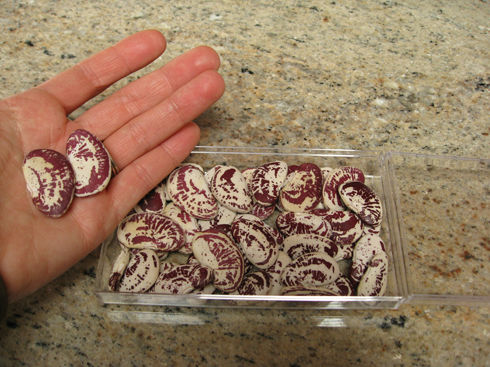 It also calls for pearl barley, but we didn't have any on hand, so we used brown rice, since they cook in about the same time.
This recipe is intended to be made in a pressure cooker and if you use baby lima beans it probably cooks in the time allotted, but it took quite a bit longer with the dried Christmas Lima Beans.  Next time I'll soak the beans first, even though the recipe says you don't have to.  Because we cooked it longer, it came out more like a creamy risotto, which was very tasty!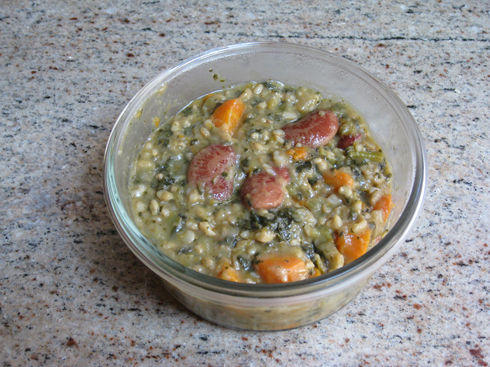 Barley, and Vegetable Soup – from Organic Gardening Magazine Vol 58:1
3 tablespoons olive oil, divided




1 1/2 cups coarsely chopped onions




3 ribs celery, sliced




4 cups low-sodium vegetable or chicken broth




4 cups water




1 can (15-ounce)diced tomatoes,including juice




1 1/4 teaspoon dried italian herb blend




1 cup dried baby lima beans




1/2 cup pearl barley




1 small bunch kale, stems thinly sliced, leaves coarsely chopped




salt, to taste




4 large carrots, trimmed and scrubbed (leave whole)




2 teaspoons balsamic vinegar




2/3 cup grated Parmesan or Romano cheese, plus more if desired



Alternate
Meaty variation: Fry chicken or turkey sausage slices in a skillet while the
soup cooks. After the soup is ready, stir in the slices.
Directions
Heat 2 tablespoons of the olive oil in a 6-quart or larger pressure cooker.

Add the onions and celery and cook over medium-high heat, stirring frequently, until the onions are lightly browned.

Stand back to avoid hot oil, and pour in the broth, water, and tomatoes. Stir in the dried herbs, beans, barley, and kale stems.

Add the kale leaves and press them into the liquid with the back of a large
spoon. Place the carrots on top. (Cut them in half crosswise, if
necessary, to fit.)
Lock the lid in place and bring the cooker up to high pressure (about 20
minutes on an electric burner). Lower the heat enough to maintain the
pressure at high (usually a simmer), and set the timer for 12 minutes
(or 15 minutes if using an electric cooker).
When the timer goes off, turn off the heat and let the pressure come down
naturally, about 10 minutes. (If using an electric stovetop, move the
cooker to a cool burner.) Release any remaining pressure by setting the
cooker under cold running water. (If using an electric cooker, gradually
engage the quick-release.) Very carefully remove the lid, tilting it
away from you to avoid a steam bath.
Check the beans for doneness by cutting a few in half: They should be one
color throughout. If the beans aren't fully cooked, simmer the soup
uncovered a few minutes more until done.
Slice the carrots into chunks with a long knife. Stir well as you add the
final tablespoon of oil. Season to taste with salt and enough balsamic
vinegar to sharpen the flavors.
Divide among 6 bowls. Garnish each portion with a generous sprinkling of
cheese and serve the remaining cheese in a bowl at the table.
Stay warm and keep plowing!