In my early years of cooking, I found that my attempts at roasting vegetables ended with deflated, soggy lumps that once resembled fresh veggies. Perhaps that is why I still hold romantic notions about serving amazingly caramelized, oven-roasted, Mediterranean fare cooked to perfection at elegant parties.
Well, it may not have been an elegant party – just a thrown-together dinner for two based on this romantic notion – but success was finally achieved in the roasted vegetable department.
First, the old stand-by – baked/roasted home grown potatoes: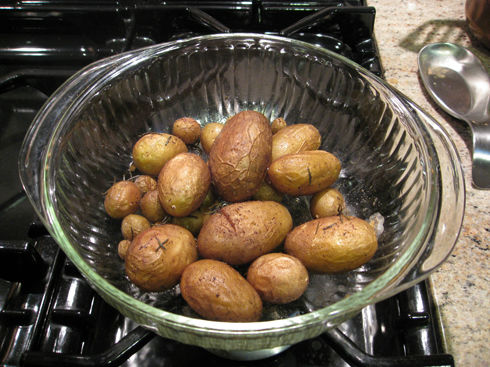 Homegrown potatoes from the fall harvest with butter, salt, pepper and rosemary
New Potatoes Baked in Butter – scroll down to this great potato recipe from Rose Elliot in the Gardenerd Gazette
Next, I rough-chopped the following into an 8×8″ roasting pan:
A homegrown eggplant (a volunteer in the lemon tree pot that produced this single eggplant so far over winter). Cutting it in larger pieces keeps it from getting too soggy.
A few homegrown parsnips (these can be smaller, because they take longer to cook.)
A large homegrown carrot
A couple homegrown kohlrabi (these should be cut like the parsnips, because they also take awhile to cook)
Toss with a generous drizzle of olive oil, salt and pepper and a little parsley or oregano as desired.
Put it in a 400º oven for 15 minutes.
Next, I chopped up some Halloumi cheese (it's a cheese from Cyprus that holds its shape when cooked.  You can grill it, fry it, and apparently – roast it too!).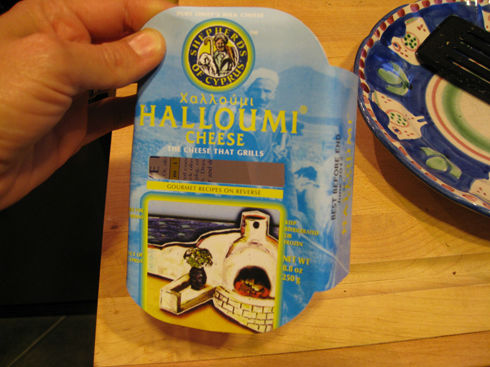 I used about a third of a package for two people, chopped into 1/2″ dice.
Add the Halloumi into the roasting pan, toss and continue roasting for another 15 minutes or until veggies are done when pierced with a fork.
In the meanwhile, I got an idea that kale might make a good addition to this meal.  If you've ever made Kale Chips, then you know what I mean.  The idea of crispy Lacinato (Italian) kale mixed in with the veggies seemed scrumptious. So…
I chopped up about 5 leaves of homegrown kale into wide strips and drizzled them (in a bowl) with olive oil, and a sprinkle of garlic powder (would have done fresh garlic if I had thought of it ahead of time, but this came out really good).  Massage the oil into the kale with your hands and add it to the roasting pan in the last 5 minutes, after testing the veggies to make sure they are close to being done.
The finish:
The Halloumi had browned on the underside, just like it was supposed to.  The veggies were glistening and tender.  The kale was crisp on some edges but cooked just right, and it all looked so beautiful on a plate.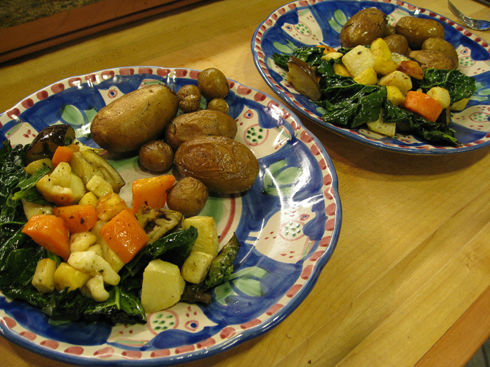 The finished product – delicious roasted veggies with Halloumi cheese, kale and
butter-slathered baked potatoes.
The only thing I need now to complete my romantic notion of roasted vegetables is a checkered tablecloth and a view of Tuscany out the open patio doors. Who's with me?