After a few days of rain, the garden is basically on autopilot.  There's no need to water, and the plants somehow grow overnight on their own without any help from the gardener.  These are the days where we actually don't have to do anything but harvest. 
Even though we've been harvesting since late October, Monday the 21st was the first day of winter and therefore the harvest that day was indeed the first official winter harvest.  Since we hadn't visited the community garden plot for almost a week, it was astounding to see how much it had grown with a little bit of rain.
The broccoli heads had formed and were about 1″ in diameter, except for a new variety we tried this year: Romanesco broccoli. I was expecting the broco-flower type head with a spiral design.  What I got was a regular looking broccoli with extra large sized buds.  Instead of the compact buds that form the head of regular broccoli, these buds are big and billowy, like shrubbery.  It's hard to explain… see for yourself below.
The beats and chard have thickened, with their glossy leaves painting the garden scene filled with color.  Cilantro abounds, and some lettuces have even started to bolt, much earlier than usual this year.
So here was 1 day's take: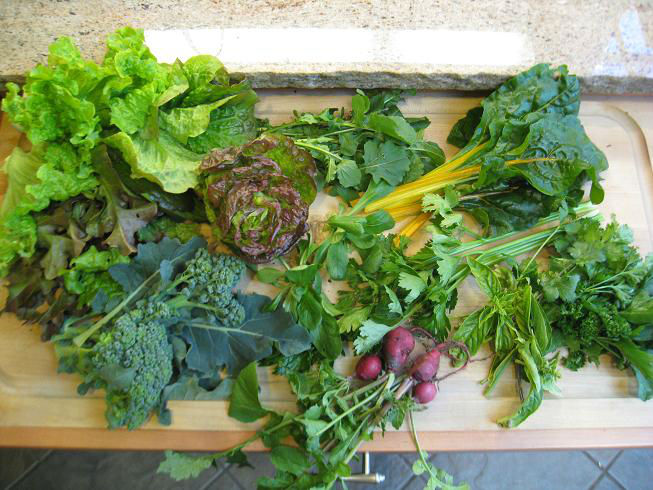 A small head of Four Seasons lettuce, plus an abundance of outer leaves from several other lettuces.  Two heads of Romanesco broccoli, four Ruby radishes, some mache, a  handful of chard, a few stalks of celery, a handful of basil, curly and flat parsley and cilantro, and a bunch of arugula.
Is it any wonder that I just want to eat all day long?  This stuff is beautiful!!  It's time for another cooking jag: I see elaborate salads, broccoli risotto and an Asian stir-fry or two in my future.
What are you making with your winter harvest?  Post it here.