In an attempt to attend more garden-related events and workshops this year (call it a New Year's resolution, but with more pleasure involved), I set out on Saturday for a Hypertufa workshop with Steve Garischer of Larkspur Garden Designs at the Theodore Paine Foundation. 
Hyper-who-huh?
Let me e'splain:  Tufa is a sedimentary rock similar to travertine that can be carved into paving stones, planters, urns and such.  it is very expensive and very heavy.
Hypertufa, a made-up word as I learned from Steve, is a light-weight inexpensive product that can be molded into just about any shape, can be carved when wet, and is relatively easy to make.  It uses four ingredients: Portland Cement, Coir (they used to use peat moss), Perlite and water.  It's great for planting succulents, drought tolerant plants, and anything else that you would plant in containers.
We were told to wear clothes that we didn't care about, which meant that we would be getting dirty.  It sounded fun already.  After a short lecture we each took a pair of gloves and a plastic bowl (which Steve said was from the 99 cent store – "a place you'll never look at the same way after this workshop" he said).  We greased our bowl/mold with vegetable shortening: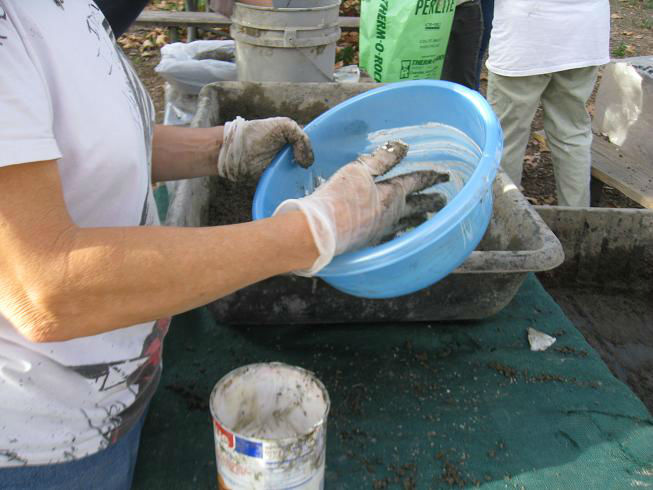 Yum.
Then we mixed together the dry ingredients in big tubs.  Then we added water to the mixture and it all started to come together.  We could form it into a ball and pack it into the mold.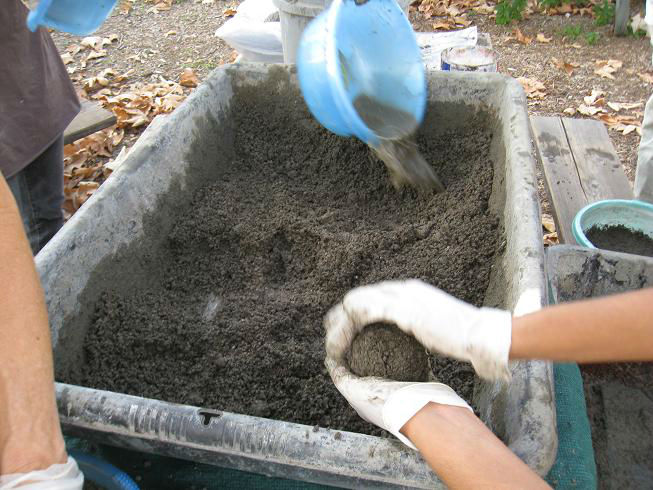 Packing the mixture into the molds was easy to do, but as it turns out, it's a pretty good upper body workout too.  We poked holes in the bottom of our molds for drainage.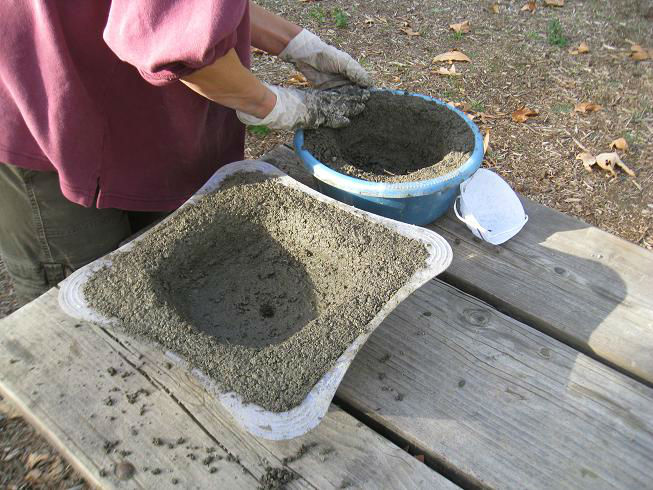 Two molds being packed with the hypertufa mixture.  Notice the drainage hole in the center.
The next thing to do was to place the mold in a plastic bag and weigh it down with – what else by balls also made from leftover hypertufa!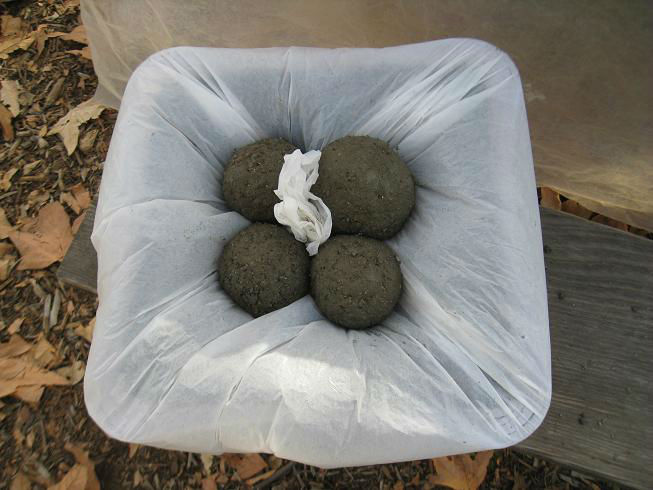 Our homework was to un-mold the planter in two days, wet it down and then put it back in the mold and cover it up to cure for two weeks.  Steve mentioned that if you have a mold with a hole in the bottom, you can gently push out the planter through the hole.  Since our molds didn't have holes, he suggested that we pour boiling water over the mold and it should slip right out.  Imagine my relief when I tried it and that's exactly what happened.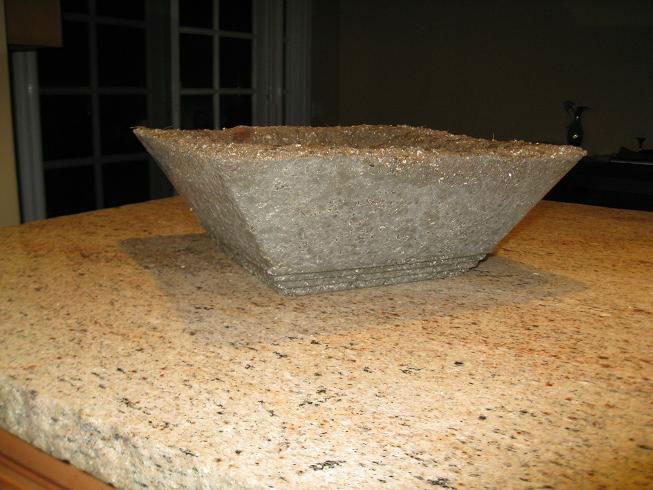 Steve said he likes to rough the finish up with a wire BBQ brush, but I kinda like it this way.  Anyway, he gave us plenty of other tips and tidbits about hypertufa at the workshop that I encourage you to take for yourself.  You'll find his classes several times a year at the LA Arboretum, Theodore Paine Foundation and other gardens around Los Angeles.